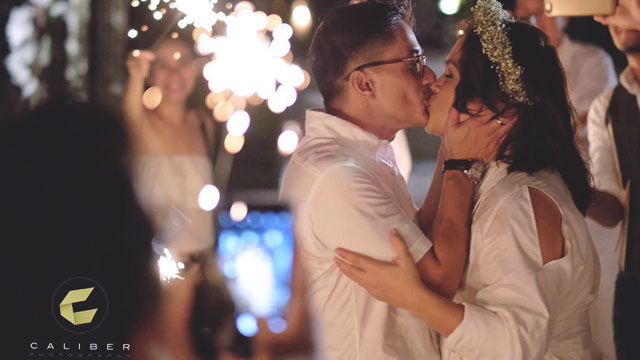 Ryan Agoncillo made his followers swoon with his May 31 IG post, where he shared the sweet story about the time he realized that Judy Ann Santos was the one for him. 
ADVERTISEMENT - CONTINUE READING BELOW
He shared a photo of his wife and wrote a caption addressed for their son, Lucho.
"I was maybe 26, Mom and I were only really starting to get to know each other," he started the letter. "I'd pick her up from 1 of her movie sets, we'd ride a motorcycle thru fog and a thunderstorm just to hang. Not every girl would've liked it, Mom just giggled thru shivers, while we were sipping gas station coffees, soaked to the socks in the middle of nowhere."
ADVERTISEMENT - CONTINUE READING BELOW
Recommended Videos
Ryan also shared some of the most memorable things that Juday did for him—like the time when she offered to mix drinks and serve beer at the bar that he used to own, and the moment she volunteered to help set up one of his photoshoots.
He continued: "By this time though, I've had my heart broken enough times to know that exciting times fade, I knew it was a must to also be comfortable in silences.
"Mom hit a very rough patch and wanted to disappear, even just a few days, to breathe. I took her to Lolo and Lola's and they agreed that it was the best place for her to relax, undisturbed.
"She stayed, with one of her cousins, in my bedroom since I was 8. There wasn't much, just a big mattress on the floor, a noisy A/C and a wonky CD player you had to whack to get thru old DMB records. I slept in my parents' room, as I usually do when I'm home for the weekends.
ADVERTISEMENT - CONTINUE READING BELOW
"Probably the 2nd afternoon though, I was on the parquet floor, reading a paperback, your aunt had just quietly come in with 3 Frappuccinos, and Mom gets up from under the blankets and pillows. There wasn't much talk, but I do remember asking her with a sideways glance, 'You cool with this?' She said 'With what?' 'This. This is how quiet and boring it gets with me too.'
"She just sipped the frap, smiled, and went back to her nap. That's when I knew Bud. #storiesforlucho."
This is not the first time that Ryan penned a beautiful note under the tag #storiesforlucho. He's been sharing sweet stories about Judy Ann and their children, Yohan, Lucho, and Yuna, for quite some time now. We compiled some of our favorites below.
ADVERTISEMENT - CONTINUE READING BELOW
"where you are is where i belong."
"to sit by the fire, under a full moon, with my son, is definitely on my all time favorites list."
ADVERTISEMENT - CONTINUE READING BELOW
"in love, it's ok to punch above your weight class."
"worry not child, it's really just love."
Load More Stories