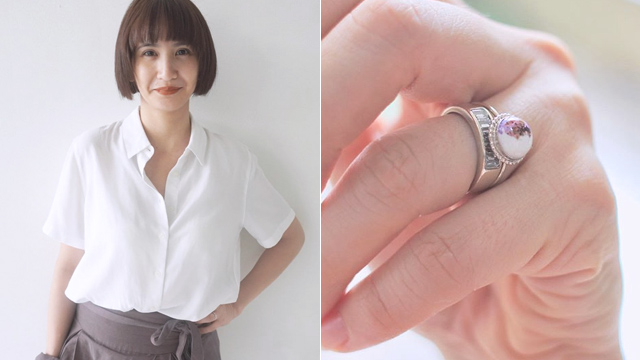 Experiencing pregnancy, giving birth, and overcoming the struggles of breastfeeding are achievements worth celebrating and remembering. It's why many moms like Rica Peralejo Bonifacio opt to turn their liquid gold into wearable keepsakes.
"There is so much more to nursing than just making the babies full," the new mom of two wrote on Instagram.
It's "the weight of my feelings about my body and its ability to perform the somatic functions of motherhood," Rica shared, quoting from an article about the relationship of a mother and her breast milk, which was published in The Washington Post. "It was the weight of the early intimacy between my body and my children's."
ADVERTISEMENT - CONTINUE READING BELOW
Rica gave birth to her second child, son Manu, on June 10, 2019, at home through an unmedicated vaginal birth after C-section (VBAC). Nursing was a struggle because Manu had lip and tongue tie and underwent surgery.
"All the struggles and triumphs of nursing that I've experienced make me a bit sad to think that one day, it'll all end. It will all be over. One day I shall nurse no more," Rica wrote.
Rica had two reminders of her breastfeeding journey made. One is a round pendant that contains preserved breast milk with a few opalescent sparkles set in resin as the background of a gold outline of a mother and child enclosed in a heart. Another is a ring stone that contains preserved breast milk and Manu's umbilical cord with a few sparkles that represent Alexandrite, her son's June birthstone.
The necklace and ring were made by Sacred Elements DNA Jewellery, a jewelry store that turns breast milk, umbilical cord, hair, fabric and more into wearable keepsakes. It's owned by Irina Otmakhova of Conscious Birth Manila, the doula who assisted Rica during her birth.
Apart from the wearable breastfeeding jewelry, Rica also shared Manu's umbilical cord keepsake, dehydrated into a coil, which she plans to turn into an artwork. Irina also made an artwork print of her placenta.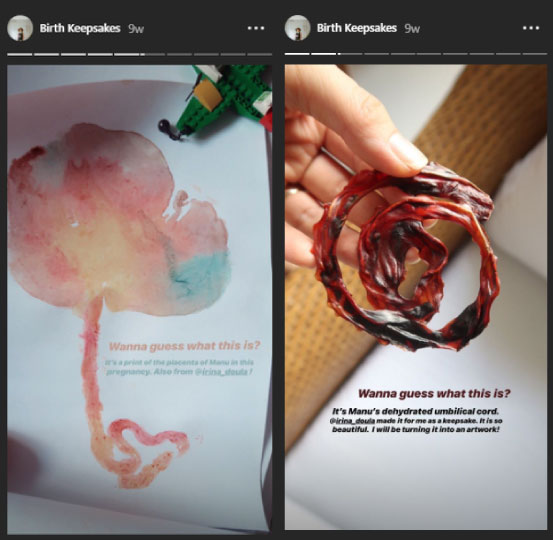 "I also got a placenta balm, which I can use for stretch marks and even my healing wound," Rica shared. Her placenta, which she described as huge, was also made into 190 capsules.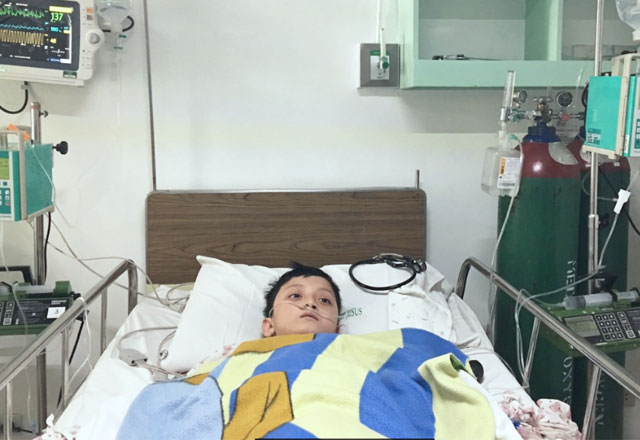 In an interview with SmartParenting.com.ph, Otmakhova shared that placentophagy, or consuming the placenta is considered traditional medicine in China. The practice has been gaining popularity since women became more involved in the decision-making during childbirth.
"Most of the benefits of consuming the placenta are directly for the mother, but indirectly for the baby through mother's good energy level, abundant milk supply and mitigated postpartum mood swings," Otmakhova said. The iron in the placenta can help the mom fight anemia, increase her energy levels, and decrease fatigue and depression.
ADVERTISEMENT - CONTINUE READING BELOW
She personally handles placenta encapsulation traditional Chinese method to ensure its safety.
To know more about why new moms choose to consume their placenta, its benefits, and how they take them, click here.
Load More Stories