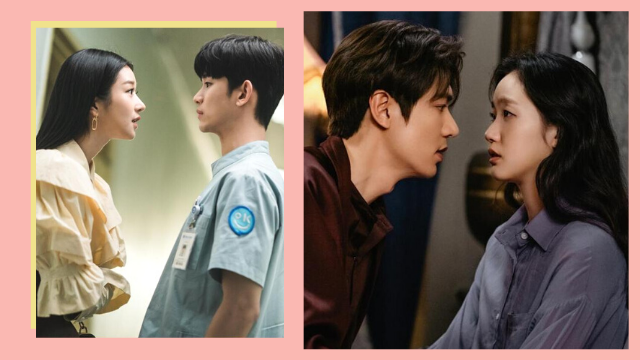 Ah, the infamous comeback drama, which, in K-Dramaland usually pertains to the drama a Korean actor stars in after he gets discharged from his mandatory military service. Yup, being away from the spotlight for almost two years (which is how long their service lasts) builds the anticipation for avid fans, that's why the projects they choose must be worth the wait. In recent years, our fave oppas finally finished their service and blessed with us with some of the most well-made and memorable dramas we've ever come across. Here, we have the recent comeback dramas of our fave drama actors:
ADVERTISEMENT - CONTINUE READING BELOW
Hot topics:
10 Romantic Comedy K-Dramas with a Happy Ending
1. Melting Me Softly (2019), starring Ji Chang Wook
Co-starring: Won Jin Ah
Where you can watch it: Viu
Ji Chang Wook starred in Melting Me Softly, a fantasy romance drama, as his comeback to the Hallyu scene. Set in the year 1999, Ji Chang Wook is passionate variety show director Ma Dong Chan who wants to document a cryogenics experiment for his show. Because the experiment it too risky to find volunteers, he decides to be one of the test subjects and somehow convinces struggling working student Go Mi Ran (Won Jin Ah) to join him. On the night of the experiment, a mysterious event takes place which leaves them frozen for 20 years. They end up waking up in 2019 with the world, their loved ones, and themselves totally different from what they left behind.
ADVERTISEMENT - CONTINUE READING BELOW
Recommended Videos
2.When The Camellia Blooms (2019), starring Kang Ha Neul
Co-starring: Gong Hyo Jin
Where you can watch it: Netflix
Kang Ha Neul's comeback drama after getting discharged from military service was a sure hit when it aired in 2019. When The Camellia Blooms looks like your regular ol' rom-com but there's actually a dark twist to it. The drama stars Gong Hyo Jin as the soft-spoken and strong-willed single mom Dong Baek who runs a bar called Camellia. Ha Neul's character is Hwang Yong Sik, an offbeat and socially awkward policeman who falls in love with Dong Baek at first sight. For this role, Ha Neul won the Best Actor award at the 56th Baeksang Arts Awards. Even better? The drama also won the Television Daesang or Grand Award.
3. The King: Eternal Monarch (2020), starring Lee Min Ho
Co-starring: Kim Go Eun
Where you can watch it: Netflix
The King: Eternal Monarch was Lee Min Ho's highly-anticipated fantasy and sci-fi drama (with an extremely high budget!) after getting discharged in 2019. In the drama, Lee Min Ho stars as Emperor Lee Gon of the Kingdom of Corea, a parallel world where there is no North and South Korea, but a ruling monarchy keeping the country whole. After going through a tragic event in his childhood that reshaped the rest of history, Lee Gon grows up dead set in finding the truth about his past-even if that means crossing worlds and searching for the woman who may have all the answers, Detective Kim Tae Eul (Kim Go Eun) of the Republic of Korea.
ADVERTISEMENT - CONTINUE READING BELOW
4. It's Okay To Not Be Okay (2020), starring Kim Soo Hyun
Co-starring: Seo Ye Ji, Oh Jung Se
Where you can watch it: Netflix
Kim Soo Hyun's It's Okay To Not Be Okay set the bar high for comeback dramas because he's paid so much for each episode, making him the highest-paid Korean actor for 2020. It's Okay To Not Be Okay, a gothic horror and fairytale drama, revolves around Moon Gang Tae (Kim Soo Hyun), a quiet and hardworking caregiver, and his brother, Sang Tae, who's in the Autistic Disorder Spectrum. They come across famed children's author Ku Mun Yeong (Seo Ji Hye), who has a personality disorder, and go on a healing journey to face their shared traumatic pasts.
BONUS: Tale Of Gumiho (Coming Soon), starring Kim Bum
Co-starring: Lee Dong Wook
Where you can watch it: TBA
One of our OG oppas, Kim Bum, is set to make his drama comeback in Tale Of Gumiho, co-starring Lee Dong Wook. In the fantasy drama, the two leads play half-brothers Yi Yeon (Lee Dong Wook) and Yi Rang (Kim Bum). The twist? Both of them happen to be male gumihos, a nine-tailed fox who can change his appearance-some of them even eat humans! Yi Rang happens to be one of the most dangerous gumihos and "seduces humans by promising to grant their wishes, for which they ultimately end up paying a hefty price." 
ADVERTISEMENT - CONTINUE READING BELOW
What does your zodiac sign say about you? Subscribe to Cosmopolitan Philippines and find out!
Load More Stories