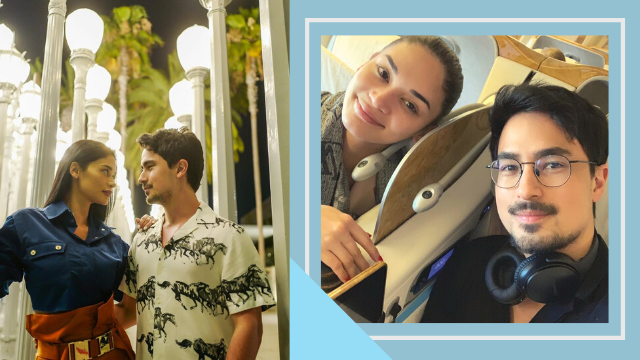 Miss Universe 2015 Pia Wurtzbach and professional racecar driver Marlon Stockinger have officially broken up. Pia confirmed the breakup rumors to ABS-CBN. Her statement read: "It's true that Marlon and I are no longer together. I wish him and his family well, and out of respect for them, let me make it clear - Marlon and his family never depended on me financially. This will be my only statement on the matter. Thank you for your support." 
ADVERTISEMENT - CONTINUE READING BELOW
What happened? Here, let's take a look back at their relationship, from 2016 to 2019. 
September 2016: Rumors about the pair start circulating. 
Pia, who was the reigning Miss Universe at that time, posted a random photo of her and Marlon on Instagram, which led most of us to think that something was going on between them! 
CONTINUE READING BELOW
Recommended Videos
October 2016: Marlon confirms that they're dating. 
During an interview at the Star Magic Ball, when asked about his relationship with Pia, Marlon said: "The truth? Let's put it this way: If Pia [were] here tonight she'd be my date here. So yeah, obviously we see each other but we just want to keep it down low pretty much. But yeah, I've been seeing Pia."
January 2017: Pia says they're "officially together."
Pia told ABS-CBN, "I'm glad that I finally met somebody who's very secure with himself and who understands my job, and who's not afraid to let me have my moment such as right now, now that the competition is happening here. He's very understanding and we really get along." Pia added that Marlon has a great sense of humor and that he always manages to make her laugh! 
ADVERTISEMENT - CONTINUE READING BELOW
March 2017: News that Marlon had children from his previous relationship breaks out.
When asked about the rumor, Pia said, "I have actually never... Are you sure it's the same Marlon? There's a lot of Marlons... I don't know anything about that." She asked the media to verify the rumor before making any allegations. 
May 2017: Pia reacts to the issue after weeks of silence.
Former model Kit Barraquias confirmed that Marlon is indeed the father of her twins. She stressed, however, that he is only the biological dad of the seven-year-old girls, and doesn't have a relationship with them.
Pia broke her silence by saying, "I just continue working. Alam ko na it's really part of the job. Sometimes you get a lot of stones thrown at you, but that's how it is. I think I've gone through a lot already and I know how to handle certain situations. But that doesn't take away my focus from the real issues."
ADVERTISEMENT - CONTINUE READING BELOW
August 2017: Pia and Marlon reportedly delete their couple photos on Instagram.
Instagram followers of the power couple noticed that their photos together were missing! This prompted netizens to speculate that the Pia-Marlon relationship had ended. 
September 5, 2017: The pair celebrate the anniversary of their first meeting.
It looked like the breakup rumors weren't true after all. "Met each other in New York exactly a year ago," Pia wrote on Instagram Stories. Marlon's post read: "One year ago since we first met."
December 1, 2017: Pia and Marlon celebrate their first anniversary as a couple. 
They shared the same photo, which was taken during the Miss Universe 2016 coronation night in Manila.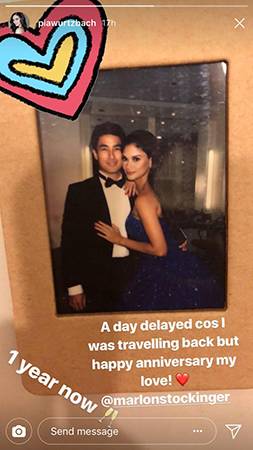 ADVERTISEMENT - CONTINUE READING BELOW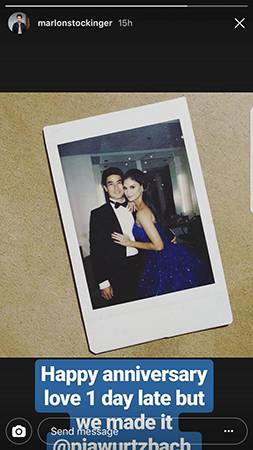 December 19, 2017: Pia reveals she made the first move through Instagram. 
Pia opened up about her romance with Marlon in a makeup tutorial video with Filipino-American beauty expert Patrick Starr! "I've always had a crush on this guy," Pia shared. She said that she started following him on Instagram and liked a few of his photos. As it turned out, he didn't know who she was AT FIRST! "Which is good, actually. He knew that Miss Philippines won in Miss Universe, but he didn't know it was me," Pia added. 
ADVERTISEMENT - CONTINUE READING BELOW
March 2018: The pair becomes the subject of another "unfollow" controversy.  
Rumors linked Pia to her My Perfect You co-star Gerald Anderson. Bea Alonzo, who was in a relationship with Gerald at that time, even unfollowed both him and Pia on Instagram. However, Pia soon attended a My Perfect You movie screening with Marlon, which put the rumors to rest. 
June to July 2018: Marlon reportedly didn't want Pia to attend a Super Junior concert.
In an Instagram Story, Pia shared a video of her asking Marlon for permission to watch Super Junior. Without saying a word, Marlon just shook his head repeatedly.
Reports say that they unfollowed each other in July 2018, after Pia attended the Super Show 7 concert at the MOA Arena on June 30. She even met her celebrity crush Choi Siwon backstage!
ADVERTISEMENT - CONTINUE READING BELOW
May 2019: Pia and Marlon deny that they ever broke up.
The couple told Cinema One that whenever breakup rumors about them circulate, they just laugh it off! When asked about the possibility of marriage, Marlon and Pia said that they're both focusing on their careers for now. 
August 2019: Pia and Marlon take a trip to Los Angeles, USA.
Pia posted the cutest OOTDs on Instagram, and she even shared proof of his IG boyfriend skills during their vacation.
ADVERTISEMENT - CONTINUE READING BELOW
December 2019: Pia's manager confirms that the couple has broken up. 
Speaking to PEP, Rikka Infantado-Fernandez said: "Yes, it's confirmed and you can quote me on that...On and off naman na matagal na, but yung final was September pa." Most of their Instagram photos on Pia's account have been deleted.
Load More Stories