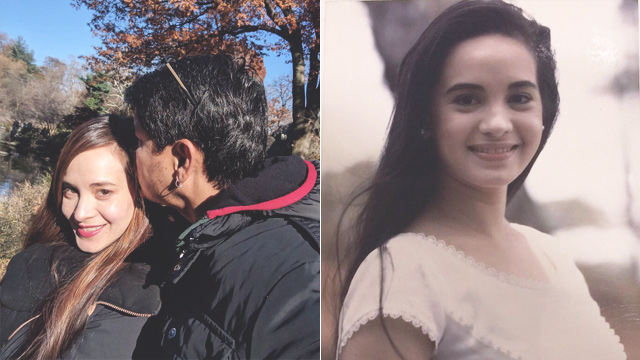 Richard Gomez and Lucy Torres will be celebrating their 20th wedding anniversary this year—on April 28, to be exact.
If you remember, their love story began in 1993, the year they did their first out of eight TV commercials for Lux shampoo.
And each year, Lucy shares an anecdote about them on her Philippine Star column or on Instagram, and she never fails to get us all kilig.
ADVERTISEMENT - CONTINUE READING BELOW
On February 6, the 43-year old congresswoman of Leyte posted this throwback photo taken by her husband, now the mayor of Ormoc.
She writes that when the photo was taken, she was only 19 and very shy, but managed a smile when she saw Richard, her crush since she was 12 years old, pointing his camera in her direction.
It was only after they were married that Lucy would find out that Richard was, indeed, taking a picture of her that day.
Here's the heart-melting story of Mrs. Richard Gomez:
"I never knew this photo existed until I became his wife. This was taken in 1993, in Lake Caliraya where we shot the second storyboard of our Lux Shampoo commercial. Here, I am all of 19 years old, in a long white dress, and totally in love with him (well, since I was 12, actually). The latter, of course, no one knew except for my sister Caren who was with me as my chaperone.
"Anyway. This was Day 2 of our shoot, the sun was hot and the wind was cool, the lake sparkled like a bed of diamonds under the golden sunlight. I remember seeking shade under some tree during the break, and people from the production house and agency were taking behind-the-scenes shots. And somewhere far away from the crowd, there was Richard —— tall, dark, handsome, and perfect, in khaki shorts and a shirt, his professional camera with him. I looked towards him, and seeing that his camera was pointed somewhere in my direction I smiled for him, never mind if I did not know for sure it was I that he saw in those lens.
"Years later, in 1998, I married him to live happily ever after, and as a very new bride organizing our things in our home, I saw this photograph in a drawer. He says he has kept it all along and that I look beautiful. And if indeed I do, my love, it is only because I was looking at you."
ADVERTISEMENT - CONTINUE READING BELOW
This story originally appeared on Pep.ph.
* Minor edits have been made by the Femalenetwork.com editors.
Load More Stories