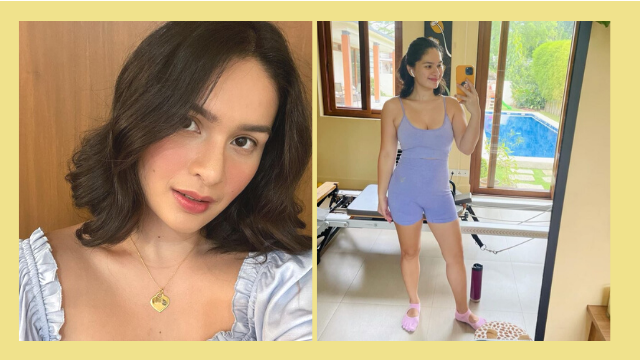 If you've been following Pauleen Luna these past few months, you'd have noticed that she's been consistent in updating about her fitness journey. She's taken up pilates and indoor cycling, apart from making dietary changes, to keep healthy because she actually suffers from polycystic ovary syndrome or PCOS.
In March, the 32-year-old actress-host shared her progress and said, "I've accepted that it's a slow progress but slow is better than none. Living with PCOS is no joke. Making good choices with my food intake and moving (it's pilates, walking, spinning for me) has been my priority lately. So happy where I am right now and I really pray that God will sustain me."
Pauleen gave another update in May and revealed that she's "slowly reaching [her] weight goal." And, good news! She just reached it. In a recent Instagram post, Pauleen wrote that she's back to her pre-baby body after giving birth to her daughter Talitha in November 2017.
ADVERTISEMENT - CONTINUE READING BELOW
"Hello, self! Good to see you again," she gushed on Instagram. "Back to my pre-baby body (after three years?!?) I only started to take this fitness journey seriously in February 2021 but boy am I glad I did! Lots of hard work and discipline but I'm happy that I was able to get back on track even if it took a long time! Special thanks to the people who push me to be a better version of myself!"
She then thanked her cycling community and her hubby Vic Sotto for helping her along the way: "Shoutout to my @electricstudio.cycling community for the undying support and pushing me to the extremes! And many thanks to my husband who's been so supportive! This isn't the end of the journey because fitness is a lifelong thing! To all the mamas messaging me, thank you and take your time, do not rush and you do you!"
Great, right? Well, one netizen did try to bring down Pauleen's celebratory post by insinuating that she's doing all of this just to get Vic's attention: "[Sige] lagi kang magpaganda para [sa'yo] na lang [attention] ng mister mo. Pero sana [yung] pagpapagada mo para sa mister mo lang."
But Pauleen responded to the netizen and ever politely clarified that everything she's doing is for herself alone: "Thanks for the concern but I'm doing this for myself. I wanna be strong and healthy, so I can live a long life for my family. [I'm] not doing this for my husband's attention or for any guy for that matter."
ADVERTISEMENT - CONTINUE READING BELOW
You do you, Pauleen! And congrats on your fitness milestone!
To know more about the causes and long-term effects of PCOS, click here.
***
Cosmo.ph is officially on Viber! Be part of their growing community and subscribe to Cosmopolitan Philippines now!
Load More Stories