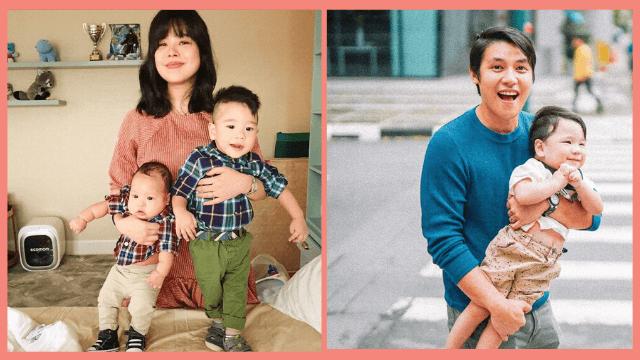 On Valentine's day, Saab Magalona took to Instagram to explain why it's an extra special holiday for her family.
"Valentine's Day 2018 was the first time I was allowed to meet Pancho. He was already 6 days old. I may have shared this story before but I can't repeat it enough. My sweet boy was fighting to survive and now he's already 2 years old!!! All my love to my husband for being the best partner and my source of strength."
ADVERTISEMENT - CONTINUE READING BELOW
CONTINUE READING BELOW
Recommended Videos
When Saab Magalona broke the news about losing one of her twins at birth in February 2018, many commiserated with her and husband Jim Bacarro. Prayers were said for Pancho, the little fighter who survived, and many considered it a miracle. How right they are!
Saab and Jim have been giving their followers snippets of what really happened that fateful day the twins were born through their social media posts, but it is only recently that they are telling it in detail.    
ADVERTISEMENT - CONTINUE READING BELOW
In a beautifully-written video on her Youtube channel, Saab likened her son Pancho to a superhero and went on to tell his story.  
"And like a superhero, he's got an origin story not everybody knows about."
The twins were expected to be born in April 2018, but Saab bled continuously in February, two months before her due date. Tragically, Luna Isabel's heart stopped beating, while her twin Pancho Gerardo fought to survive. Saab herself was in critical condition.
ADVERTISEMENT - CONTINUE READING BELOW
"After we had said goodbye to our baby girl Luna, the doctors advised Jim to take me to the NICU so that we could say goodbye to Pancho. They said it looked like he wasn't going to last the night.
"But like a superhero, Pancho fought."
Saab proceeded to describe the complications Pancho had to overcome while at the Neonatal Intensive Care Unit (NICU).
Besides ventriculitis (inflammation of the ventricles of the brain), Pancho also had pulmonary hypertension which made it difficult to breathe. He had life-threatening sepsis and grade 4 intraventricular hemorrhage in the brain, and had to undergo surgery at only two weeks old. 
"I cried so hard when the NICU doctor told me to prepare because Pancho will have 100% have some form of disability."
He had another major surgery a month later to remove the apparatus in his head.
Jim and Saab's firstborn is now two years old and a kuya to 4-month-old brother Vito Tomas, but "Like a superhero, Pancho is not like most kids."
ADVERTISEMENT - CONTINUE READING BELOW
The Bacarros' journey continues as they try to find the best people to help Pancho and make it possible for him to have the best quality of life. 
"Pancho continues to show cognitive skills that exceed expectations. He's made a number of his doctors cry," narrates Saab.
Saab expressed her gratitude for having Pancho in their lives, for she said it is through him that they know God listens and answers prayers. "We are happy — honored, in fact — to be on this superhero's timeline."
She concludes with a note for the viewers: "So when you see us, don't feel bad that we're going through a different path than most families.
"Remember: he wasn't even supposed to make it through the night."
Watch the video below:
Load More Stories