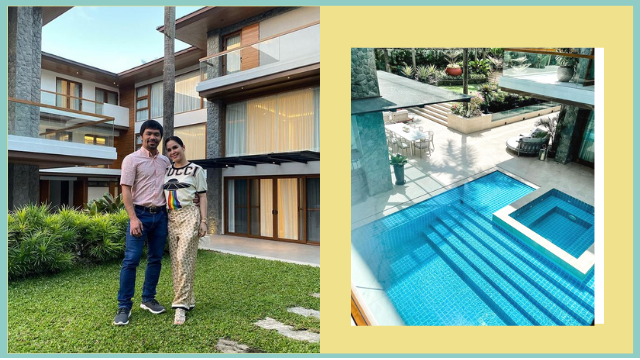 In 2020, the ultra-luxurious resort-like mansion of Manny and Jinkee Pacquiao came on the market.
The Forbes Park property in Makati City is currently listed on Presello.com, a real estate firm known for selling multimillion properties in Metro Manila.
ADVERTISEMENT - CONTINUE READING BELOW
Manny has invested a big amount of his hard-earned megabucks—from boxing matches, endorsement deals, entertainment ventures—in real estate.
According to the Philippine Daily Inquirer, the 41-year-old boxing champ-turned-politician declared a total net worth of PHP3.072 billion in his statement of assets, liabilities, and net worth (SALN) in 2016. This makes him the second top billionaire senator, next to Cynthia Villar.
In the SALN, Manny declared that he owns over 100 real-estate properties, amounting to PHP1.569 billion, which represents 46 percent of his total net worth. This includes the Forbes Park mansion acquired for PHP388 million. Its value has quadrupled, and the house is now on the market for PHP1.5 billion, according to Presello.com.
Cash, jewelry, and other personal properties, amounting to PHP1.460 billion, take up 43 percent of his net worth. Only seven percent of his assets—amounting to PHP250 million—is invested in various businesses. Meanwhile, about four percent, or PHP142.599 million, consists of cars and other vehicles.
Forbes Park Mansion 
The Forbes Park mansion served as Manny's peace offering to his wife Jinkee in 2011, after the couple overcame challenges in their personal lives.
That year, Manny began focusing on saving his marriage, keeping his family whole, and doing well in boxing. He also became a born-again Christian.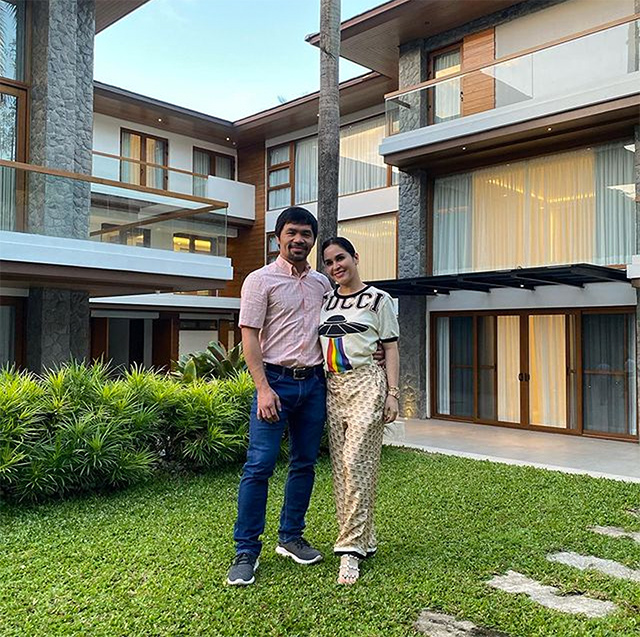 ADVERTISEMENT - CONTINUE READING BELOW
The Forbes Park property was previously owned by banker Lorenzo Tan.
Architect Anton R. Mendoza designed the mansion which sits on a 2,000-square-meter lot. The mirrored-J shaped structure has a floor area of 1,525 square meters. It has five bedrooms and seven bathrooms, and comes with a four-car garage.
Wood, glass, and stone—including travertine, granite cladding, and onyx counters—are used in the impressive structure.
The Pacquiaos had major renovations made on the Forbes Park property around September 2018.
While the work was ongoing, the Pacquiao family rented a house in nearby Dasmariñas Village, also in Makati City. Rumor had it that their house rent was in the vicinity of PHP1 million a month.
Before the renovations, the Pacquiaos opened up their home to YES!—an affiliate of PEP.ph until the magazine closed in mid-2018—which put the home on the cover of its January 2018 issue.
Here's how the Pacquiao Forbes Park mansion looked like when they first moved in. You find yourself asking—what wasn't to like about it? Take a look and see if you aren't impressed.
ADVERTISEMENT - CONTINUE READING BELOW
Front door and living room 
Massive, wooden double doors greet guests.
Dark brown wood columns, light brown trusses, and off-white marble floors break the whites of the ceiling and walls.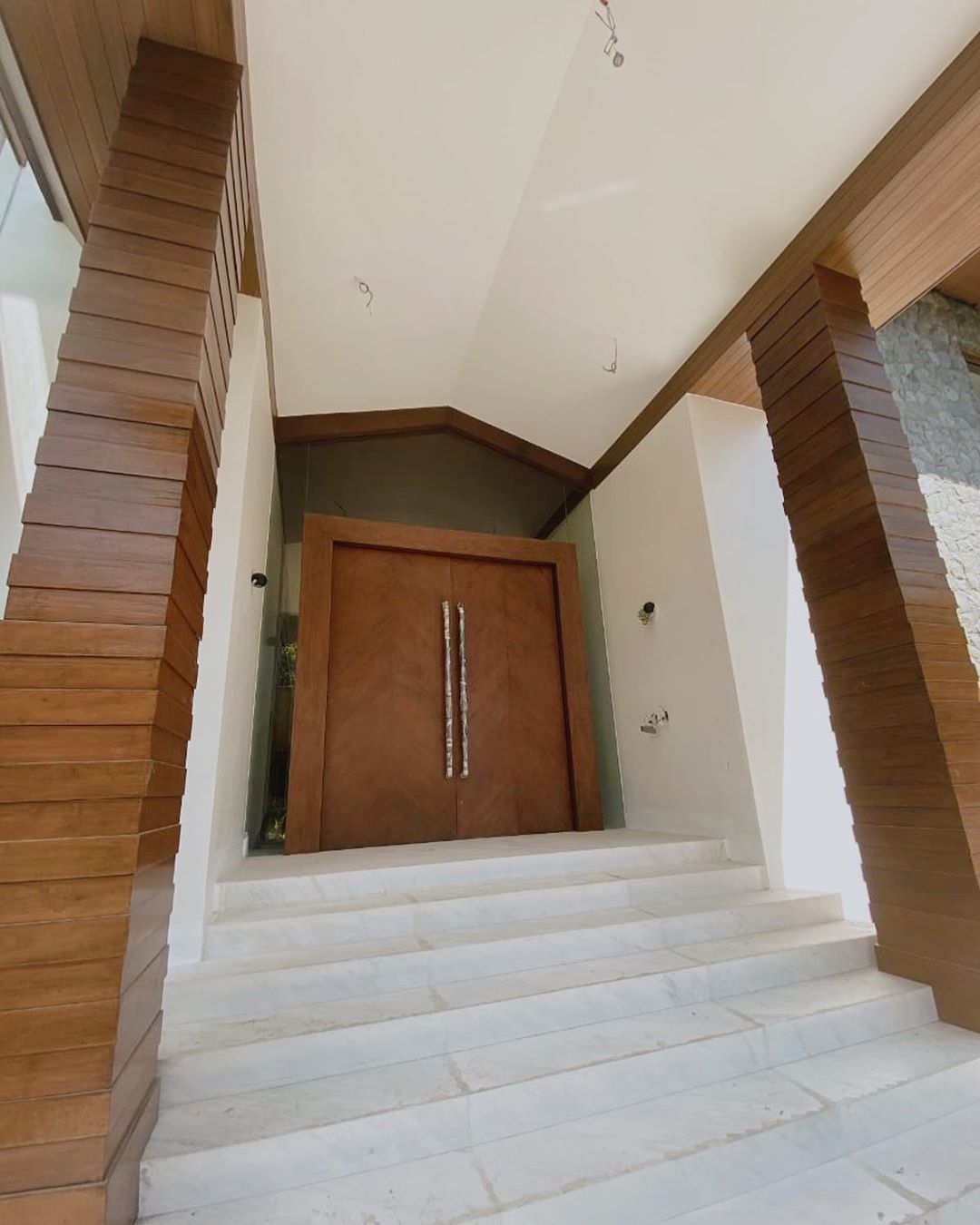 The living room is spacious by the standards of a residence, and its high ceiling makes it look even larger and wider.
ADVERTISEMENT - CONTINUE READING BELOW
Floor-to-ceiling glass windows provide a view of the garden and pool.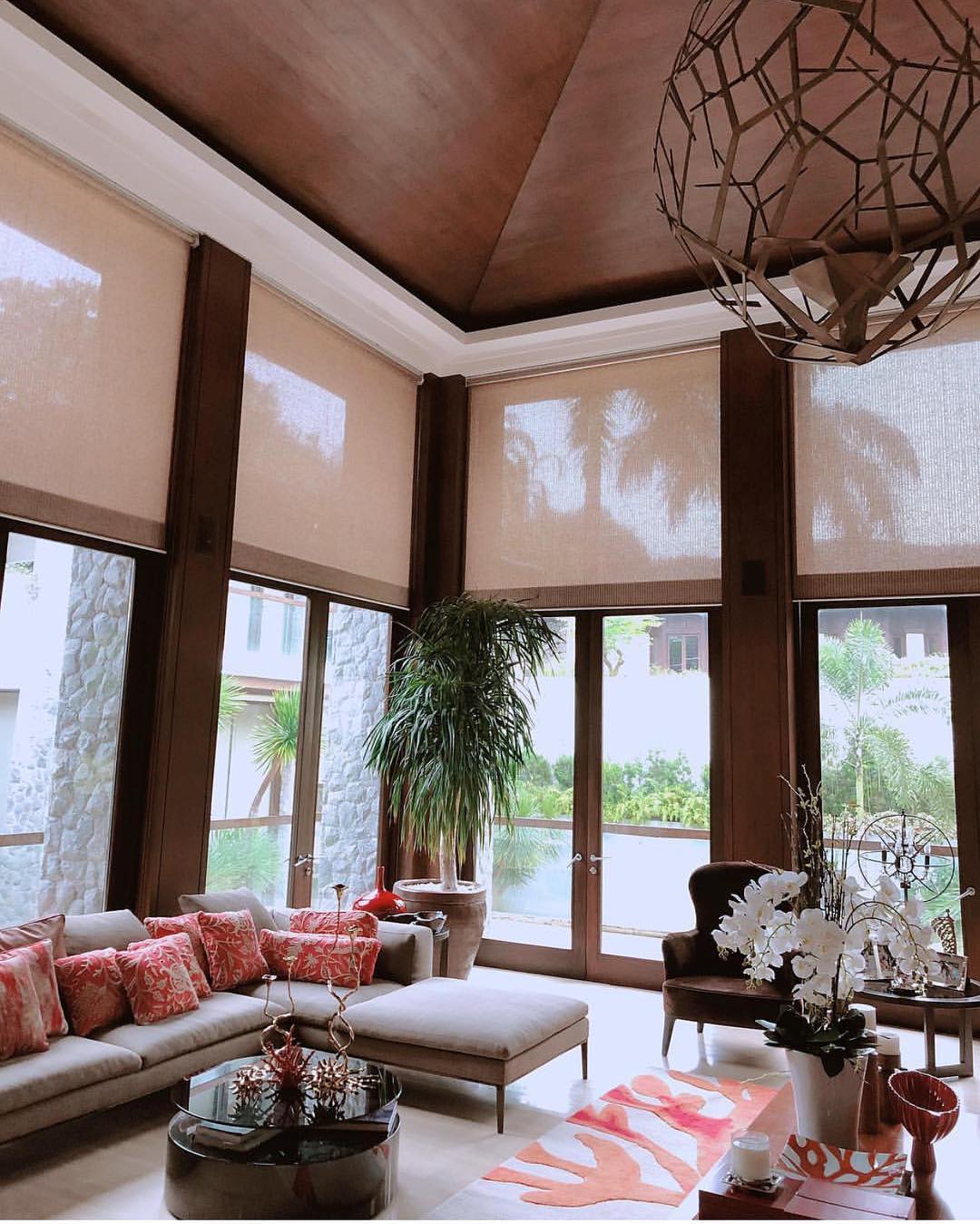 A baby grand piano stands immediately to the left of the living room's glass-door entrance.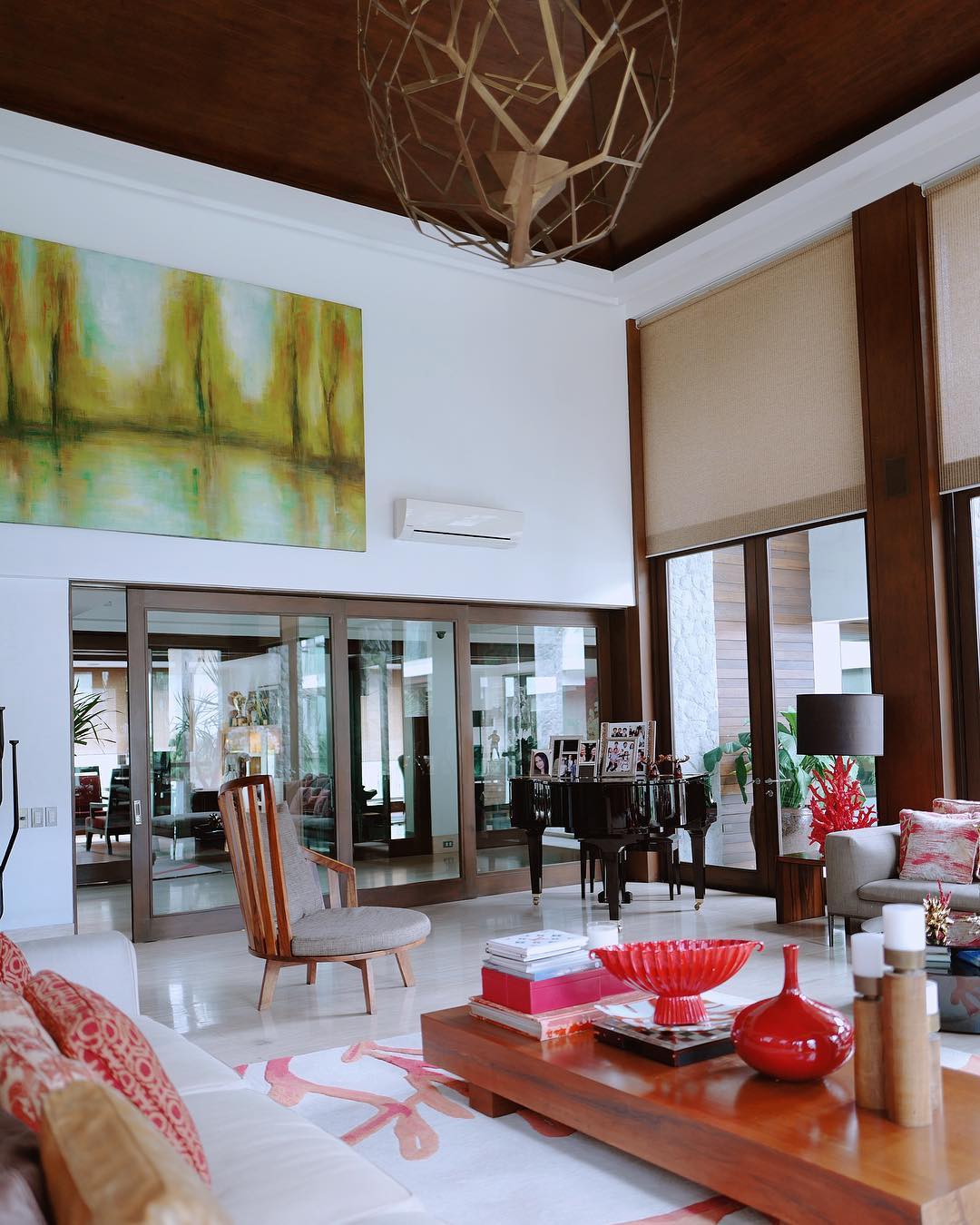 There are various seating sections: an L-shaped couch of a neutral shade enlivened by bright throw pillows; a three-seater sofa also of a neutral shade, and again stuffed with bright throw pillows; an accent chair; and two upholstered armchairs by the window.
ADVERTISEMENT - CONTINUE READING BELOW
Dining and kitchen 
The kitchen, although its feel is masculine, is Jinkee's territory.
A huge two-level island with an onyx countertop is both functional and dramatic. There is a two-door refrigerator, to the left of which is a dumbwaiter, aka a mini-elevator for delivering food to the upper floor.
ADVERTISEMENT - CONTINUE READING BELOW
The dining room is located on the second floor, with the glass walls running the length of the room providing an uninterrupted view of what's below, which includes the pool and garden.
There is a 14-seater dining table paired with cushioned dining chairs.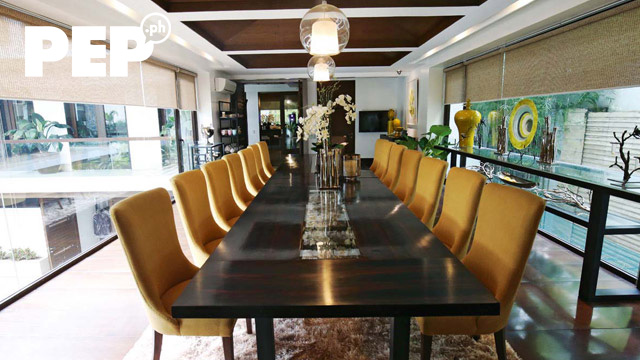 ADVERTISEMENT - CONTINUE READING BELOW
Stairs and hallway 
Artworks, mementos, and framed photographs of Manny line the hallway leading to the master bedroom.
The same hallway houses a mini-fridge for drinks and snacks.
Meanwhile, artworks by National Artists Arturo Luz and Benedicto Reyes Cabrera, aka BenCab, are displayed on the walls of the stairway leading to the private rooms.
ADVERTISEMENT - CONTINUE READING BELOW
Home theater 
The home theater has branded reclining leather seats, set in pairs, with small, low tables between them.
Promising a cinema experience, the carpeted room has thick draperies to completely blot out light and a padded ceiling for better soundproofing. Its home-theater system has a built-in projector and Bang & Olufsen surround speakers. 
ADVERTISEMENT - CONTINUE READING BELOW
Anteroom
The anteroom, or waiting room, serves the function of making guests feel welcome while they wait for the masters of the house.
ADVERTISEMENT - CONTINUE READING BELOW
Sleek glass consoles, an eight-seater, square dining table with a glass top, plus thoughtful accessories fill the room.
It also comes with a long bar and modern bar stools with stirrups.
Master bedroom 
The master bedroom is reminiscent of a luxury hotel suite. Windows have ceiling-to-floor drapes that open or shut at the command of a button.
ADVERTISEMENT - CONTINUE READING BELOW
The room comes complete with a small dining area, a commode, a designer metal floor lamp, and a black leather lounge.
There is a sleek two-seater couch on one wall, and a big, upholstered bed against the window wall. Everywhere are Hermes throws.
ADVERTISEMENT - CONTINUE READING BELOW
Jinkee's bathroom and closet 
Jinkee's bathroom is reminiscent of a spa, with its floors a mix of wood and tile.
A freestanding bathtub in a raw finish dominates the space.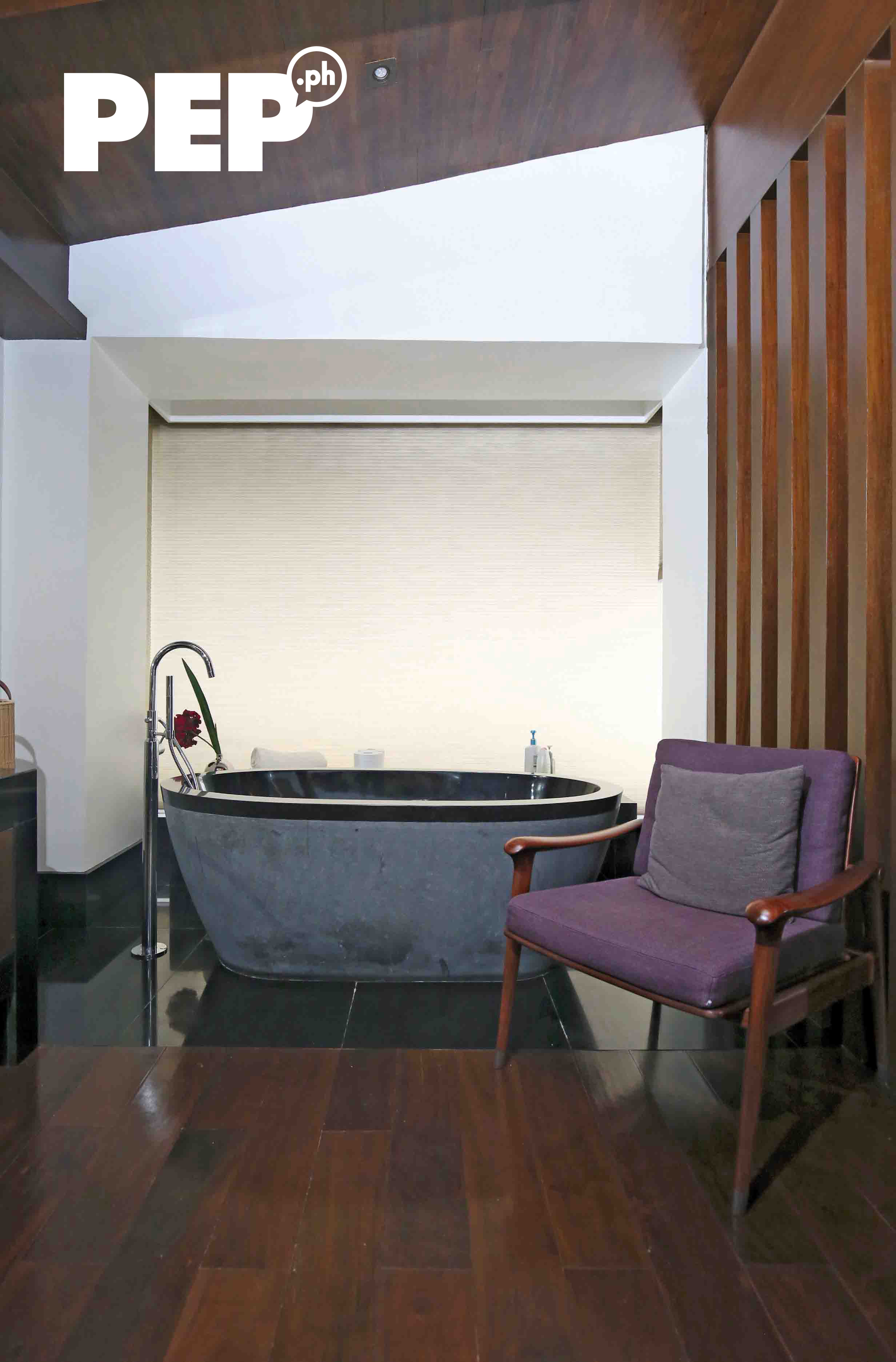 ADVERTISEMENT - CONTINUE READING BELOW
Between husband and wife, it is the wife that has the bigger walk-in closet housing more luxury designer items.
Jinkee's designer bags—including a serious collection of Hermes Kelly and Birkin—are neatly arranged on their own shelves near the dresser.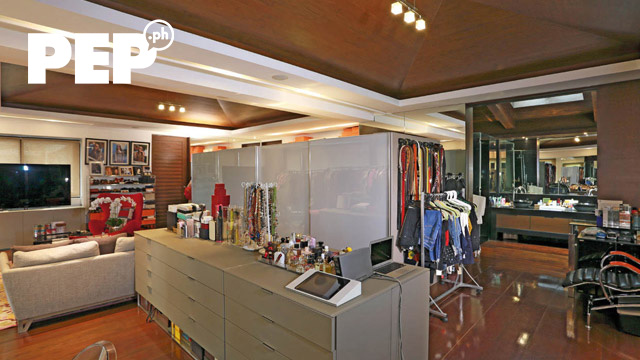 Jinkee is often photographed wearing sunglasses, of which she has a lot. Her collection of eyewear is displayed on a slender open shelf. On top of the shelf are her portraits, solo and with celebs.
ADVERTISEMENT - CONTINUE READING BELOW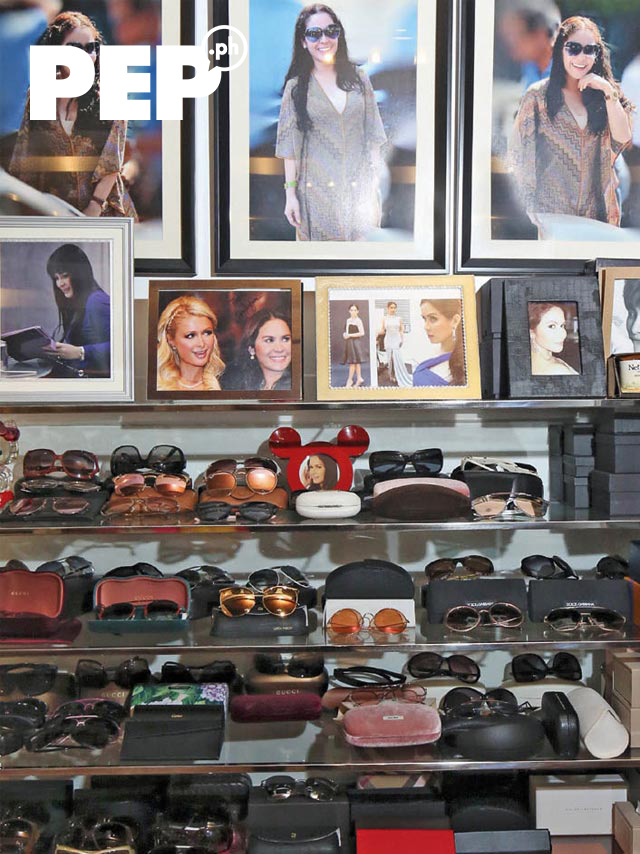 Jinkee treats herself to her own personal shampoo chair, which she uses for at-home hair treatments.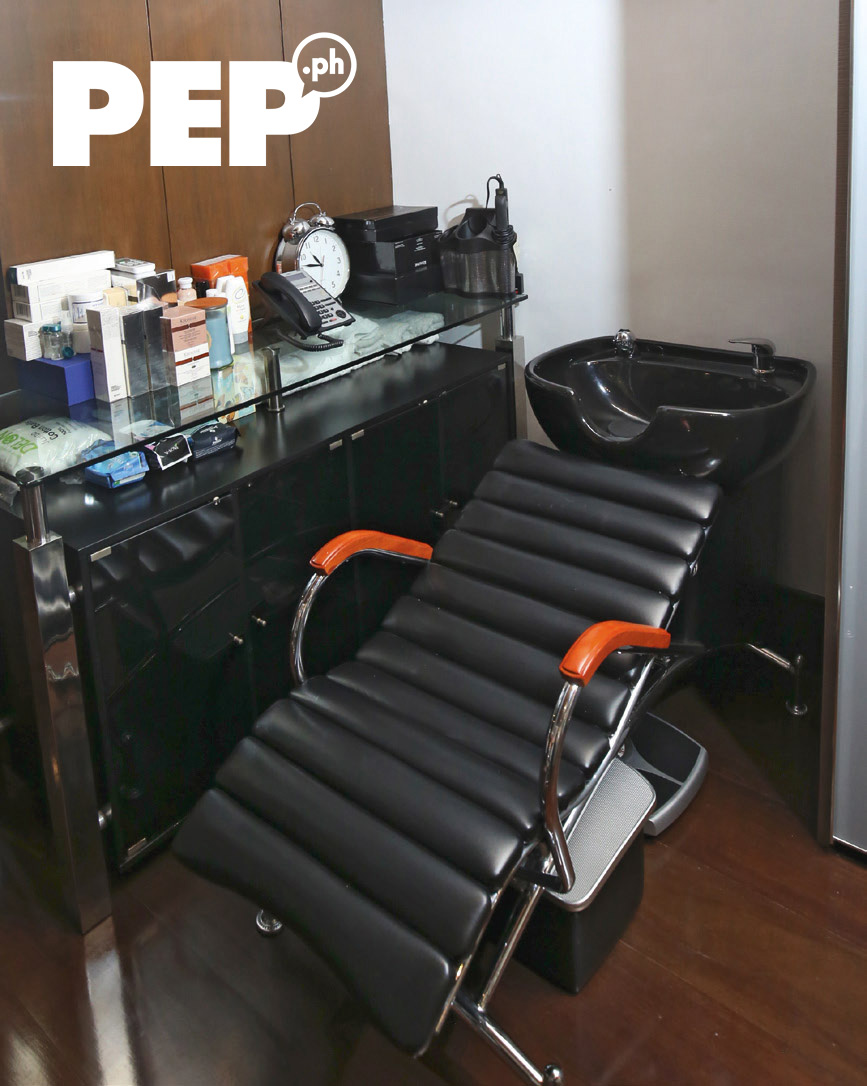 ADVERTISEMENT - CONTINUE READING BELOW
Manny's bathroom and closet 
Manny's walk-in closet is more modest but not any less stylish.
It features mirrored sliding doors, island storage for accessories, and some built-in seating for him to use when putting on shoes. His clothes are neat and organized, with necktie and belts hanging on two short walls of the closet entrance.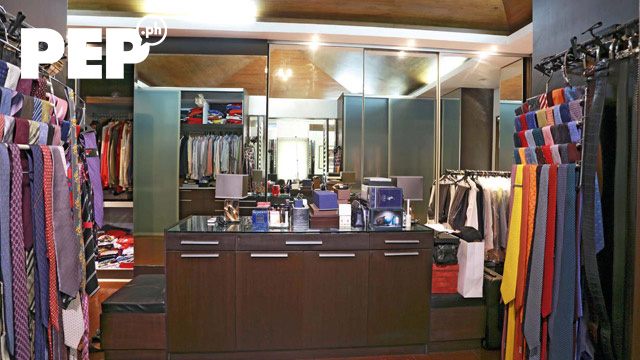 ADVERTISEMENT - CONTINUE READING BELOW
His bathroom has a spacious counter with two sinks and under-the-counter storage.
Manny goes for the timeless black-and-white combination for his toilet and bath.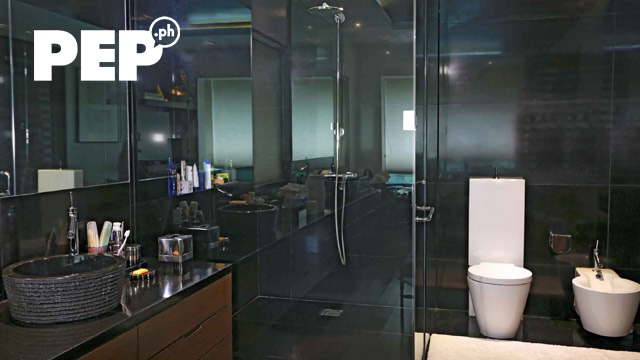 ADVERTISEMENT - CONTINUE READING BELOW
The senator also has his collection of designer shoes inside his bathroom.
Pool and garden
Almost all the rooms look out to the pool, which sits in the middle of the property. Pieces by Kenneth Cobonpue are placed in the area for residents and guests to lounge on when they take in the open air and sun.
ADVERTISEMENT - CONTINUE READING BELOW
An aerial view shows how well-maintained the manicured garden is.
The pool has been designed to be half-indoor and half-outdoor, making it usable under any kind of weather.
ADVERTISEMENT - CONTINUE READING BELOW
Here's how the pool looks following the renovation: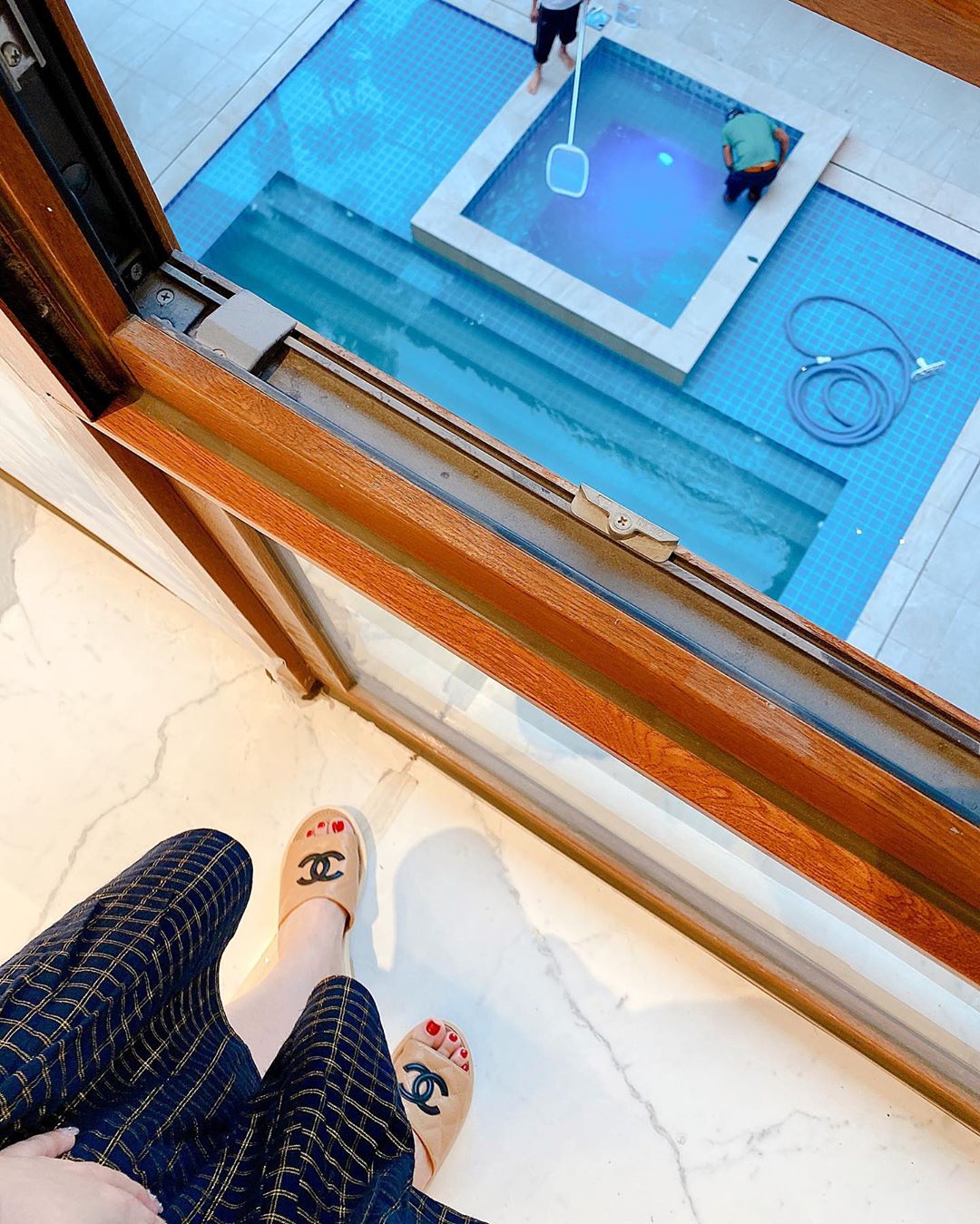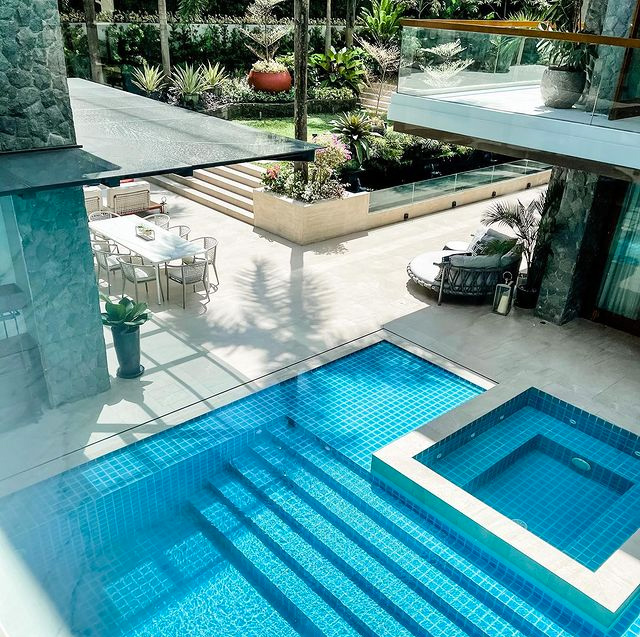 ADVERTISEMENT - CONTINUE READING BELOW
Additional credits:
Photographs by Rene Mejia
Additional photographs courtesy of Jinkee Pacquiao on Instagram
House Stylist Dagny Madamba
Shoot Producer Anna Pingol

Gusto mo bang lagi kang una sa showbiz news at scoops? Subscribe to our Viber Chatbot here para lagi kang updated, and join our community for more pakulo!
READ MORE:
All the Plants We Love in Jinkee Pacquiao's Mansion
Manny Pacquiao to Jinkee's Bashers: "Pinaghirapan namin 'yan kung ano meron kami"
Jinkee Pacquiao Shares Photo From Pageant Days in the '90s
Load More Stories