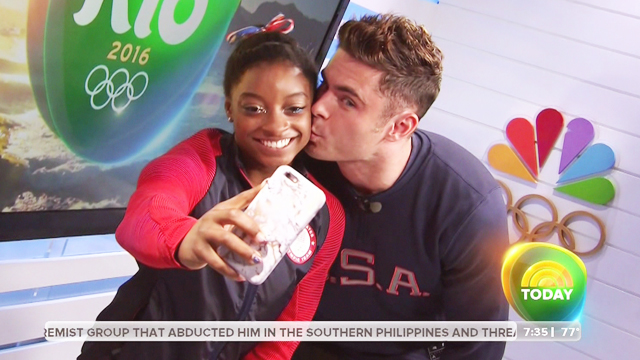 Olympic gold medalist Simone Biles enjoyed a magical moment with her celebrity crush on Tuesday after meeting up with Zac Efron in Brazil.

The High School Musical star flew to Rio de Janeiro to take in the last days of the Games and after touching down at the airport, he headed straight to where Simone was competing.

The 19-year-old U.S. gymnast took to Snapchat to share a video of herself with the actor, who kissed her on the cheek.

<div style="text-align: center;"><iframe src="https://www.facebook.com/plugins/post.php?href=https%3A%2F%2Fwww.facebook.com%2Fsimonebiles%2Fposts%2F835577023210534%3A0&width=500" width="500" height="589" style="border:none;overflow:hidden" scrolling="no" frameborder="0" allowTransparency="true"></iframe></div>

After the brief get together, Biles' teammate Laurie Hernandez snapped a photo of the gymnast trying to contain her excitement while pretending to pass out on the floor.

Simone made no secret of her crush weeks before the Olympics and told one reporter she had a lifesize cardboard cut-out of her idol in her bedroom. A flattered Zac has been watching her compete, sending congratulations and well wishes via Twitter.
ADVERTISEMENT - CONTINUE READING BELOW
Biles has picked up four gold medals at the 2016 Olympics and is being dubbed by many the "greatest gymnast of all time."
CONTINUE READING BELOW
Recommended Videos
Load More Stories