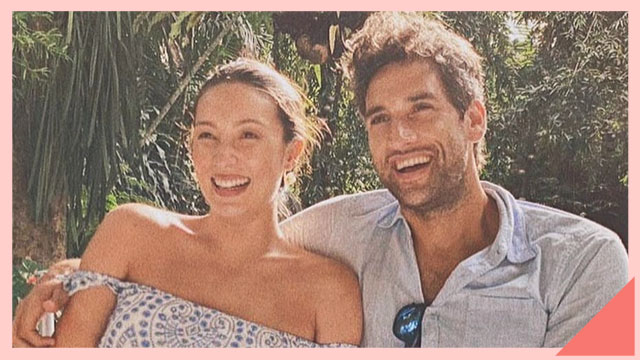 Ever since Solenn Heussaff and her husband, Nico Bolzico, announced that they were pregnant, the couple has been documenting their journey on their respective social media accounts and showing how excited they are to start this new stage in their life.
ADVERTISEMENT - CONTINUE READING BELOW
Now that they are a few weeks away from welcoming #BabyBolz (they're expecting a daughter!), Nico has taken to Instagram to share his realizations about Solenn's "nesting" phase. On December 3, 2019, he posted a photo of his wife in their bedroom surrounded by a ton of baby stuff and newborn essentials.
"In the last few weeks, I noticed that #Wifezilla (a.k.a. Solenn) was a bit more susceptible about the places and order of things around the house," the Argentinean model shared. "For example, the other day, I left my glass of water on the table downstairs and went up, from the second floor, I heard someone yelling: 'Who left this glass here?' When I heard that, a deep fear entered through my bones."
The dad-to-be followed it up with a funny—but exaggerated—story involving the couple's pets, before admitting that he eventually had to ask Solenn's forgiveness for forgetting to clean up after himself.
ADVERTISEMENT - CONTINUE READING BELOW
Recommended Videos
Despite the hilarious anecdote, Nico had some pretty good realizations about the role husbands play during their partner's pregnancy. "Everything changed when I decided to be more involved in the nesting process, by simply trying to support her; not imposing anything, but following what the mother wants," he writes.
ADVERTISEMENT - CONTINUE READING BELOW
Nico adds, "The nesting process is [led] by the mother (like the whole marriage, actually) and shows motherhood [at] its best. They can be a bit more sensitive but it is our job to understand and be there to support, show them that they are not alone and that we prioritize them more than anything else!"
He also shares a valuable #BulliedHusbandsClub Tip: "At this stage is very important to have snacks to offer your wife in case of emergency!" LOL!
What is nesting?
According to the American Pregnancy Association, nesting is the "urge to clean and organize." While pregnant, nesting is the "overwhelming desire to get your home ready for the new baby," and it is said to be strongest in the later weeks coming upon delivery.
In one of Solenn's Instagram posts dated November 29, she shares that she is about a month away from her due date. That means their daughter will be out in a couple of weeks! That final stretch before childbirth can definitely get crazy, so Solenn would be needing all the support she can get. It's wonderful that Nico has decided to follow her lead and just be there for her for whatever she needs.
ADVERTISEMENT - CONTINUE READING BELOW
In another Instagram post, Nico admits that the two of them are "ready" but "super scared and we feel so unprepared," about their baby girl's arrival. "But you will never miss any love and we will give everything to you!" Nico writes.
Load More Stories