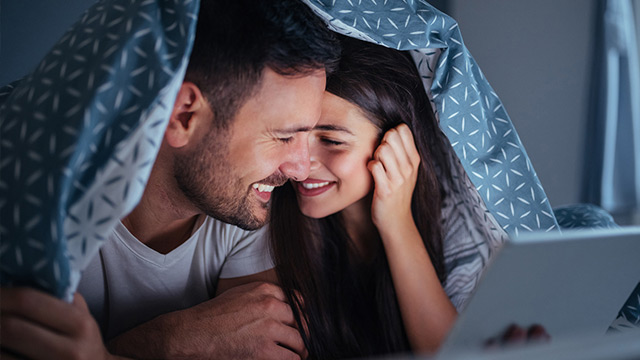 Th
Valentine's Day is fast approaching, but if you're still stumped for ideas on how to spend the holiday, might we suggest a "Netflix and chill" night? Whether you're irrevocably smitten by your S.O., perfectly content with hanging out with your girls, or (not so) happily single, there's something for you to binge-watch here! 
ADVERTISEMENT - CONTINUE READING BELOW
For a Romantic Date Night:
1. Set It Up
What better way to spend a night with than to watch the Netflix sleeper hit that reportedly brought back and revitalized the rom-com genre for the 2010s? Set It Up focuses on two overworked and underpaid assistants who come up with a scheme to alleviate their stress by setting up their bosses with each other.
2. When We First Met
This one's for the hopeless romantic who finally managed to score a date this Valentine's. Adam DeVine's character meets the girl of his dreams at a party but lucks out when they end up only as friends at the end of the night. He then finds himself at a magical retro photobooth that lets him relive the exact moment over and over again until he finally gets his happily ever after.
3. The Proposal
Are you up for a classic rom-com? Well, we're always a sucker for fake dating storylines that eventually turn into something more. Plus, who wouldn't want to see Sandra Bullock hilariously dancing and chanting along with a bewildered Betty White in that iconic scene. You know the one.
4. Date Night
For the non-cheesy pairs who'd rather spend their night with some popcorn and a whole lot of comedic action, Tina Fey and Steve Carell have got your backs. In Date Night, a bored couple gets more than what they bargained for when their attempt at reigniting the romance in their marriage turns into a thrilling chase from a dangerous mob.
For a Girls Night Out:
1. Alex Strangelove
Reminisce the familiar perils of high school love and heartbreak with your gal pals in Alex Strangelove. The perfect student with the perfect girlfriend, Alex's cookie-cutter life takes an exciting turn when he meets a charming boy that has him questioning his sexuality.
2. Irreplaceable You
If you're gonna cry and be sad on V-day, the best way to do it and survive the night is with your group of friends, paired with a good 'ol tear-jerker. This film is about cancer-stricken Abbie who  jumps head-on into her final mission in life: to make sure that her childhood best friend and fiancé, Sam, finds someone to take care of him after she's gone, to look for the bright side of the remaining time that she has.
ADVERTISEMENT - CONTINUE READING BELOW
3. The Feels
Constance Wu plays an engaged lesbian unable to make her fiancé climax in The Feels, and yes, that's the main conflict of the film. You'll pretty much have fun watching this with your BFFs as you judge and laugh at how ridiculous all of their problems sound. We love a movie that makes you grateful to be single.
4. 17 Again
Swoon over a young Zac Efron and remember the things that made him your crush back then? Why not?
For the Broken-hearted:
1. Those People
Wallowing for a bit can be good, and Those People is pretty much a sucker punch to the gut. You'll definitely empathize with Charlie, a young painter stuck pining between his love for his childhood best friend, and a new older captivating pianist. Spoiler alert: If you've ever been or are in love with your best friend, too, you'll relate to Charlie in the most painful ways possible.
ADVERTISEMENT - CONTINUE READING BELOW
2. Eternal Sunshine of the Spotless Mind
If you're still trying to get over your ex, this movie is all about forgetting your past significant other. Literally. It does end on a hopeful note, though. Needless to say, whether it's getting back together or finding someone new, Eternal Sunshine of the Spotless Mind is the Oscar-winning film that every hopeless romantic cinephile should watch.
3. Never Let Me Go
Andrew Garfield, Keira Knightley, and Carey Mulligan play a tight-knit group of friends stuck in an excruciating love triangle in a dystopian world where people like them have absolutely no say on their future.
4. We're the Millers
Because we're not all masochists here who reward sadness with even more depressing films, how about indulging your broken heart with a comedy starring Jennifer Aniston? We promise this film is filled with laugh-inducing scenes to cheer you up and make you forget what day it is.
ADVERTISEMENT - CONTINUE READING BELOW
This story originally appeared on Preview.ph.
* Minor edits have been made by the Femalenetwork.com editors.
Load More Stories