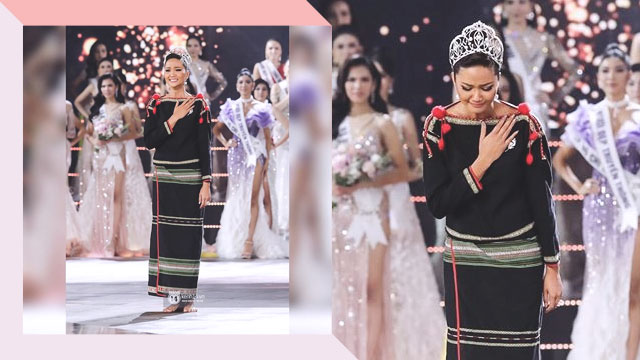 Miss Vietnam 2018 H'Hen Nie paid tribute to the Ede tribe during her final walk.
H'Hen Nie, who is the first beauty queen to hail from an ethnic minority group in Vietnam, donned their traditional dress during the ceremony.
ADVERTISEMENT - CONTINUE READING BELOW
She also walked on the stage barefoot.
The Miss Universe 2018 Top 5 finisher captioned one of her posts: "Today with bare feet, in traditional costume of the Ede people, I am truly proud to bear the title of Miss Universe Vietnam."
In her speech, H'Hen Nie looked back on her two-year reign as Miss Vietnam and expressed her deep gratitude for the opportunity.
Part of her caption read: "I want to use the word 'Thank you'.
"'Thank you' to everyone who have accompanied me all the way. Thanks to all, friends, bro, sis... who have been with me to create this wonderful youth.
"And 'Thank you' to my family, for being the most spiritual support of me all the time. Thanks for all your love...
"Thank you so much from the bottom of my heart." 
ADVERTISEMENT - CONTINUE READING BELOW
H'Hen Nie's life story became a trending topic last year.
The Miss Universe 2018 finalist moved to Ho Chi Minh at 14 after she refused to follow tradition and marry at that age.
She financed her way through college by working multiple jobs: as a maid, a tutor, a leaflet deliverer, and a model.
In 2015, H'Hen Nie joined Vietnam's Next Top Model, and made it to the Top 9.
This experience boosted her self-confidence.
Three years later, H'Hen Nie made her mark in Miss Universe 2018.
H'Hen Nie then passed on her Miss Vietnam crown to Nguyen Tran Khanh Van .
ADVERTISEMENT - CONTINUE READING BELOW
Load More Stories