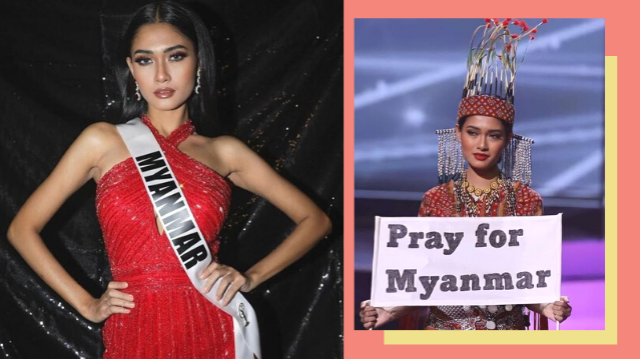 Miss Universe Myanmar Thuzar Wint Lwin (also known as Candy Lwin) believes it isn't safe for her to go back to her country. Before coming to the US, Thuzar was part of the many street protests speaking out against the military coup, and this month, she held out a banner that read "Pray for Myanmar" during the Miss Universe national costume competition. 
ADVERTISEMENT - CONTINUE READING BELOW
What's happening in Myanmar? 
Myanmar's military, also known as the Tatmadaw, seized control of the country in February 2021 and declared "a yearlong state of emergency." Citizens took to the streets to protest and call for democracy. Thousands have been arrested and violence increased as security forces "used water cannons, rubber bullets, and live ammunition" to disperse protesters. Over 300 individuals have reportedly been killed and the youngest victim was a seven-year-old little girl. 
In an interview with The New York Times, Thuzar shared: "The soldiers patrol the city every day and sometimes they set up roadblocks to harass the people coming through...In some cases, they fire without hesitation. We are scared of our own soldiers. Whenever we see one, all we feel is anger and fear." In the same interview, Thuzar said she doesn't know where to go after the Miss Universe pageant. 
Miss Universe Myanmar's national costume 
Thuzar disguised herself when she left Myanmar to go to the United States and said she was scared when she passed through immigration. Once she arrived in the US, she was informed that her luggage with most of her pageant outfits had gone missing. For her national costume, her countrymen in the US "provided her with a stunning replacement of ethnic Chin origin." Thuzar eventually won Best National Costume for the ensemble.
ADVERTISEMENT - CONTINUE READING BELOW
What happened to Miss Grand Myanmar Han Lay? 
If there's someone who can understand what Thuzar is going through, it's Miss Grand Myanmar Han Lay, who took the stage during the Miss Grand International coronation night to talk about her countrymen's fight for democracy. Unable to go back home, Han Lay is reportedly staying in Thailand under the Miss Grand International Organization's care. 
ADVERTISEMENT - CONTINUE READING BELOW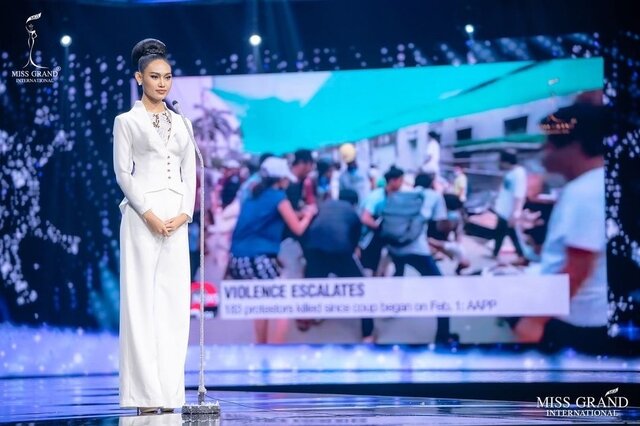 ***
Cosmo.ph is officially on Viber! Be part of their growing community and subscribe to Cosmopolitan Philippines now!
Load More Stories