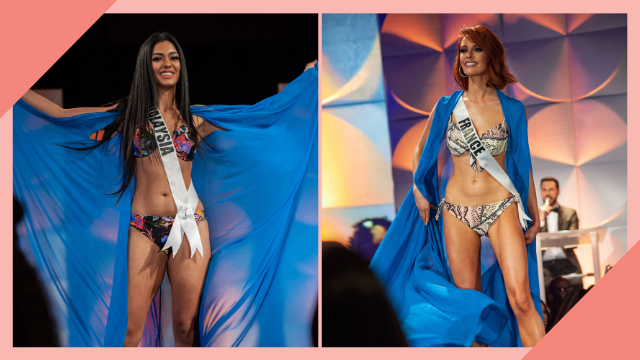 Several Miss Universe 2019 candidates suffered major falls onstage at the pageant's swimsuit preliminaries.
The event was held at the Atlanta Marriott Marquis in Georgia, USA, Friday night, December 6 (Saturday morning, December 7, Philippine time).

Miss France Maëva Coucke fell onstage toward the end of her walk on the runway because the stage floor was slippery.
The audience cheered her on and the 25-year-old model was able to recover and finish her pasarela.
ADVERTISEMENT - CONTINUE READING BELOW
Miss Malaysia Shweta Sekhon also fell hard onstage.
The 22-year-old beauty queen also regained her composure and finished her walk with confidence.
Other candidates also suffered minor slips but were able to save themselves from falling.
These include: Miss Indonesia Frederika Alexis Cull, Miss Malta Teresa Ruglio, and Miss New Zealand Diamond Langi.
The stage was so slippery that, at one point, the swimsuit round had to be interrupted to give way to a "sweep break."
ADVERTISEMENT - CONTINUE READING BELOW
Catriona commends the candidates
After the segment, Miss Universe 2018 Catriona Gray commended the candidates for their confidence amid the mishaps.
She said, "We witnessed earlier these amazing women come out here glowing with confidence. And even though we had a few falls, they took themselves up, they stood back up again.
"And I just want to take this chance to acknowledge that, because when we're backstage that's the one thing we're hoping won't happen, and unfortunately, it did tonight."
Catriona also thanked the audience for continuing to cheer on the candidates.
The 25-year-old Filipino beauty queen said, "And I want you all to give yourselves a round of applause for being an amazing audience, for really encouraging those girls to get back up on their feet. Thank you so much."
Pageant fans took to Twitter to express their concern for the candidates who fell on the stage.
ADVERTISEMENT - CONTINUE READING BELOW
Load More Stories