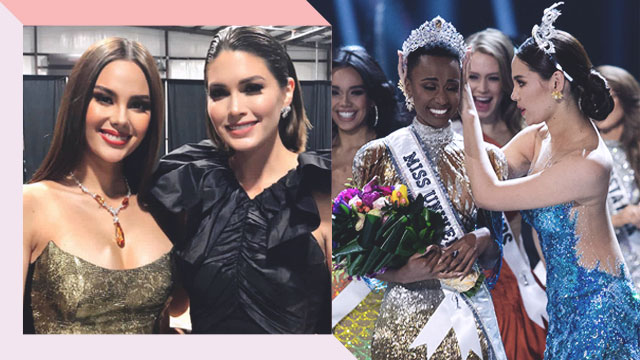 [This is a developing story.] 
Miss Universe has crowned a new queen, Miss South Africa Zozibini Tunzi! The 26-year-old was able to bring back the crown to her country, after Demi-Leigh Nel-Peters won in 2017. Zozibini succeeds our very own Miss Universe 2018 Catriona Gray.
ADVERTISEMENT - CONTINUE READING BELOW
If you weren't able to catch the much-awaited pageant live this morning, here's everything you might have missed—including the sweetest off-cam moments! 
1. Here is Catriona Gray crowning the new Miss Universe 2019, Miss South Africa:
Miss South Africa is the first Miss Universe to receive the new 'Power of Unity' crown, which is reportedly valued at $5 million or around P253 million.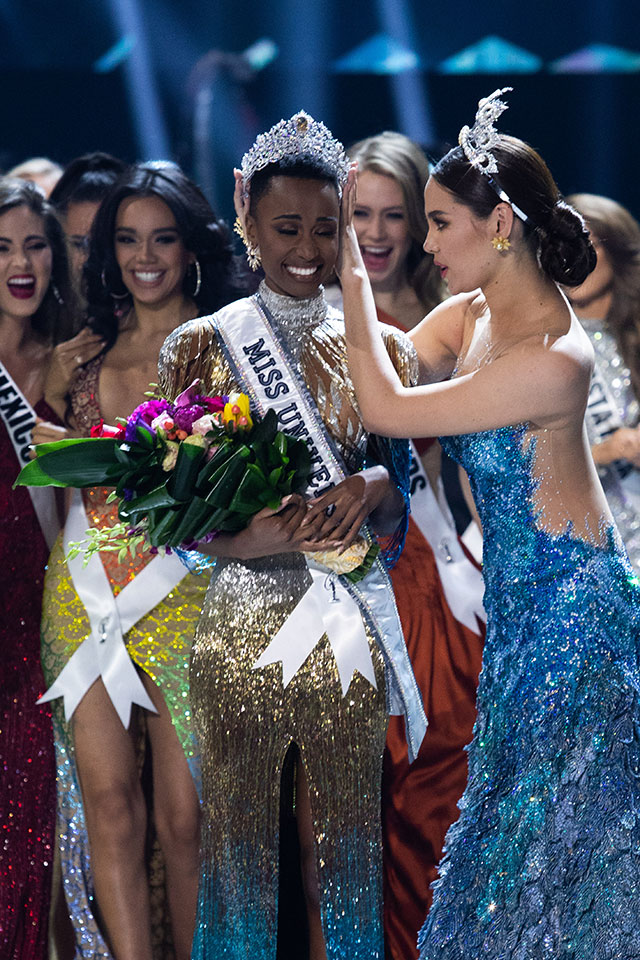 2. Ally Brooke serving us feelings of nostalgia when she performed legendary singer Selena Quintanilla's hits "I Could Fall In Love" and "Dreaming of You" during the evening gown portion. 
ADVERTISEMENT - CONTINUE READING BELOW
3. Many candidates fell onstage at the pageant's swimsuit preliminaries... but all recovered like queens. 
ADVERTISEMENT - CONTINUE READING BELOW
Catriona, who hosted the pageant's preliminary competition, commended the ladies for "[coming] out here glowing with confidence. And even though we had a few falls, they took themselves up, they stood back up again.
"I want you all to give yourselves a round of applause for being an amazing audience, for really encouraging those girls to get back up on their feet. Thank you so much."
4. Gazini taking a selfie with fellow Pinay queen Catriona Gray. 
In her Instagram post, Gazini thanked Catriona "for bringing pride to our country."
ADVERTISEMENT - CONTINUE READING BELOW
5. Gazini took our breaths away in her silver national costume inspired by the Philippine Eagle during the preliminaries...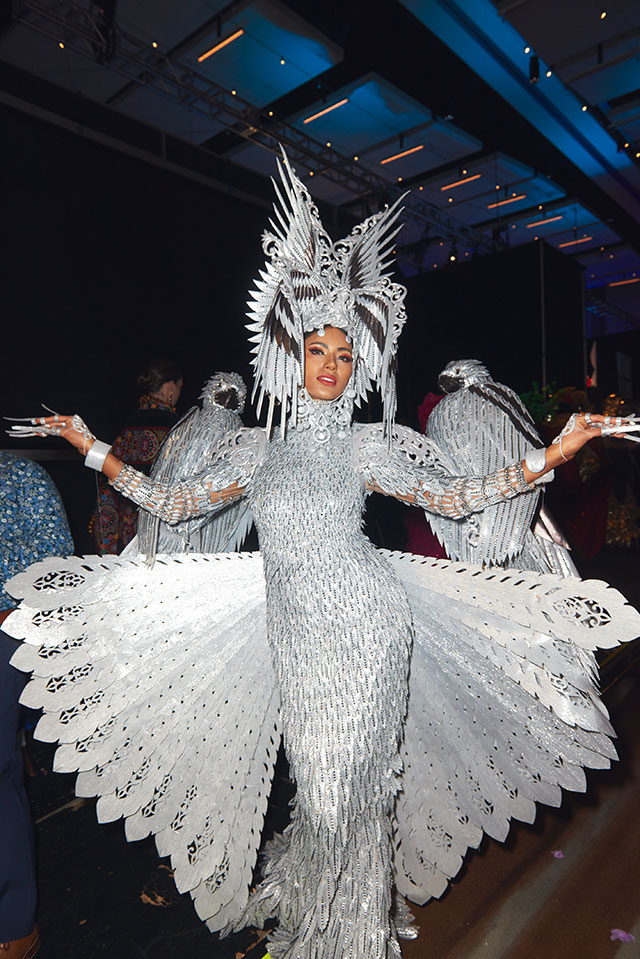 6. The winning answer of Miss South Africa 
For the much-awaited Q&A round, Zozibini Tunzi was asked, "Are leaders of today doing enough to protect future generations from climate change? If not, what more should they be doing?"
ADVERTISEMENT - CONTINUE READING BELOW
Here's her moving response: "I think that the future leaders could do a little bit more. But, however, I feel like we as individuals, ourselves, can also play a part in making the climate and the way it should be in the future. I mean, we have children protesting for climate, and I feel like as adults we should join as well. We should have corporations join as well, and the government should take it seriously. I mean, from sixth grade, I've been learning that the climate is deteriorating and the planet is dying, and it is up to us to keep our planet safe. Thank you."
7. South African Miss Universe 2017 Demi-Leigh Nel Peters congratulates the newly-crowned Zozibini Tunzi.
ADVERTISEMENT - CONTINUE READING BELOW
8. 

Zozibini Tunzi gets emotional while her fellow contestants cheer her on.

"Who is she?"

"Miss Universe!" 

In the clip, you can also catch a glimpse of Gazini congratulating Zozibini. 

ADVERTISEMENT - CONTINUE READING BELOW
9. Catriona Gray taking the stage for her final walk as Miss Universe.
She wore an 'alon'-inspred gown designed by none other than Mak Tumang. 
ADVERTISEMENT - CONTINUE READING BELOW
10. Catriona fangirling over Miss Universe 2013 Gabriela Isler.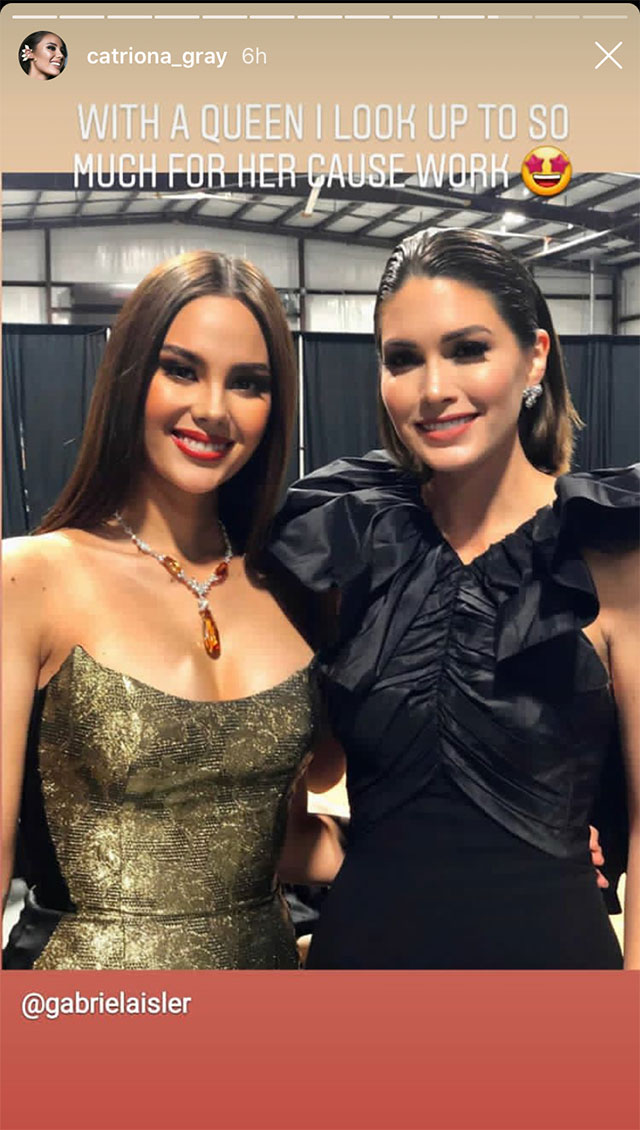 ADVERTISEMENT - CONTINUE READING BELOW
11. Here is Gazini bonding with her fellow contestants from the Netherlands, Colombia, and Brazil! 
ADVERTISEMENT - CONTINUE READING BELOW
12. Gazini passionately talking about her advocacy, elderly care, during the opening statement segment. 
"The world is aging... My grandparents raised me and I've worked in an organization that was supportive of elderly care. I learned, I realized that there's this stigma between ageism, poverty, and invinsibility.
It is [right] for us to remember that they were the ones who paved the way for us, and we should reciprocate that love and no one should ever be left behind."
13. Last but not the least, here is an adorable backstage moment where Gazini and Miss Thailand Paweensuda Drouin can be seen hugging each other. 
ADVERTISEMENT - CONTINUE READING BELOW
Load More Stories