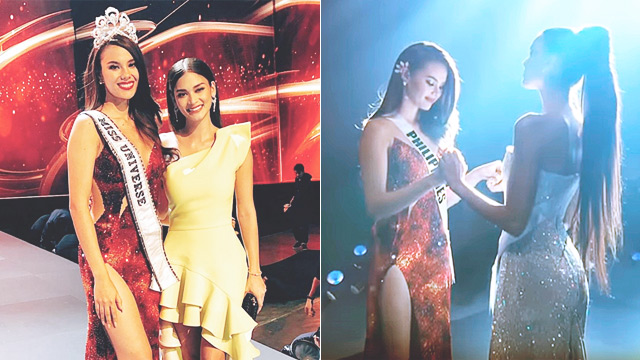 [This is a developing story.] Miss Universe 2018 has officially wrapped up, and the Philippines now has its fourth queen. Catriona Gray succeeds Miss Universe 2017 Demi-Leigh Nel Peters, and officially joins the ranks of Gloria Diaz (1969), Margie Moran (1973), and Pia Wurtzbach (2015). 
ADVERTISEMENT - CONTINUE READING BELOW
Here's Catriona's winning moment in case you want to watch it over and over again (cause we did!):
Not quite over the hype just yet? We've got you covered. Here are short and sweet moments we loved in this year's Miss Universe competition, held at the IMPACT Arena, Muang Thong Thani, Bangkok, Thailand:
The return of the famous custom-made Tessera Jewelry ear cuff.
Catriona debut her ear cuff during the Binibining Pilipinas competition, and it makes a come back on the world stage.
The crowd cheering for transgender candidate Angela Ponce
This is the first ever Miss Universe to include a transgender candidate, ever since the rules were amended back in 2012. Despite not being a finalist (she was eliminated before the Top 20), she was honored during the coronation night, and the crowd gave her a standing ovation!
ADVERTISEMENT - CONTINUE READING BELOW
In a video played onscreen, Miss Universe Spain, Angela Ponce, is described as "smart, driven and beautiful."
ADVERTISEMENT - CONTINUE READING BELOW
"Identity is with us since we're born," says Angela.
Miss Universe Costa Rica poking fun at Miss Universe host Steve Harvey's infamous 2015 fumble.
We're just happy he read the right name this time!
Host Ashley Graham including Catriona Gray in her prediction for the top 3!
She was the only host to do so.
ADVERTISEMENT - CONTINUE READING BELOW
ADVERTISEMENT - CONTINUE READING BELOW
They even had a quick chat a moment before the evening gown competition. "I feel my country right behind me!" said Catriona after Ashley asked her about how she felt about the night.
Ne-yo's performance featuring the top 3 finalists
These women are definitely "Miss Independent" on their own terms. How much did you love her Mak Tumang evening gown?
The winning answer of Catriona Gray
Getting into the final three, Catriona's answer focused on her personal advocacy of helping provide for the needs of children in underpriviledged communities, going on to say that if given the crown, she would champion positivity.
"I work a lot in the slums of Tondo, Manila and the life there is very... it's poor and it's very sad. I've always taught myself to look for the beauty in it, to look in the beauty of the faces of the children and to be grateful.
ADVERTISEMENT - CONTINUE READING BELOW
"And I would bring this aspect as a Miss Universe to see situations with a silver lining, and to assess where I could give something, where I could provide something as a spokesperson. And this, I think, if I could teach also people to be grateful, we could have an amazing world where negativity could not grow and foster, and children will have a smile on their faces."
Miss Universe 2017 Demi-Leigh Nel-Peters passing on the crown to the new Queen!
ADVERTISEMENT - CONTINUE READING BELOW
During her final interview with Steve Harvey, moments before she ended her reign, Demi-Leigh said that she will be continuing fighting for her advocacies in her home country, South Africa. "No woman deserves to be a victim of violence or crime," she said.

The candidates congratulating Catriona after she was crowned.
ADVERTISEMENT - CONTINUE READING BELOW
A good reminder to always be gracious!
Miss Universe 2015 Pia Wurtzbach joining Catriona for a photo op onstage
On Instagram, Pia wrote "You started strong and captured our hearts with your grace, commitment and fearlessnes! And that walk...how could anyone forget that walk?"
Pia sharing a relaxed moment with other beauty queens
Including Miss Universe 1991 Lupita Jones!
ADVERTISEMENT - CONTINUE READING BELOW
Former Miss Universe Philippines rep Rachel Peters fangirling over meeting Ashley Graham
Rachel even shared that that her trip was entirely spontaneous! "Booked a flight from Phuket at 9 p.m. and flew to BKK at 11:30 p.m.," she wrote.
ADVERTISEMENT - CONTINUE READING BELOW
READ MORE STORIES ON MISS UNIVERSE 2018 HERE:
Catriona on Hearing Her Name Being Called: "I can't even wrap my mind around it.
Catriona Gray is Miss Universe 2018!
Here are 5 Videos of Catriona Gray Singing Your Favorite Tunes
Load More Stories