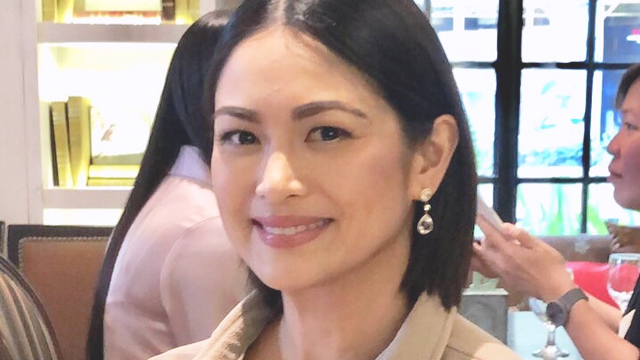 Beauty queen-turned-inspirational speaker Miriam Quiambao is battling the autoimmune disease Antiphospholipid Antibody Syndrome (APAS).
The revelation came after a netizen asked about the dark bruises on her growing baby bump that could be seen on a photo she posted on Instagram. It showed her applying lotion on her bare baby bump.
ADVERTISEMENT - CONTINUE READING BELOW
"I was diagnosed with Obstetric APAS and need to inject every night for the whole duration of my pregnancy," Miriam, who is now at 25 weeks, replied. She added she was injecting an anticoagulant to prevent blood clots.
The preggo momma had been ordered to be on bed rest for two whole weeks after a routine congenital anomaly scan. Her doctors found that she was having persistent premature uterine contractions, which if not addressed could cause her to go on premature labor. She was only 21 weeks pregnant then.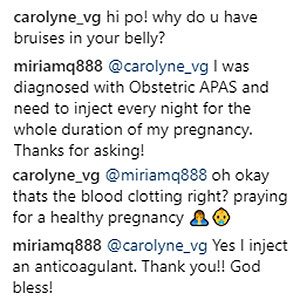 ADVERTISEMENT - CONTINUE READING BELOW
Miriam isn't the first celebrity preggo who disclosed of having the condition. Sitti Navarro, Philippine's Bossanova Queen, had it, and she just delivered a healthy baby girl. Nadine Samonte also had it during her first pregnancy and also now, with her second.
What is APAS?
APAS occurs when the body makes antibodies that mistakenly attack phospholipids, a type of fat that's found in the blood. When this happens, it causes blood clots to form in veins and arteries, which can lead to complications which can lead to miscarriage or stillbirth.
There is no cure for APAS, but like many pregnancy complications, it is manageable by taking certain medications. Injecting coagulants such s Heparin is one way to prevent blood clotting. Another is taking aspirin or blood thinners. The key for preggos who have APAS is, of course, early diagnosis.
Who is more likely to get APAS?
It's a myth to think that APAS is a condition only pregnant women experience. Anyone, young and old, even babies, can be diagnosed with the disease. Most people with APAS get diagnosed between 20 to 50 years old. Diagnosis is confirmed by a simple blood test.
ADVERTISEMENT - CONTINUE READING BELOW
Autoimmune conditions are genetic, but hormonal and environmental factors also affect one's likelihood of having APAS. It is more common in women than in mean and a lot of those who have it live a normal life and don't show signs or symptoms.
Being pregnant actually makes one more at risk for APAS, or if one has had surgery. Some medications also increase your likelihood of developing it, as well as having a weakened immune system. Smoking, taking birth control pills, and having high cholesterol also makes one more likely to have it.
When to see a doctor about it?
Until now, the cause of APAS remains unclear. Most of the symptoms point to health issues associated with miscarriages, premature delivery, high blood pressure, blood clotting issues, and cardiovascular and neurological conditions. If you notice these symptoms even before getting pregnant, see a doctor right away. Below is a detailed list from the U.K. National Health Service (U.K.-NHS) and Mayo Clinic:
ADVERTISEMENT - CONTINUE READING BELOW
deep vein thrombosis, or blood clots in the legs
pulmonary embolism, or blood clots in the lungs
preeclampsia, or high blood pressure during pregnancy
premature delivery
cardiovascular issues such as a stroke and transient ischemic attack (TIA)
bleeding, or when your blood doesn't have enough white blood cells needed for clotting
rash with a lacy-net-like pattern
balance and mobility problems
vision problems, such as double vision
speech and memory problems
a tingling sensation or pins and needles in your arms or legs
fatigue or extreme tiredness
repeated headaches or migraines
If you experience bleeding from your nose or gums, numbness, weakness or paralysis of the face, arm or leg, visual disturbances, severe headache, shortness of breath, cheats pain, coughing up blood-streaked mucus, swelling and redness or pain in a leg or arm, get immediate medical attention. 
This story originally appeared on Smartparenting.com.ph.
* Minor edits have been made by the Femalenetwork.com editors.
Comments
Load More Stories