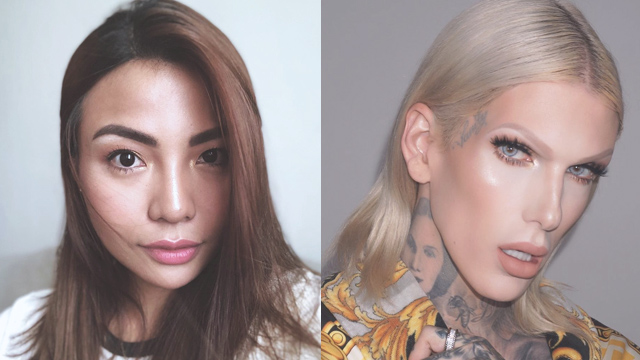 This is Jeffree Star—YouTuber, makeup artist, and founder of Jeffree Star Cosmetics.
ADVERTISEMENT - CONTINUE READING BELOW
CONTINUE READING BELOW
Recommended Videos
He has a series on his YouTube channel called "Is It Jeffree Star Approved?" where he reviews viral makeup products such as the Harry Potter eyeshadow palette, the highlighter with a rose inside, and the Crayola makeup collection.
Recently, Pinay vlogger Michelle Dy came out with a series on her channel called, "Is It MD Approved?" When Jeffree saw it, he was not happy.
He commented on one of her videos, "You're full of complete shit. Stealing my 'Approved' series and trademarked title is pathetic. But that's what boring unoriginal people do. My lawyer will reach out to you shortly. 'Jeffree Star Approved' is copyrighted in America."
ADVERTISEMENT - CONTINUE READING BELOW
He also called her out on his IG stories and spoke about how he's been doing the series for two years and how the logo is already on merchandise. "Girl, that's been my thing for two years now, it's trademarked, it's on merch, don't try me."
In response to this, Michelle deleted her videos and posted an explanation and apology on Twitter:
ADVERTISEMENT - CONTINUE READING BELOW
"Jeffree Star is one of the few YouTube gurus I watch and look up to in the YouTube community. Recently, I uploaded 2 new videos on my YouTube channel which was the 'MD Approved New Series' inspired by Jeffree. While it was clearly stated in the description box in the 2 new videos that this new series in my channel was [a] Pinay version and inspired by international YouTubers, I was unaware that this 'Jeffree Star Approved' series is copyrighted in America.
"I would like to take this opportunity to sincerely apologize to Jeffree Star if, in any way or another, I may have violated your rights from the use of the trademark. Videos from my channel have been deleted already and rest assured that it will not happen again. Again, I am sorry.
"I am sharing this to all of you to serve as a lesson for all of us. I believe that a mistake cannot be corrected with another mistake. And as the adage goes, 'When you make a mistake, there are only three things to do about it, admit it, learn from it, and don't repeat it.' – MD"
ADVERTISEMENT - CONTINUE READING BELOW
She also tweeted to thank her fans for their support and love.
ADVERTISEMENT - CONTINUE READING BELOW
As of writing, Jeffree has not responded to Michelle's apology.
This story originally appeared on Cosmo.ph.
* Minor edits have been made by the Femalenetwork.com editors.
Load More Stories