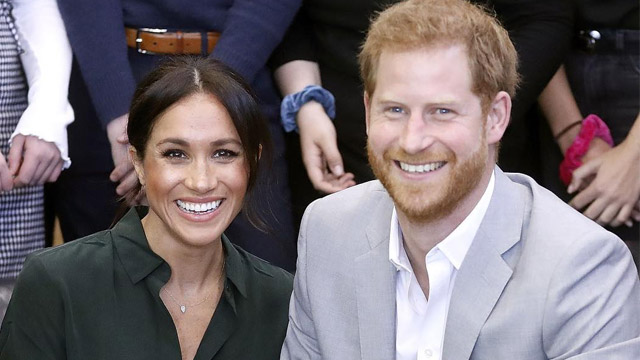 Baby Sussex has arrived! On May 6, 2019, Meghan Markle and Prince Harry welcomed their first child—a baby boy whose name they have yet to publicly reveal. The exciting announcement was made through the Duke and the Duchess' official Instagram page @sussexroyal, which read: "We are pleased to announce that Their Royal Highnesses The Duke and Duchess of Sussex welcomed their firstborn child in the early morning on May 6th, 2019. Their Royal Highnesses' son weighs 7lbs. 3oz.
ADVERTISEMENT - CONTINUE READING BELOW
"The Duchess and baby are both healthy and well, and the couple thank members of the public for their shared excitement and support during this very special time in their lives."
CONTINUE READING BELOW
Recommended Videos
ADVERTISEMENT - CONTINUE READING BELOW
Here's everything we know about the newest addition to the royal family (so far): 
1. The little boy was born just as the sun rose at Windsor.
Meghan gave birth to him at exactly 5:26 a.m., as reported by CNN. 
2. Prince Harry was present for his son's birth.
This has been a modern practice followed by the royal family in the recent years; according to CNBC, Prince Charles was the first father to be present at his childrens' birth, and his eldest son Prince William followed suit. 
ADVERTISEMENT - CONTINUE READING BELOW
3. The royal baby will automically be a British citizen...
...but he is also eligible to apply for a dual citizenship (British and American) if Meghan and Harry wish to do so. 
4. He is seventh in line to the throne...
He is behind Prince Charles, Prince William and his children—Prince George, Princess Charlotte and Prince Louis—and of course his father, Prince Harry.
ADVERTISEMENT - CONTINUE READING BELOW
5. ...but he may or may not be a prince. 
Traditionally, Baby Sussex wouldn't be called a prince. As Daily Mail UK reports, King George V once decreed in 1917 that the titles like prince or princess are limited within the royal family, or rather, the children of the sovereign (this includes Princes Charles, Prince William, and Prince George). 
In modern times, however, the Queen can always step in and shake things up. Most recently, she has issued a new decree, where she bestowed all of William and Kate's children with the titles HRH and Prince or Princess, so whether or not baby Sussex will be called a prince is still unclear. 
ADVERTISEMENT - CONTINUE READING BELOW
6. We won't be seeing photos of the baby until a few more days. 
In the past few years, it has become somewhat like a tradition for newlyborn royal babies to be photographed in the arms of their mother outside St. Mary's Hospital, where Catherine, Duchess of Cambridge and even Princess Diana have posed with each of their children. However, Meghan and Harry, a couple known for breaking from the royal norms, decided not to have the traditional photocall. 
ADVERTISEMENT - CONTINUE READING BELOW
Instead, Prince Harry gave a short but sweet press conference to share updates on their first son. "I haven't been to many births, this is definitely my first birth. It was amazing, absolutely incredible. As I said, I'm so incredibly proud of my wife," excitedly shared the new dad,  as he smiled from ear to ear. 
Watch the Duke of Sussex's full interview here: 
7. Meghan's Suits co-stars also expressed their delight on the baby's arrival via Twitter: 
ADVERTISEMENT - CONTINUE READING BELOW
Congratulations, Meghan and Harry!
Comments
Load More Stories