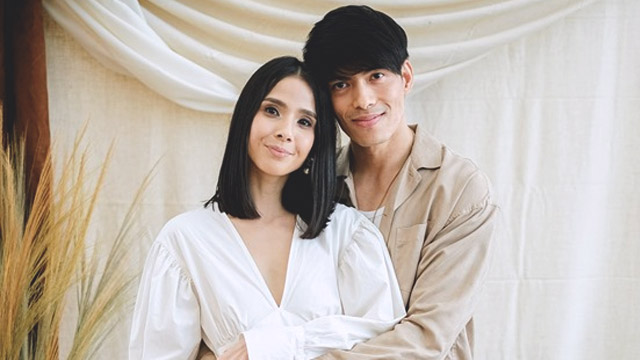 Maxene Magalona and husband Rob Mananquil love to travel. "We try to travel as much as we can. Siyempre kapag may promo fare, nakaabang kami," the actress told PEP.ph at the recently-held Sweet Escape event in Bonifacio Global City.
ADVERTISEMENT - CONTINUE READING BELOW
Maxene said they travel a lot, but not just to see places. "For us, it's like we're still working when we travel. We don't treat it as a vacation. We treat it as a learning experience."
Back when the 32-year-old star was single, she used traveling as an excuse to splurge: "Dati kasi, I would travel for shopping lang. Shopping or food." All that, however, changed after she got married to Rob. Maxene elaborated, "He was the one who opened my eyes na, 'Hey, when you travel, you connect with people. You look at their culture. Observe.'
"Kung baga when I started traveling with him, it was a totally different way of traveling... You dig deep and you use it for a different purpose, I guess? Since travel is already a vacation, sort of, might as well use it to influence you in a good way."
Among the cities in the world the couple had gone to were Hong Kong, Singapore, Los Angeles, New York, Paris, Lisbon, and London. Locally, Maxene and Rob have mostly been to the beaches of Palawan, Batangas, and Boracay.
But their favorite destination is Tokyo, Japan. Why Tokyo? "For some reason, my husband is really... he thinks he was maybe Japanese in his past life. But he loves sushi, I love Japanese food. At the same time, I love the culture, I love the people. They inspire me so much..."
Maxene and Rob have experienced Japan in almost all of its seasons. "Winter, summer, spring. Ginawin ako, so I love spring and summer more. It's a different experience every time kasi when you're there. The weather is so beautiful, the people are so nice, the food is amazing. It's the whole package.
"It's our go-to happy place. It's the place we go where we can recharge, remember our intentions. Why are we here? What are we doing here? What is this all for? Travel makes us go deep into life. That's really what travel does to us. That's why we love to do it!"
ADVERTISEMENT - CONTINUE READING BELOW
For 2019, Maxene and Rob have had two trips to Tokyo so far; one for work, and another to watch John Mayer live at Nippon Budokan, a popular concert arena. At the same time, Rob also celebrated his birthday.
With social media as part of the daily grind, it has become common practice to use traveling as an excuse to gather new social media content. But this practice of constantly taking photos can dampen the traveling experience, and Maxene agrees.
"That's true. When we travel, we sometimes get lost," she says, referring to the need to create new social media content in every trip. "I will admit that there was a time na talagang you just get lost in it. You're more excited to post than to travel..."
ADVERTISEMENT - CONTINUE READING BELOW
Rob, in fact, always reminds her to be in the moment when they are travelling. The daughter of late rapper Francis Magalona says, "My husband is the one who always tells me, 'Remember when you post something, why are you posting it? What is your point for posting it?' And that's what really makes me take a step back. It makes you forget na what's really important is that experience, not the posting of the picture...
"It's just important to not forget and keep yourself in check and remember it's not just about the pictures. It's about the memories, it's about the connections. The pictures represent that. Always think: What do your pictures represent? When you post something online, what does it represent? If it represents something meaningful to you, then go ahead and post it. But if not, it's up to you...
"It's a free world. We should get to do what we want to do. But for you lang, personally, don't forget why you're posting something and don't forget the meaning behind it."
Load More Stories