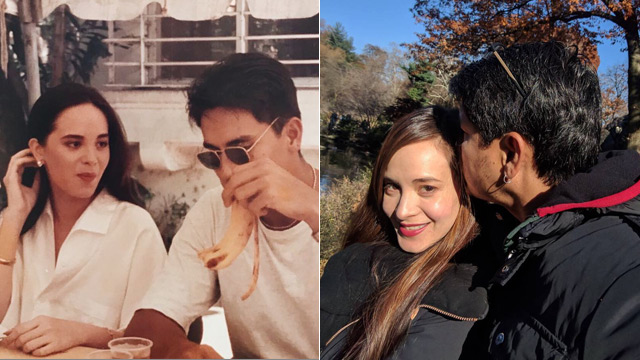 Lucy Torres-Gomez remembers exactly the first time she had a face-to-face encounter with Richard Gomez, the man she has loved since she was 12 years old. And she has this moment captured forever in photos!
ADVERTISEMENT - CONTINUE READING BELOW
On Valentine's Day, she posted on Instagram a series of images of herself and the actor taken in 1993. Richard was at the prime of his career, while she was a simple lass from Leyte who was cast as a talent for a TV commercial. They belonged in different worlds, and no sparks flew just yet.
CONTINUE READING BELOW
Recommended Videos
The first photo shows a very smitten Lucy staring at the oblivious Richard while they ate. 
"The first time we sat down to a meal—lunch break during the first shooting day of the first storyboard of our first TVC together. I did not particularly like vegetables back then and you noticed I had eaten everything else on my plate but the carrots," Lucy captioned the post.
The second and third photos show the two in conversation. Lucy relays this is what Richard told him: "'You don't like carrots? Try them, they're good for the body.'" 
"I ate every last bit, not really tasting them, just getting them down. I needed to do that anyway because, frankly, I couldn't breathe," she added in her caption. 
Only 18 years old at the time, Lucy says meeting her crush was a dream come true. 
"I've loved you since I was 12, after all, and finally you were beside me. Real. Asking me to eat my vegetables. Plus earlier that day, on set indoors and under the light of the sun, your eyes were so beautiful, piercing. And I'd sometimes catch you staring at me, a little too long, a little too hard. Everything was a blur but you."
ADVERTISEMENT - CONTINUE READING BELOW
In a February 2018 post, Lucy shared that Richard had kept a photo of her which he himself took. She never knew the photo existed until she became his wife five years later, a year after they reconnected and became romantically involved. 
"I remember seeking shade under some tree during the break, and people from the production house and agency were taking behind-the-scenes shots. And somewhere far away from the crowd, there was Richard—tall, dark, handsome, and perfect, in khaki shorts and a shirt, his professional camera with him.
ADVERTISEMENT - CONTINUE READING BELOW
"I looked towards him, and seeing that his camera was pointed somewhere in my direction I smiled for him, never mind if I did not know for sure it was I who he saw in those lens," she captioned a portrait of her 18-year-old self.
"Years later, in 1998, I married him to live happily ever after, and as a very new bride organizing our things in our home, I saw this photograph in a drawer. He says he has kept it all along, and that I look beautiful. And if indeed I do, my love, it is only because I was looking at you."
ADVERTISEMENT - CONTINUE READING BELOW
Richard and Lucy celebrated their 20th wedding anniversary in April 2018. Their only child, Juliana, turned 18 in September last year. 
This story originally appeared on Smartparenting.com.ph.
* Minor edits have been made by the Femalenetwork.com editors.
Load More Stories