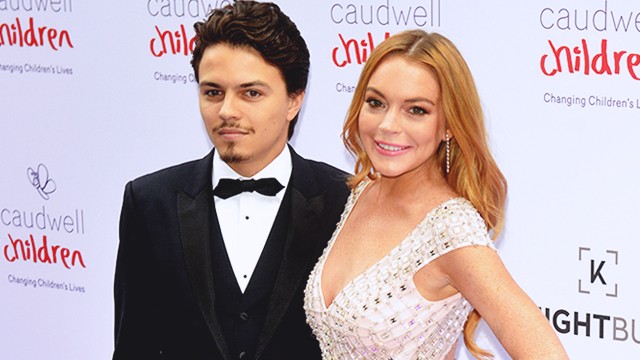 Police kicked down the door of Lindsay Lohan's London home after she claimed her fiance had attacked her.

The 30-year-old actress referenced difficulties in her personal life with a series of posts on her Twitter account on Sunday. But a video from the early hours of Saturday morning has shown the nature of the argument she had with Russian lover Egor Tarabasov, with police called after Lindsay screamed for help from the balcony of her home in Knightsbridge, London.

Britain's The Sun newspaper obtained the footage, which was shot by a neighbor who was alerted to the situation by Lindsay's frenzied pleas for help.

"He just strangled me. He almost killed me," Lindsay shouted, before adding her name and address as she begged for one of her neighbors to call for help. "Please please please. He just strangled me. He almost killed me. Everybody will know. Get out of my house."

"Do it. I dare you again. You're f**king crazy. You sick f**k. You need help. It's my house get out of my house. I'm done. I don't love you anymore. You tried to kill me. You're a f**king psycho. We are finished."

As Lindsay continued her rant against Egor, who was also standing near the balcony, she claimed that the incident was the latest in a string of assaults.

"No Egor you've been strangling me constantly," she added. "You can't strangle a woman constantly and beat the s**t out of her and think it's ok. Everybody saw you touch me. It's filmed. Get out! Get out."

Neighbors called the police reporting a "woman in distress", with officers arriving 10 minutes after the screaming began. Pulling up to the apartment with the blue lights on their vehicles flashing, policemen then kicked down the door of the flat but found it to be empty.

They told the newspaper that no arrests were made as no crime was committed.

Lindsay was back on good form on Saturday night as she headed out with a friend, but later took to Twitter to accuse her fiance of cheating on her. She also hinted that she might be pregnant, although she has yet to elaborate on whether or not this is true.
ADVERTISEMENT - CONTINUE READING BELOW
CONTINUE READING BELOW
Recommended Videos
Load More Stories