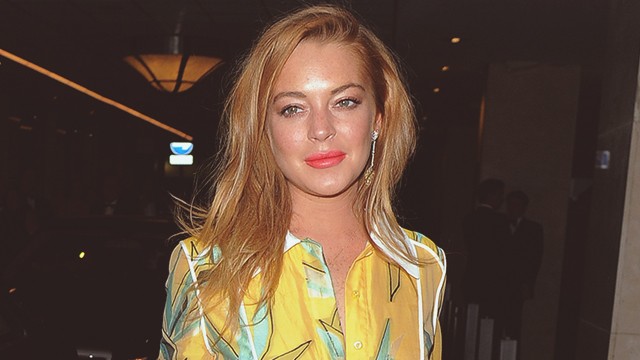 Lindsay Lohan's father Michael believes she is pregnant because the actress told him so.

The Mean Girls actress hinted she was expecting a child when she posted a series of explosive Instagram posts blasting her Russian fiancé Egor Tarabasov over the weekend and included a link to an image of herself sporting a baby bump for the movie Labor Pains.

She wrote, "Lindsay Lohan labor pains trailer – I am pregnant!!" but her representative couldn't confirm the pregnancy news, and Michael has now spoken out to confirm she has told him she's with child, and he doesn't believe she would lie to him about it.

"I have no reason not to believe her," he told news show Inside Edition on Tuesday. "She is my daughter. She hasn't lied to me. She hasn't misled me. I go on what she tells me."

A disturbing video emerged showing the couple in a heated row at Lindsay's London home in the early hours of Sunday morning. The actress accused Egor of trying to strangle her and neighbors called the police, but no arrests were made as cops ruled no crime had been committed.

Lindsay's rep recently told New York Post gossip column Page Six the couple were hoping to work on their relationship and Lindsay would like Egor to see a therapist about his anger management issues, and Michael is worried Egor isn't in the right place to be a father.

"That's very concerning, you know, because if she is pregnant, she needs the father there to support her to go through this with her and if he's not in the right frame of mind and not in the right place in his life, he can't be there," he told Inside Edition. "I just want the best for him and her."

Since the video was published, Egor has been seen reportedly moving his belongings out of her home, while Lindsay flew out of the U.K. on Monday. She has since been spotted relaxing with friends on board a yacht off the coast of Mediterranean island Sardinia, according to TMZ.com.

Lindsay also returned to Instagram to apologize for sharing her relationship drama online and admitted she was hoping to fix her relationship.
ADVERTISEMENT - CONTINUE READING BELOW
ADVERTISEMENT - CONTINUE READING BELOW
Recommended Videos
Load More Stories