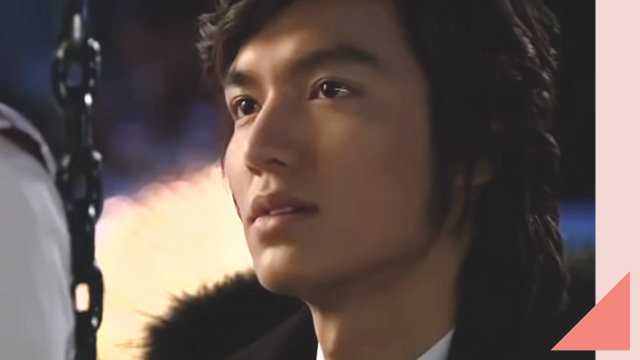 In 2009, Lee Min Ho played Young Master Gu Jun Pyo in Boys Over Flowers. Spoiled, rich, and used to getting his own way all the time, Jun Pyo finds himself falling for "Laundry Girl" Jan Di (Ku Hye Sun) when she transfers to their high school for the uber-rich. There's a lot of drama, some arranged marriages, and intense second lead syndrome in this series. It's also where we fell in love with Min Ho for the first time!
ADVERTISEMENT - CONTINUE READING BELOW
Here are 10 Gu Jun Pyo moments that will make you want to rewatch the entire series:
CONTINUE READING BELOW
Recommended Videos
1. His first real interaction with Jan Di. 
When Jan Di's friend Min Ji slips and spills ice cream on Jun Pyo's shoes, he orders her to lick it off! Jan Di then confronts him and he tells her to lick it instead. Feisty Jan Di ends up shoving her ice cream cone in his face. 
2. When he had his curly hair straightened just for her.  
After Jan Di tells him that she hates his hair and calls him out for not wearing the proper school uniform, Jun Pyo spends hours getting his hair straightened and instructs his friends to follow the school's prescribed outfits. 
3. When he pretended to be on the brink of death. 
Jun Pyo played a (mean) prank on Jan Di by scaring her to death with the help of F4-just to hear her confess her feelings for him! 
ADVERTISEMENT - CONTINUE READING BELOW
4. When they had their first kiss. 
After a series of almost-kisses, we finally got one. It happened at a playground near Jan Di's house, and Jun Pyo knelt in front of her while she was sitting on a swing. 
5. When he almost got married to someone else! 
Let's start talking about the serious moments. Remember when Jun Pyo was arranged to be married to Ha Jae Kyung? He was REALLY going to go through with it. He was at the altar with Jae Kyung, but luckily, she backed out and put an end to the ceremony. 
6. When he saved Ji Hoo and got into a car accident. 
A man with a grudge against Shinhwa Group stalks Ji Hoo, because he's under the assumption that Ji Hoo is connected with the company. He drives fast, intending to run him over, but Jun Pyo jumps in front of the car and ends up getting hit instead! 
ADVERTISEMENT - CONTINUE READING BELOW
7. When he FINALLY remembered her.
Yup, the amnesia trope was used in this drama! After the accident, Jun Pyo loses his memories of Jan Di and ends up falling for someone else. During a party, Jan Di throws herself into the pool and he jumps in after her! Thankfully, his memories come flooding back. 
8. When he proposed. 
We fast forward to four years later, and Jan Di is now studying medicine with Ji Hoo. Jun Pyo has been in the US for the sake of his company, and he arrives by helicopter in true Jun Pyo style! He drops down on one knee and asks Jan Di to marry him, and the other three members of F4 arrive, ending the show on a perfect note. 
This story originally appeared on Cosmo.ph.
Load More Stories