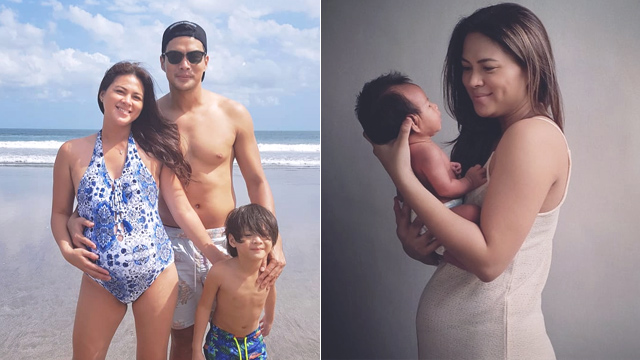 A month after the 35-year-old actress delivered her second child, Lara Quigaman took to social media to address a common misconception about women who have just given birth. 
The mom of two shared that some relatives and friends who visited her after she gave birth to son Tobias asked: "Bakit ang laki pa rin ng tiyan mo?!" referring to a "pouch" similar to the size of a four-month preggo's belly. 
ADVERTISEMENT - CONTINUE READING BELOW
"I know they don't mean anything bad but people can be so insensitive, and all those photos of 'celebrities and models' that seems to look so perfect right after giving birth don't help either," Lara wrote.
She also stressed that she gave birth via cesarean section (CS). "I mean, hello I just gave birth, I was cut open, and a human being came out of me! Can you just congratulate me?" she added. 
CONTINUE READING BELOW
Recommended Videos
The mom of two braved posting a photo of her cradling son Tobias to show off her postpartum pouch. "What the world sees as 'flaws' is simply the real deal," she said. A woman's uterus, in fact, needs time to contract and shrink to its normal size, and this is where breastfeeding helps. 
While Lara is happy for new moms who get their flat tummies back just a few days after giving birth, the celebrity mom gave a reminder that every pregnancy is different, just as every woman's body is also different. 
ADVERTISEMENT - CONTINUE READING BELOW
"My body housed two beautiful baby boys, and it took nine months each time to grow them in my belly," she said. "I have accepted the fact that it will take some time for my body to go back to the way it was (if it does go back). And if it doesn't, that's okay too," Lara shared. 
She's using her experience to send an important message to all other moms, who after taking on the most demanding, challenging and rewarding job in the world, look at themselves in the mirror and feel sad because they don't exactly like what they see: They are not alone. 
"To all the mamas out there who are exhausted, who's not had a proper shower, whose breasts are super sore," Lara wrote as she cried. "Those who can't recognize their own bodies because of the stretch marks and the chloasma or the dark patches all over their bodies, to those who still look pregnant after a month or even months after giving birth..." 
ADVERTISEMENT - CONTINUE READING BELOW
"Cheers to us! We are all beautiful and unbelievably strong, and God has given us such a wonderful gift that's worth all these hardships, and body changes," the new mom wrote. "So cheer up, Mama, You really are amazing!" she added. 
Lara dedicated every stretch mark, body change, pain, and sleepless night to Tobias and firstborn Noah. "I wouldn't trade you [both] for anything," she said.
ADVERTISEMENT - CONTINUE READING BELOW
Her husband and fellow actor Marco Alcaraz was quick to boost his wife's self-esteem. "Super sexy ka pa rin Jiamps (his term of endearment for Lara). Pinalaki mo lang tiyan mo. Best mom/wifey ever," he wrote in the comments. 
Read the full post here:
This story originally appeared on Smartparenting.com.ph.
ADVERTISEMENT - CONTINUE READING BELOW
* Minor edits have been made by the Femalenetwork.com editors.
Load More Stories