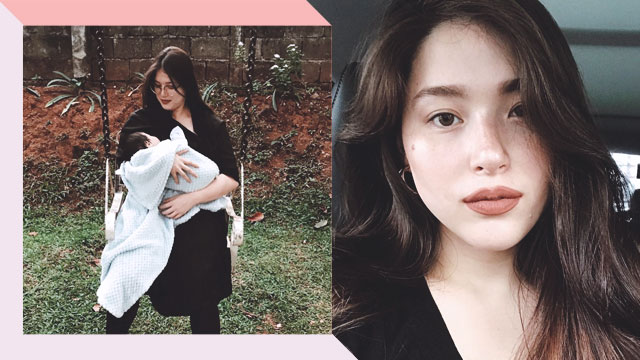 Since the start of the New Year 2020, mom of two Kylie Padilla has plenty to be thankful for. She has been sharing them as "gratitude posts" every day.
On January 16, 2020, the actress revealed that she has been feeling the pressure to lose weight. It has not been two months since Kylie gave birth to her second son, Axl Romeo, on December 9, 2019.
ADVERTISEMENT - CONTINUE READING BELOW
"Trying to fight the voices in my head nagging at me telling me it's time to lose weight," the actress wrote on her Instagram Stories.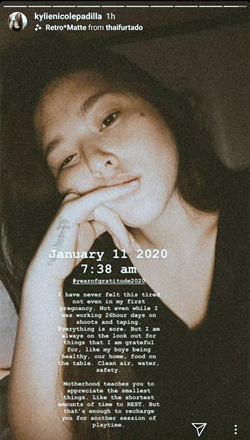 Kylie believes it's her responsibility to fight such "unhealthy thoughts," even if people who have no right to comment on her weight continue to do so. These, she relates, are because women were raised to "fit certain ideas of beauty," causing them to be hard on themselves and have low self-esteem.
"I'd like to think that my worth surpasses what my weight," Kylie stressed.
"And just like what I said when Alas was just born, my baby likes me cushiony," she added.
ADVERTISEMENT - CONTINUE READING BELOW
During her pregnancies, Kylie admitted to feeling self-conscious about gaining weight. After giving birth to her firstborn, Alas Joaquin, she talked to being overweight. Still, she proudly said she "never felt so in love" with her postpartum body, stretch marks and all, as it's able to nourish her child.
"No label or opinion is going to stop me from being proud of myself that first I am now a mother and two, that finally, I can choose to be happy no matter how imperfect people or culture says I am," Kylie previously wrote on Instagram.
More than the weight issues, the actress has been candid about the ups and downs of her motherhood journey. She remembered feeling overwhelmed as a first-time mom but also revealed she feels more tired now.
"Everything is sore. But I am always on the lookout for things that I am grateful for, like my boys being health, our home, food of the table. Clean air, water, safety," Kylie wrote for her gratitude post on January 11, 2020. She also appreciates the pockets of time for rest so she can recharge for playtime with her children.
ADVERTISEMENT - CONTINUE READING BELOW
"Motherhood teaches you to appreciate the smallest things," Kylie said.
Load More Stories