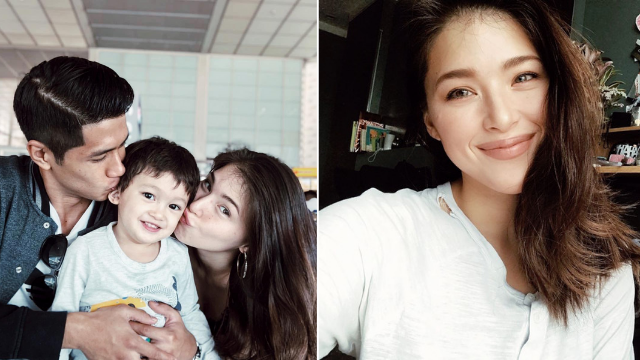 Kylie Padilla confirmed that she is pregnant with her second child. She revealed this, including the gender of her baby number two with Aljur Abrenica, in a vlog post published on August 4.
In her vlog post titled One turns 2 | happy birthday Alas, Kylie looked back on her motherhood journey with firstborn, Alas, who celebrated his second birthday on the same day.
At the end of the video, Kylie announced that she is pregnant with baby number two. She said, "There is a surprise. I'm not sure if it's a surprise, I think it's an open secret, everybody knows... but yes, we are expecting our second child.
"My husband and I are expecting our second child, and we are equally as happy. Although the journey with this one is most especially different from the first, and we'll get to that probably when the time comes that I should open up [on] baby number two, but I wanna keep the focus on Alas for now." While narrating her announcement, the vlog showed Kylie having an ultrasound, and flashed a small note. The actress wrote, "I am currently 22 weeks pregnant. Baby #2 was a surprise but a perfect one. I am feeling scared and nervous to have two little ones, but I am more excited [about] the new adventure coming our way.
ADVERTISEMENT - CONTINUE READING BELOW
"I am happy that Alas now has his sibling, the best part about my childhood was that I had two sisters who are now ultimately still my bestest friends."
Kylie then had a little gender reveal at the end of the video, with Aljur holding a balloon. Before popping the balloon, Aljur asked Kylie, "Seryoso ba ito? Lalaki ba?"
Kylie then shouted, "Ahhhh!" Checking out the balloon, Aljur added, "[Shucks], lalaki. Lalaki ba?"
Kylie, who was trying to hold her emotions, told her husband, "Hindi naman kita iyan!" When he popped the balloon, blue confetti came out—yup, baby number two is a boy.
Aljur, who was quite shocked, exclaimed, "Boy ulit!"
Kylie originally intended to do a gender-reveal party, without her seeing the ultrasound result. She said in her vlog, "So the original plan was to keep it a secret, and to have a gender reveal for both of us, but being me, I am way too excited. I haven't studied nursing or how to look at an ultrasound, but since Alas's pregnancy, I already know how to look at the gender of the baby, so I knew right away that he was a boy because I could see his thingamabob."
Kylie also said that she and Aljur thought baby number two would be a girl. "All the while, we all thought it was a girl which is absolutely hilarious, even I thought it was a girl because I was much more emotional in this one, in this pregnancy.
"But we're happy with anything. I'm just happy that I have another new blessing to get to know, another new person, another little one that's going to teach me so many things than he already has..."
On Instagram, Kylie also did a gender reveal of sorts by posting the blue confetti.
ADVERTISEMENT - CONTINUE READING BELOW
Here is Kylie's vlog about Alas and the gender reveal:
Load More Stories