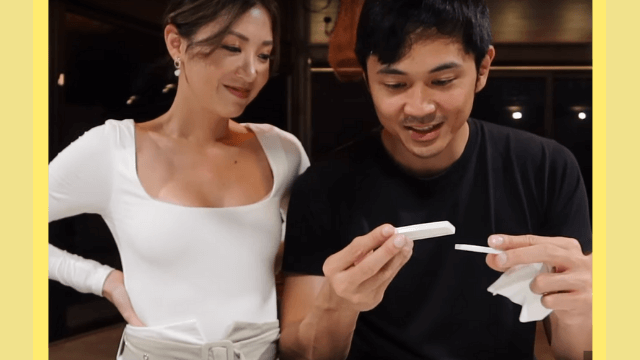 Happy Sunday, everyone! Here's some amazing news: Kryz Uy and Slater Young are expecting their first child. In a video Kryz released, the vlogger and influencer shared THE EXACT MOMENT she found out about the pregnancy and how she told her husband about it. 
ADVERTISEMENT - CONTINUE READING BELOW
She wrote: "All alone in Manila, I thought I was simply feeling under the weather. I have been suspicious about this though since it feels a little different than your normal fatigue. I decided to take the test but I'm seriously nervous. I decided to put it on record because this moment is too overwhelming to just leave out."
"This is it, guys. We are pregnant. I know the first thing to do is tell Slater. While I'm feeling all sorts of emotions and scrambling for the right words to perfectly relay this moment I know one thing for sure...That I, Kryz Uy-Young, just received the biggest gift of 2019." 
We see Kryz getting super emotional after taking TWO pregnancy tests. She took the tests home and surprised Slater with them! "I know that Slater's been wanting a kid for a really really long time. And I wanted to make it really special for him." 
At present, Kryz is about to enter her second trimester, and described the first one as a roller coaster ride and a "whole new world for me."
The couple tied the knot during a *gorgeous* Cebu wedding in February 2019. 
Load More Stories