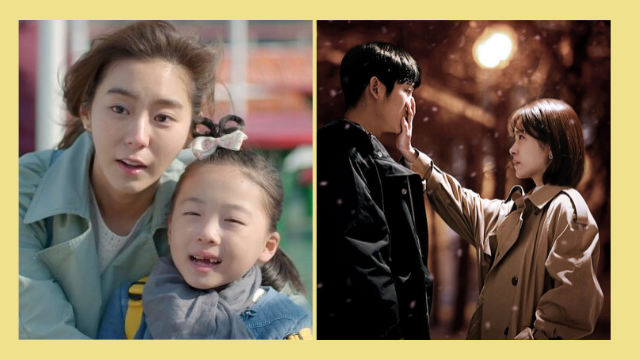 Since we know you're always on the lookout for new K-dramas to watch, we rounded up five Korean shows that tackle what it's like to be a single parent! 
ADVERTISEMENT - CONTINUE READING BELOW
1. When The Camellia Blooms (2019) 
Where you can watch it: Netflix
Gong Hyo Jin plays Dong Baek, a single mom who moved from Seoul to a small provincial town called Ongsan. Kang Ha Neul, on the other hand, plays Hwang Yong Sik, a policeman who meets Dong Baek and falls in love with her at first sight. 
CONTINUE READING BELOW
Recommended Videos
2. One Spring Night (2019)
Where you can watch it: Netflix
Jung Hae In plays the role of a pharmacist and single dad who falls in love with a librarian (Han Ji Min). He immediately expresses his interest in her but she tells him that they can only be friends because she's already engaged.  
3. Only You (2005)
One of the classic K-dramas! It stars Han Chae Young as Eun-jae, a young woman who loves to cook. She goes to Italy to enroll in cooking school and meets Han Yi-joon (Jo Hyun Jae), the heir to a hotel chain. After a one night stand, Eun-jae ends up pregnant but decides not to tell him. They meet again after several years. 
ADVERTISEMENT - CONTINUE READING BELOW
4. Marriage Contract (2016)
Where you can watch it: Netflix 
When her husband dies, Hye Soo (Uee) is left to raise her daughter on her own and pay off her husband's debts. She is also diagnosed with a brain tumor. She enters into a 100-day marriage contract with Ji Hoon (Lee Seo Jin), a rich business executive, to provide for her child. 
5. Welcome To Waikiki (2018)
Where you can watch it: iflix
In this comedy, Han Yoon-ah (Jung In Sun) is a single mother who ends up staying at a failing guesthouse in Waikiki with her daughter Sol. The place is run by three men: an aspiring film director (Kim Jung Hyun), a minor actor (Lee Yi Kyung), and a freelance writer (Son Seung Won). 
Bonus: Hi Bye, Mama! (2020)
Kim Tae Hee stars as Yu-ri, a woman who has been a ghost for five years and has been following her husband and daughter Seo-woo. When Yu-ri is given the chance to come back to life, she must take her place with her family. There's one problem: Her husband has a new wife! 
ADVERTISEMENT - CONTINUE READING BELOW
Before remarrying, Yu-ri's husband Gang-hwa (Lee Kyu Hyung) was a single parent and he struggled with being a full-time dad and a full-time doctor at the same time. 
Load More Stories