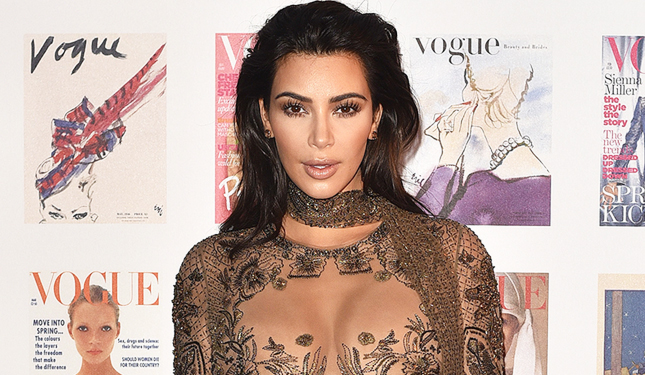 Reality star Kim Kardashian has shocked fans by admitting she's insecure about her world-famous butt.

The 35-year-old's generously proportioned bottom helped make her the star she is today, but in a new interview with People magazine, Kim admits she was so insecure about it at one point, she wouldn't let her husband Kanye West see it.

"My butt was huge," she said, revealing she wouldn't strip naked in front of the 39-year-old rapper. "I would walk backwards so he couldn't see. And I would be so insecure about changing in a fitting like, 'Babe, you can't look at me!'"

She needn't have worried - Kanye has been a big supporter of his wife and her figure, encouraging her as she embarked on an intense diet and fitness regime after the birth of the couple's second child, son Saint, in December last year.

"I'd know when I was starting to look better because my husband would be like, 'Babe, you look so good!' he would never make me feel insecure," she continued. "But I would always know when he was seeing a difference."

Kim admits her husband of two years is a big fan of her fuller figure, and fears he is quietly mourning the fact she has lost 60 pounds (27.2 kilograms) since giving birth.

"He loves that my a** is bigger," she laughed. "And he loves when my boobs get bigger. When I was breast feeding, they were bigger than my babies' heads!"

Kim, who also has three-year-old daughter with Kanye, has clearly gotten over her insecurities about her big bum - her latest cover image for the American edition of GQ magazine was unveiled on Wednesday, and featured the star posing naked with just a black biker jacket covering her modesty.
ADVERTISEMENT - CONTINUE READING BELOW
But the star insists there were days when she didn't think she would ever be comfortable posing nude again.

"There was a moment after Saint was born when my body was mush," she said. "There was definitely a moment when I looked in the mirror and I was like, 'I am never going to be the same'. Everyone has their insecurities,(but) after having two kids, and being able to get in shape and still feel good about myself, I've never felt better. I worked my a** off, I've altered my life and I'm proud of that."
Load More Stories