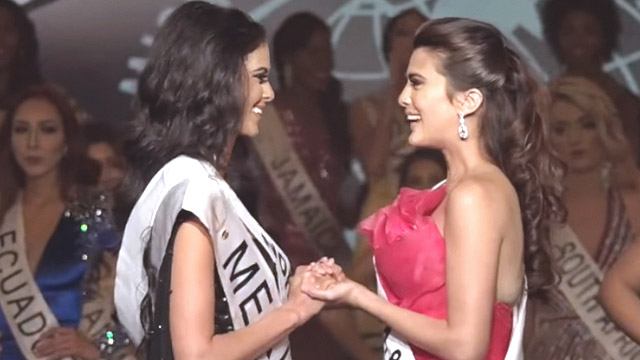 The Miss Intercontinental 2017 pageant was definitely a big learning experience for Philippine bet Katarina Rodriguez.
The 24-year-old model was hailed 1st runner-up at the pageant's grand coronation night held at Sunrise Garden Beach Resort & Spa in Hurghada, Egypt, on Tuesday, January 24 (Egypt time). Mexico's Verónica Salas Vallejo was crowned Miss Intercontinental 2017.
ADVERTISEMENT - CONTINUE READING BELOW
In an Instagram post dated January 25, Katarina shared a photo of her big moment along with her realizations:
"Here is the EXACT moment where I turned FULLY into a woman. Congratulations to Miss Mexico @veritosalasvallejo the new Miss Intercontinental 2017! You are a vision, truly.
CONTINUE READING BELOW
Recommended Videos
"I came to Egypt for one thing and one thing only: the Miss Intercontinental crown. This crown to me represented my becoming a real woman.
"Myself, and DOZENS of people behind me dedicated so much time and effort to ensure I would win. "I cannot say I would have done anything differently because I was very aware from the moment I stepped into the NAIA airport of every action and word I produced. I can tell you that after rewatching the coronation last night I can confidently say I was FLAWLESS. Never had I been more ready for anything in my life. I had hundreds of thousands of people right behind me and each of you were the gas to my fire. It was not about me anymore it was about YOU."
ADVERTISEMENT - CONTINUE READING BELOW
Katarina admitted she was a little disheartened knowing that she wasn't able to win the country's first Miss Intercontinental title, but this feeling was overshadowed by how proud she was of her fellow candidate.
She continued, "Here is the thing though, a queen does not necessarily have to be flawless. The Intercontinental crown did fall off Miss Mexico's head when she was crowned and YES, I did have to pick it up and hand it to her. How could I not say it was such a painful thing for me to do? But when giving the crown to her I swear to you there was this energy that went through her and straight to me and this is where I knew I am no longer a child but a woman.
"Seeing her beautiful face while handing it back to her, well, I felt PROUD for her, and no pain at all. It was the lightest feeling I have felt in weeks."
ADVERTISEMENT - CONTINUE READING BELOW
Towards the end of her post, Katarina urged her followers to support Verónica's reign as Miss Intercontinental 2017.
"That crown was never mine and somehow always her's. [sic] I don't want to read any comments talking superstitions or anything hurtful especially from my Filipinos. Vero is a queen and she is MY queen, MY Miss Intercontinental 2017. She is a sweetheart and very much deserving."
Katarina concluded, "She taught me grace by her energy and warmth in a matter of seconds and only a true queen could empower another woman in such a manner.
"Let us keep that grace Philippines, for this is only the beginning. Viva Mexico, Viva Pilipinas."
This story originally appeared on Pep.ph.
* Minor edits have been made by the Femalenetwork.com editors.
Load More Stories