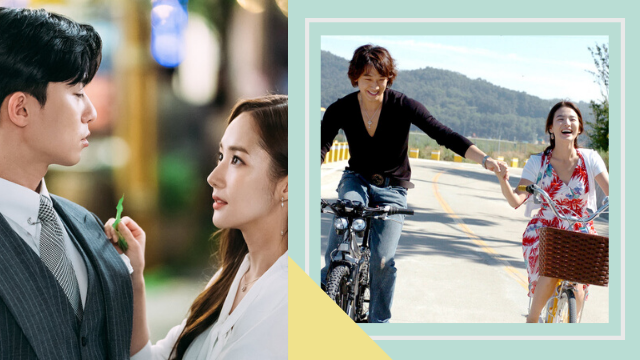 While the lockdown gives you more time to bond with the family, you should also take advantage of having more me-time for yourself. And what better form of self-care than bingeing on Korean dramas? 
ADVERTISEMENT - CONTINUE READING BELOW
You've heard Crash Landing on You is kilig-inducing, but what if heavy drama or mature romance is more your cup of tea? There's a vast selection of K-dramas on streaming apps like Netflix, iFlix, and Viu that it can get overwhelming but luckily, we have the perfect solution: A K-drama starter pack!
CONTINUE READING BELOW
Recommended Videos
On Facebook, Penny Wong, a 27-year-old Filipina-Chinese who's been a fan of K-dramas since 2003, recently went viral on social media for her list of K-drama recommendations. What set her list apart from others was that she classified the best Kdramas to watch according to genre — "para sure na magustuhan nila 'yung ire-recommend ko!"
Best K-dramas to watch now
If you're a newbie to K-dramas, Penny's list will make sure that you never run out of shows to watch. It has 140 titles! 
If you're into… Classic K-dramas
ADVERTISEMENT - CONTINUE READING BELOW
These dramas were released in the early 2000s (you might have even caught the "Tagalized" versions on TV!) at the time when video streaming was almost unheard of. Penny calls them the "OG" or original K-dramas that started all the craze!
Her top pick: Boys Over Flowers. "There's really just that charm for this series despite the abundance of remakes (it's an adaptation of the Taiwanese series Meteor Garden). It's a K-drama I enjoy watching even if I already know the plot," she tells SmartParenting.com.ph.
If you're into… the Total K-drama Experience
ADVERTISEMENT - CONTINUE READING BELOW
These are the dramas that mix a variety of elements into its plot. Apart from romance, you also get fantasy, politics, family, social, issues, and more. Penny writes, "The stories are really interesting and the plot twists will make you watch non-stop!"
Her top pick: Scarlet Heart Ryeo. "It's my all-time favorite! It's not super popular compared to the other dramas [in my list], so I want to give it some love."
If you're into… Rom-Coms
ADVERTISEMENT - CONTINUE READING BELOW
These romantic comedies should be your go-to if you just want to feel good and feel kilig — "yung tipong naka-smile ka na lang bigla habang nanunuod!" Of course, they'll still have a conflict as with any story, but these are the titles you want to watch if you don't want to think and stress too much, according to Penny.
Her top pick: Fight For My Way. "I just really love Park Seo Joon and this is his best romcom for me!" Penny gushes. While we agree, we have to add that we also love this series for its believable plot — just two ordinary people trying their best to be successful in life and love — that still mixes all the K-drama elements you've come to love.
If you're into… Sageuk
ADVERTISEMENT - CONTINUE READING BELOW
Sageuk are period dramas in Korea, which either incorporate historical events, figures, or backdrops into its plot. The stories are intense and interesting, and the cinematography, not to mention the beautiful costumes, will surely wow you. Many go beyond the typical 16 episode-format, so when you want to go big on bingeing, these are the titles for you.
Her top pick: Empress Ki. "I like the story and character development in this drama," Penny shares. "It also tackled political issues mixed with a love story."
If you're into… Mature Romance
ADVERTISEMENT - CONTINUE READING BELOW
"I recommend these for those looking for a more mature romance. It's not the usual lovey dovey and kilig type of K-dramas and it depicts the reality of romantic relationships more," Penny says. Adult problems are tackled in the plotlines and it also has elements of family drama so moms who'll watch it can surely relate.
Her top pick: Another Oh Hae Young. "I really liked the plot, story and treatment of this drama (a man's fate gets intertwined with two women who share the same name)," Penny shares. "It's not the usual kilig love story but it makes you want to watch every episode."
If you're into… Heavy Drama
ADVERTISEMENT - CONTINUE READING BELOW
Watch this if you feel like getting your heart broken… just kidding! Or maybe not. "The stories and premise of these dramas are heavy and sad to begin with (tragic love stories, death, injustice, etc) so expect heartaches and swollen eyes," Penny says.
Her top pick: 49 Days. "Good plot that will really make you cry," she shares. "No need for popular actors and actresses because of the story!"
Check out the full story on Smartparenting.com.ph! 
Load More Stories