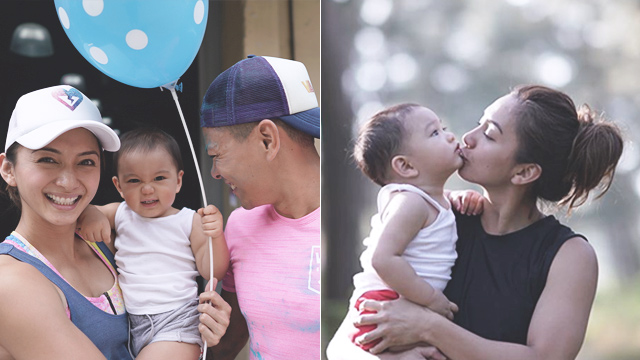 It was a surprise to everyone (to moms at least) and preggo celebrity mom Iya Villania herself when she received an odd comment on her Instagram. One netizen asked why Primo was always wearing the same clothes (with a sad face emoji). Huh?

It would have been easy to ignore the comment (after all, celebs get a fair share of silliness on their social networks). But Iya responded. 

"As long as those clothes are washed and clean, I don't see what the problem would be. This is a funny concern. Kids grow out of their clothes fast, so I like to keep it basic," Iya wrote in reply. "If you want to buy him clothes then, by all means, go ahead," she added. 
ADVERTISEMENT - CONTINUE READING BELOW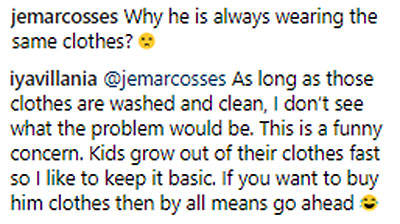 ADVERTISEMENT - CONTINUE READING BELOW
Recommended Videos
It's tempting to buy every cute outfit you can find for your little one, sure. But many moms know (or eventually learn) that kids don't need a lot of clothes. Babies grow up fast, and those cute little clothes might end up being used just a few times.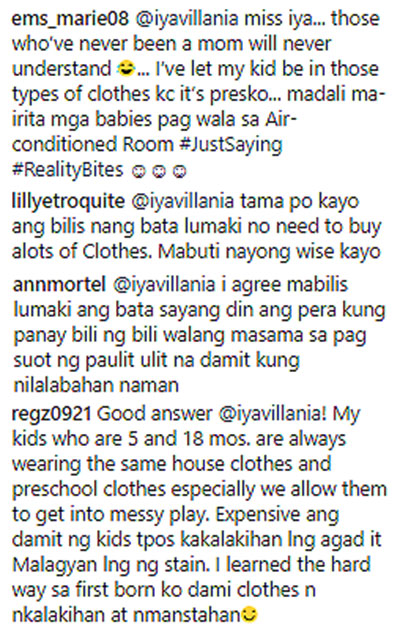 ADVERTISEMENT - CONTINUE READING BELOW
The piece of clothing in question seems to be the Primo's white sando, which made many moms scratch their heads. The sando is perfect for active toddlers because it's comfy and presko especially in our country's weather.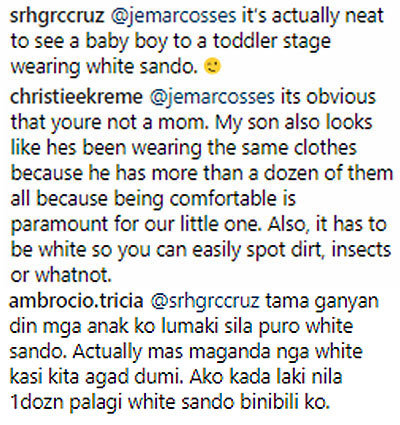 Pregnancy and childbirth are expensive, and the bills will keep pouring in as the kids grow up. It pays to be practical, and moms quickly learn this. Here are six other ways moms save on baby-related expenses: 
ADVERTISEMENT - CONTINUE READING BELOW
1. Moms ask for hand-me-downs
Giving hand-me-downs (in good condition, of course) to younger siblings or cousins is much appreciated. Sometimes, you don't even have to ask for them; thoughtful titas or lolas would just send them to a new mom. It works not just for baby clothes, but also for cribs, high chairs, books, toys, school essentials, and even special sports shoes!

2. They buy or sell pre-loved items. 
If you want to earn a few extra money (or save some cash), go for pre-loved baby items. Check out Carousell, which lets you sell and shop for pre-loved items. There's also Facebook Marketplace where you simply click the "Store" or "Marketplace" button on your FB app to discover, buy or sell local products. Smart Parenting's Village Facebook group also allows moms to advertise their items every Saturday. Rayzy Nufable, mom of two, shares that she often peruses Instagram for pre-loved baby items. 
ADVERTISEMENT - CONTINUE READING BELOW
3. Attend a swap meet. 
It's where moms can swap baby, toddler, or child items that they won't have use for anymore for things that your kids would need. For example, some moms whose children go to the same school arrange a swap meet to exchange costumes for school plays, Linggo ng Wika, UN Day, Halloween, among others. Moms with older kids and babies could dispose of study tables in exchange for baby items.
4. Repurpose baby gear.
Feeling a little sentimental about your baby's things? Try to reuse them. Breathe new life into old lampins as pillowcases or dresses for your daughter's dolls, formula dispensers as drawer organizers. You can transform playpens into a tent bed or ball pit! (Check it out here). 
Bonus: Donate to charity.
You can also donate the clothes to charitable institutions to give to less fortunate kids. Remember one man's trash is another's mans' treasure. While this might not provide you with extra cash, knowing you've helped someone in need is payment enough.
ADVERTISEMENT - CONTINUE READING BELOW
This story originally appeared on Smartparenting.com.ph.
* Minor edits have been made by the Femalenetwork.com editors.
Load More Stories