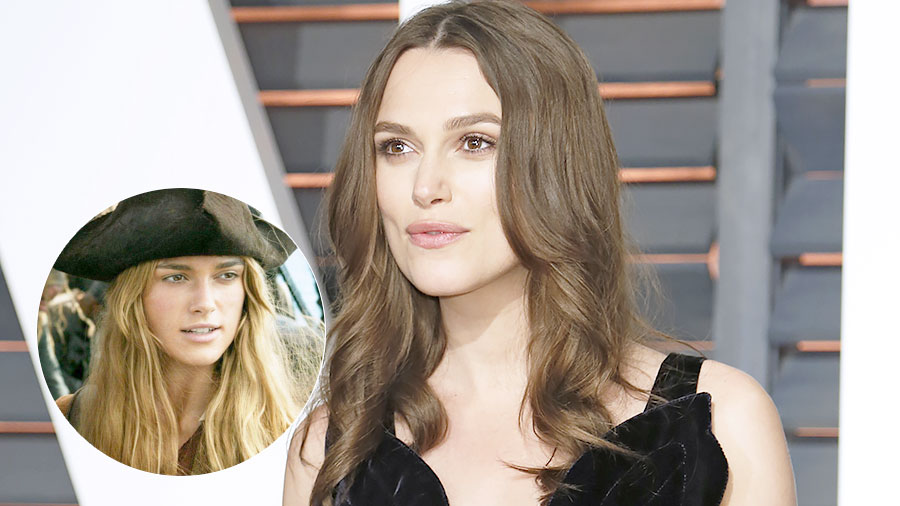 Keira Knightley is reportedly making a surprise return to the Pirates Of The Caribbean film franchise.
The 31-year-old previously denied she would be involved in the fifth installment of the hugely popular swashbuckling saga, titled Pirates of the Caribbean: Dead Men Tell No Tales, but reports suggest the actress has secretly filmed some scenes alongside the franchise lead, Johnny Depp, who reprises his role as drunken pirate Captain Jack Sparrow.
ADVERTISEMENT - CONTINUE READING BELOW
The mother-of-one, who played at Elizabeth Swann in the first three movies of the Disney saga, allegedly shot her scenes at Shepperton Studios in London last month, when fellow original castmember Orlando Bloom also made a return to the blockbuster series, reprising his role as Elizabeth's husband Will Turner.

A source tells the Daily Mirror Keira's part is only small, but it could lead to a more significant role in the next installment.
"The top-secret one-day shoot took place in November and the set was in lock-down," the insider said. "Keira was really excited to reprise the character that made her famous and get into her wigs and costume again."
The news emerges two years after Keira ruled out a return to the Pirates franchise.
"It was an amazing point in my life, but it was a good five year chunk," she explained in 2014. "I can't really imagine going back to it."
Pirates of the Caribbean: Dead Men Tell No Tales will also star Geoffrey Rush, reprising his role as Barbosa, while Javier Bardem will portray the sequel's new villain.
Directors Espen Sandberg and Joachim Ronning have taken charge of the new Pirates of the Caribbean movie, which is due to set sail in May, 2017.
Load More Stories