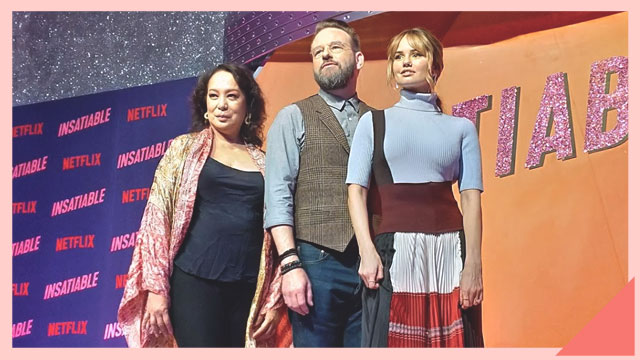 In case you missed it, Netflix stars Debby Ryan and Dallas Roberts visited the Philippines to launch the second season of Insatiable, and with them was none other than real life beauty queen Gloria Diaz.
ADVERTISEMENT - CONTINUE READING BELOW
Gloria, who plays legendary beauty queen Gloria Reyes on the show, said that while she was initially nervous about the acting gig, the production team's encouragement had helped her calm down and adjust.
And it looks like the former Miss Universe slipped into the role like a second skin in the now-released season on Netflix. When asked about what it means when one says, "Queens take control," she replied: "You always talk about first runner ups, second runner ups... There comes a time, after two years, nobody remembers the runners up. So it's the Queens who take control."
CONTINUE READING BELOW
Recommended Videos
Dallas, who plays pageant coach Robert "Bob" Armstrong, Jr., shared what he leared with working with strong women: "Queens don't ask permission for control, and queens don't wait for control. Queens just take control."
For Debby, the actress behind revenge-driven Patty, noted that she has never worked in a set where women weren't only in managerial positions, but were also doing hard work as part of the crew. 
ADVERTISEMENT - CONTINUE READING BELOW
"There's so many types of strength that a woman can exude. This show, just in the DNA of it, it's really in there... The thing that I've noticed, in all of these women, specifically working with Gloria in your formidable, terrifying energy," she laughed as she looked at the beauty queen, "is that its not demanded. It's commanded. Respect is not stopping and screaming. Respect is walking in, knowing what you are owed."
Preach, girl.
Insatiable Season 2 is now showing on Netflix.
Comments
Load More Stories