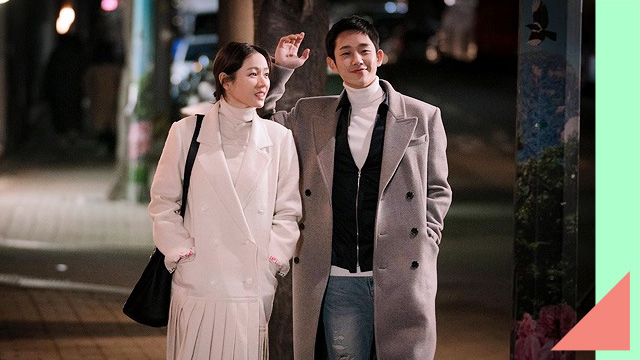 Had your fair share of light, mindless, entertaining shows? How about taking it up a notch and making your Korean drama binge-watching sessions all the more meaningful? Below we list down 10 heartwarming and impactful K-dramas that won't just help you pass the time, but are equipped with stories that are definitely good for the soul as well.
ADVERTISEMENT - CONTINUE READING BELOW
CONTINUE READING BELOW
Recommended Videos
Hot topics: 
Pinays Share 5 Best 2016 K-Dramas (That Are Worth Rewatching) 
Papelmelroti Is Having an Online Sale With Items Starting at P5
1. Something in the Rain
A career-oriented woman in her 30s without much luck with love gets reacquainted with the younger brother of her childhood bestfriend, and finds another chance at romance.
Starring: Son Ye Jin, Jung Hae In, Jang So Yeon
2. Still 17
Woo Seo Ri's world momentarily stops when she falls into a coma at the young age of 17. She wakes up 13 years later as a 30-year-old still with the mindset of a teenager. Lost and confused, Seo Ri accepts the help of Gong Woo Jin, an aloof stage designer who blames himself for her accident years ago.
Starring: Shin Hye Sun, Yang Se Jong, Ahn Hyo Seop
3. Reply 1988
Set in 1988, five childhood friends living in the same neighbourhood in Seoul help and support each other to survive the trials and tribulations of their teenage years as they prepare for the future.
ADVERTISEMENT - CONTINUE READING BELOW
Starring: Lee Hye Ri, Go Kyung Pyo, Park Bo Gum
4. When the Camellia Blooms
Dong Baek, a hard working single mother, is constantly the target of her town's gossip wheel. Despite this, do-gooder police officer Hwang Yong Shik falls deeply in love with her and tries to win over her affections, all while a serial killer roaming their area sets out to make Dong Baek his next victim.
Starring: Gong Hyo Jin, Kang Ha Neul, Kim Ji suk
5. Angel's Last Mission: Love
An optimistic yet mischievous angel must find true love for the talented but arrogant prima ballerina, Lee Yeon Seo, in order for him to return to heaven. His mission proves to be difficult when he finds out that Yeon Seo's tragic past has led her to become distrustful and unable to love.
Starring: Kim Myung Soo,  Shin Hye Sun, Lee Don Gun
ADVERTISEMENT - CONTINUE READING BELOW
6. Romance is a Bonus Book
The youngest editor-in-chief of a publishing company gets embroiled in the life of his childhood friend, a once succesful copywriter now struggling to get by. The two end up developing feelings for each other, but the latter's past lies start to get in the way of their relationship.
Starring: Lee Na Young, Lee Jong Suk, Jung Yoo Jin
7. Hospital Playlist
A medical Korean drama, Hospital Playlist follows a tight-knit group of five medical students who've been friends for 20 years. The story kicks off as they all start their residency in the same hospital, all the while forming a band together.
Starring: Cho Jung-seok, Yoo Yeon-seok, Kim Dae-myeong
8. Because This is My First Life
A house poor-man and a homeless woman decide to marry and become housemates in order to save money. Their plan hits a snag when they're forced to not only deal with prying in-laws, but their own growing feelings for each other as well. 
ADVERTISEMENT - CONTINUE READING BELOW
Starring: Jung So Min, Lee Min Ki, Lee Som
9. Prison Playbook
A promising baseball player's bright future suffers an overhwelming detour when he's sentenced to one year in prison after defending his sister from sexual assault. Now forced to adapt to a life behind bars, he unexpectedly gets reacquainted with a childhood friend he used to play baseball with who is now his prison guard.
Starring: Park Hae Soo, Jung Kyung Ho, Krystal, Jung Hae In
10. My ID is Gangnam Beauty
Once bullied for her looks, Kang Mi Rae decides to get plastic surgery to spare herself from all the taunting comments thrown her way. However, as she starts life in university, her schoolmates find other reasons to put her down. She soon finds solace in the aloof but kind Do Kyung Suk who defends her from all the vitriol, and helps her recover her confidence, along with understanding the true meaning of beauty. 
ADVERTISEMENT - CONTINUE READING BELOW
Starring: Im Soo Hyang, Cha Eun Woo, Jo Woo Ri
Comments
Load More Stories