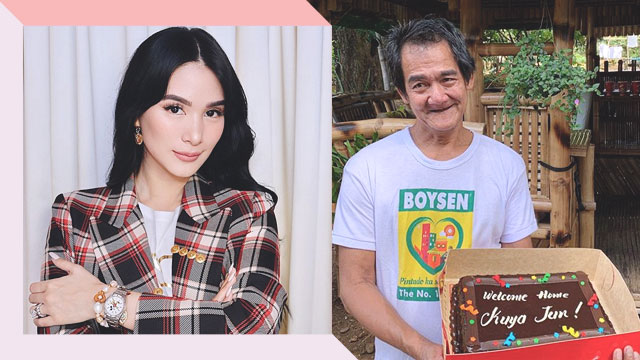 Heart Evangelista is a known advocate for animal welfare. Hence, it comes as no surprise that Heart would go to great lengths to support furry friends in need—including helping the people who truly care for them as well!
ADVERTISEMENT - CONTINUE READING BELOW
A most recent example of this was Heart's fateful encounter with Kuya Jun, a homeless man who sleeps along Gilmore street in Quezon City. The actress met him a few weeks ago while in search of Casper, her Maltese pet who briefly went missing last November 18 (Casper's been found that same night, BTW!). During their serendipitous meeting, Heart learned that Kuya Jun takes care of seven dogs and some strays.
According to Bacolod-based nonprofit organization PAWSsion Project, Kuya Jun is actually a street sweeper who earns a little over P100 per day, which he spends on his and his dogs' food. Heart, who is also a supporter of the NGO "brought up to [PAWSsion Project] the idea of rehoming kuya Jun and his dogs at [their] shelter, that of which [they] did not hesitate to agree with!"
ADVERTISEMENT - CONTINUE READING BELOW
Together, Heart and PAWSsion Project built a home for Kuya Jun and his beloved pets. They even furnished his new home with some home appliances and gave him a welcome cake.
ADVERTISEMENT - CONTINUE READING BELOW
Kuya Jun has officially moved into his new house and started a new life with his furry friends. Heart took it to Twitter to share the happy news: "Happy Sunday, Kuya. Welcome home sa inyo ng mga babies mo; di na kayo mauulanan." She also thanked PAWSsion Project and the entire team who made this good deed possible. "Thank you to everyone who made this possible and to kuya for being an inspiratio. You deserve the world," Heart concludes.
ADVERTISEMENT - CONTINUE READING BELOW
Watch the whole surprise below!
Load More Stories