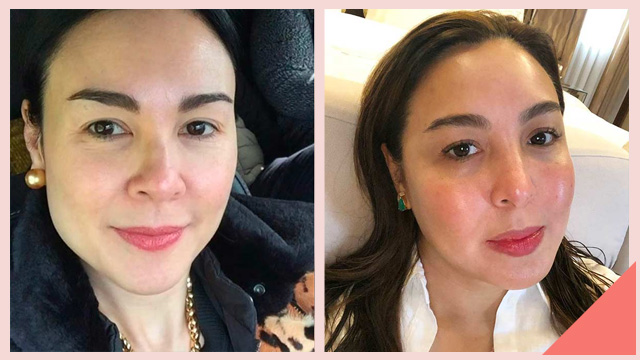 In case you missed it, the Barretto sisters are still posting about each other  and continuing their very public feud on Instagram, and even their children are now part of their ffight. Everything allegedly blew up last week after they were reported to have a fight during their father Miguel Barretto's wake, which resulted in Claudine Barretto being hospitalized.
A day after the incident, Claudine posted a cryptic message on Instagram that said: "Are you proud of who you have become?" Marjorie soon posted a long statement about the issue, where she told everyone: "Don't be fooled by the statements of my sisters." Gretchen, in turn, answered her sister's post by sharing videos of their alleged fight!
Over the weekend, Claudine once again posted on Instagram, where we see a video of her mom and Gretchen walking inside a mall together. For her caption, Claudine wrote: "My mom and my ate-stronger together. Dad for sure is so happy... Had a great lunch while waiting for Dad's ashes. I love you, guys." 
ADVERTISEMENT - CONTINUE READING BELOW
Fans wrote comments of support for Gretchen and Claudine, who seem to be sticking together amidst the issue involving their family. A curious IG user couldn't help saying: "Pansin ko lang last birthday ni Daddy Mike, wala si Mommy Inday. Hinahanap ko siya sa post ni Marjorie."
Gretchen replied, "Because Marjorie did not invite my Mom to the gathering, and that's what caused my Dad's attack."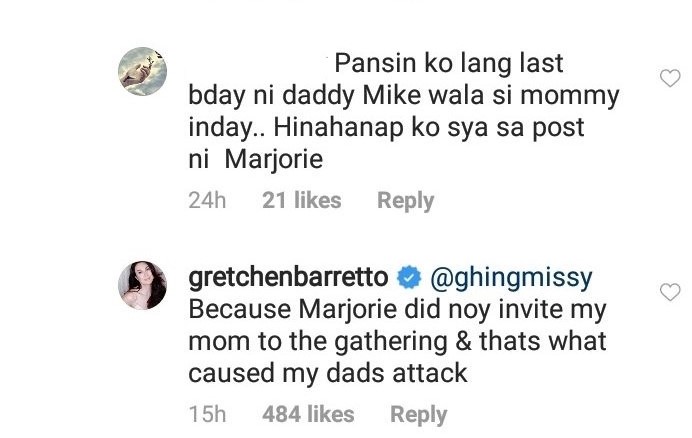 Gretchen also posted another video of Marjorie and her sister's rumored boyfriend Recom Echiverri, this time saying, "Watch Marjorie carefully. Nicole [Barretto] is the one beside her on the day of the wake. Watch EX-MAYOR ECHIVERRI, feeling part of the Barretto family. Watch Marj itch-very fuming mad. The relatives were trying to calm her from her insanity. Now you KNOW WHY I DID NOT GO TO VISIT MY DAD IN HIS LAST DAYS. Marjorie will have an outburst in the ICU (Intensive Care Unit)."
According to Marjorie's Instagram post earlier this month, their father took a nap and fell very ill right after blowing the candles of his cake. What was supposed to be a happy affair became a sad and worrying event as they rushed him to the nearest hospital, where he was admitted to the ICU. Sadly, he passed away on October 15. 
ADVERTISEMENT - CONTINUE READING BELOW
Load More Stories