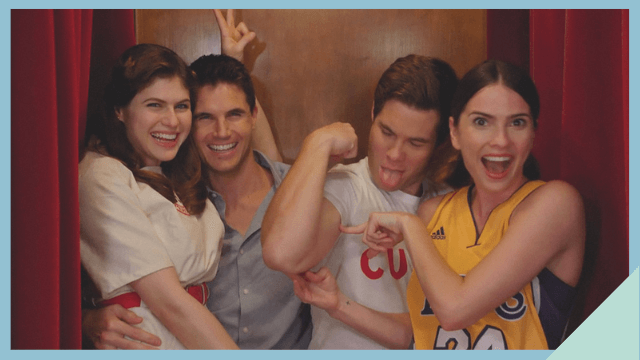 We've all been there—mindlessly scrolling through Netflix with the intent of watching something, only to end up 45 minutes later still on the homescreen and feeling like you just wasted an embarrassing amount of your life. You don't have the patience or attention span to start a new show, but it's also hard to commit to a good movie when you know it'll require your 100% undivided attention. The quick solution? Know your light, no-brainer flicks, a.k.a. those feel-good, easy to digest films that can keep you thoroughly entertained for an hour and half, much like the options on our list below.
ADVERTISEMENT - CONTINUE READING BELOW
CONTINUE READING BELOW
Recommended Videos
1. School of Rock (2003)
Remember Jack Black and his rag-tag group of misfit gradeschoolers? In School of Rock, a wannabe rockstar ends up taking his friend's teaching job and training his students to form a kickass band, behind everyone's back.
Starring: Jack Black, Miranda Cosgrove
2. Superbad (2007)
Two nerdy, overachieving seniors try to make the most of their remaining time as high schoolers by letting loose on a wild night to do all the fun things they've never done before graduation day.
Starring: Seth Rogen, Jonah Hill, Michael Cera
3. Hello, My Name Is Doris (2015)
Doris, a 60-year-old woman struggling to still find her way in life becomes fond of her much younger co-worker. She attempts everything to get his attention but soon finds that there's so much more to life and growing old than finding romantic love.
Starring: Sally Field, Max Greenfield, Beth Behrs
4. Spy (2015)
A CIA-analyst who's grown tired with her desk job gets the opportunity of a lifetime when she's finally sent out on a mission as a full-fledged spy.
ADVERTISEMENT - CONTINUE READING BELOW
Starring: Melissa McCarthy, Rose Byrne, Jude Law, Jason Statham
5. Girls Trip (2017)
Wild shenanigans ensue when four lifelong fiends travel together to New Orleans for the annual Essence Festival.
Starring: Tiffany Haddish, Jada Pinket-Smith, Queen Latifah, Regina Hall
6. When We First Met (2018)
Noah stumbles upon a time machine photobooth that helps him try to win back the girl of his dreams...over and over again.
Starring: Adam Devine, Alexandra Daddario, Robbie Amell, Shelley Hennig
7. Set it Up (2018)
Two overworked and underappreciated assistants ploy together to set up their lonely bosses in hopes of getting them off their backs at work.
Starring: Zoey Deutch, Glen Powell, Lucy Liu, Tay Diggs
8. The Week Of (2018)
Two polar opposite fathers are forced to spend one agonizingly long week together while preparing for their childrens' wedding.
Starring: Adam Sandler, Chris Rock
9. Always Be My Maybe (2019)
When childhood sweethearts reconnect after keeping their distance for 15 years they soon realize that the old spark between them has never really died out.
ADVERTISEMENT - CONTINUE READING BELOW
Starring: Randall Park, Ali Wong
10. Otherhood (2019)
Three bestfriends and mothers, who feel neglected on their special day, all take a trip to New York to reconnect with their adult sons. And no, it doesn't need to be mother's day, nor do you need to be one, for you to enjoy this film.
Starring: Felicity Huffman, Patricia Arquette, Angela Bassett
Comments
Load More Stories