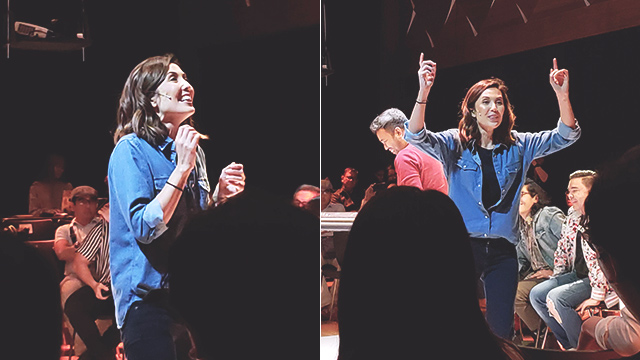 In 2018, the Philippine Mental Health bill principally authored by Senator Risa Hontiveros was signed into law. Part of the law pushes to remove the stigma surrounding mental health disorders by requiring local government units, schools, and companies to spread awareness.
ADVERTISEMENT - CONTINUE READING BELOW
Luckily, many artists and advocates have also stepped up to the plate, digging deeper into what mental health means not just for those diagnosed with a condition, but for every single person navigating their way through life. Arguably, the most notable one in 2019 so far has been The Sandbox Collective and 9 Works Theatrical's production of Duncan Macmillan's Every Brilliant Thing, a one-woman show directed by Jenny Jamora starring Teresa Herrera and her alternate, Kakki Teodoro.
The play tells the story of a girl growing up with a suicidal mother; she copes by writing down brilliant things worth living for, hoping to inspire her mother. In an interview with FemaleNetwork.com, director Jenny Jamora shares her experience helming a production on mental health, and how the play and the audience's participation can help propel the conversation forward:
ADVERTISEMENT - CONTINUE READING BELOW
What was it like directing a play that tackled mental health and appropriating it for the local, mostly millennial PH audience?
Toff and Teresa invited me to direct Every Brilliant Thing (EBT) just as I was coming off directing a mental health event called Will You Still Love Me? for The Julia Buencamino Project. That was a show and forum for carers of those with mental health conditions. I had also just "come out" on Facebook that I'd been on antidepressants for two decades. I was immediately on board with EBT.
I knew that aside from being a play, it had to be an advocacy for everyone on the team. As one of our first activities, I ran a workshop for the entire EBT team—from creatives to marketing—who happened to be mostly millennial. That was a true eye opener and in that workshop, I found out what everyone was in this for—our personal motivations. We all had intense personal reasons for being involved in EBT. I decided to dedicate my EBT work to those I would be working with the closest. I was also really excited about executing Duncan McMillan and Jonny Donohoe's intentions: to talk about depression and suicide responsibly but neither bleakly nor sentimentally, neither romanticizing nor fetishizing them.
ADVERTISEMENT - CONTINUE READING BELOW
We also decided to always hold post-show talkbacks for further processing, and I'm really happy we decided to do that since it gives audience members a chance to ask questions to mental health professionals and workers.
How has the reception been and what have you learned from the insights and feedback of your audince? What are ways that we can push the conversation about mental health forward?
The reception has been unexpectedly phenomenal. We've experienced magic when the audience participates. Most of the audience participation has been cooperative, bright and funny. This device of McMillan's has been a mirror to what the conversation on mental health should be, as per MentalHealthPH: everyone involved.
ADVERTISEMENT - CONTINUE READING BELOW
Lending a hand or your voice to the show can be uncomfortable and scary, but people do it since the actress has asked for their help to tell the story. It's the same when we talk about mental health or wellness. Everyone is affected by mental health issues. At the same time, people heal within communities. Even the very, very few moments of what seemed like reluctance in audience participation (it was bound to happen but we never truly expected it until we actually ran into it) were eye openers to the level that the Philippine community is at when discussing mental health: sometimes we're still stymied by stigma, dogma and lack of preparation or information.
What advice can you give a 30-something Pinay who was never really taught about the value of caring for her mental health on how to start being more aware and mindful of it?
Treat mental health or wellness like physical wellness and fitness. Have a regimen to keep your body and mind healthy. Find what works for you, whether it be talking to a psychiatrist or a wise friend, eating right, doing yoga, meditating, spending time in nature, taking naps, praying. The psychiatrists and psychologists who have guested at our talkbacks advise that now is the right time to check your mental well-being. Don't wait until the stresses pile up. Every single one of us needs the kind of self-care regimen that rejuvenates our physical, social and spiritual aspects. 
ADVERTISEMENT - CONTINUE READING BELOW
For more details on the production, visit The Sandbox Collective on Facebook.
If you think you may have depression or know someone with depression, you can contact the Department of Health's 24-hour suicide prevention hotline, Hopeline, 804-4637; 0917-5584673; and 2919 for Globe and TM subscribers.
You may also call Crisis Line for free and anonymous counseling through: (02) 893-7603, 0917-8001123, or 0922-8938944. You can also join SOS Philippines on Facebook, a support group founded for survivors of suicide loss and Filipinos undergoing mental health ailments like depression and bipolar disorder.
Load More Stories