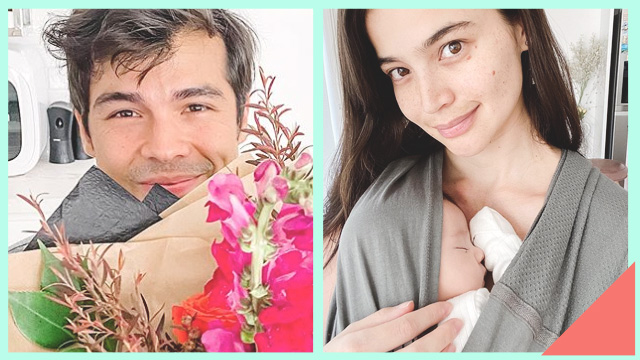 Erwan Heussaff and Anne Curtis first took their daughter Dahlia Amelié out for her well-baby checkup. This time around, the family of three went on a picnic to enjoy the outdoors.
"Taking advantage of the sunny weather breaking into this cold month," Erwan wrote on his Instagram post. 
ADVERTISEMENT - CONTINUE READING BELOW
This was also after Australia eased their lockdown restrictions. The first-time parents have been in Melbourne, Australia, since before Anne gave birth on March 2. 
"For Dahlia's first picnic, we had some crackers and cheese," the new dad was, of course, referring to himself and his wife. "She just had some good old fashioned breast milk," Erwan clarified. 
The new dad's caption was accompanied by a photo of himself sitting on luscious green grass and greenery, holding Dahlia Amelié propped on his knee and giving her a kiss. The baby was wearing closed pajamas and a long-sleeved navy blue and gray jacket, which matched Erwan's printed blue shirt, jeans and navy blue bonnet. 
On his Instagram Stories, he also shared a video of Anne pushing her baby daughter's stroller. They kept their distance from other people who were also out and about. 
ADVERTISEMENT - CONTINUE READING BELOW
One the same day of Dahlia Amelié's first picnic, Anne shared a photo of her carrying her daughter close to her chest with a baby sling. She captioned it: "Morning cuddles with my little koala."
The new mom had also got the hang of reading to her daughter.
"We seem to have found a book she loves," the new mom shared. "She's becoming so daldal. I have a feeling she's going to be a book lover and bookworm like her mama," Anne said. 
ADVERTISEMENT - CONTINUE READING BELOW
The little girl "wasn't too happy" when Anne finished reading her favorite book! So cute!
This story originally appeared on Smartparenting.com.ph.
Load More Stories