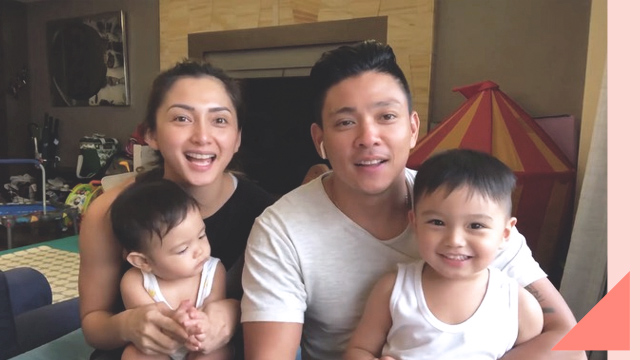 Even before he tied the knot with actress Iya Villania, it was clear to TV host Drew Arellano exactly what he wanted to do—or be—in the future: a great father.
ADVERTISEMENT - CONTINUE READING BELOW
"I remember back when I was 30...I think it's like 10 years ago, I already knew what I wanted to do, not specifically, but I knew what I wanted to become and that's to be a great father so my life revolved around that objective," the dad of two said at the signing of his contract renewal with GMA, his home network for 14 years now.
When he got married and eventually had son Primo, it was clear to him that to be a great father, some sacrifices had to be made. 
In 2017, Drew shared some of his frustrations as a working father who has to be away from his family every week.
"It's hard for me to do my travel show weekly, you know. When I wake up somewhere and I'm not with these two, parang it's not normal," he had said. He and Iya only had Primo back then, and it frustrated him when his son could barely recognize him after being away for a day or two of shooting.
But because he made a consistent effort to be home before Primo's bedtime at 6 p.m., Drew was eventually able to establish a strong bond with his firstborn.  
ADVERTISEMENT - CONTINUE READING BELOW
With two kids now, Drew has made further lifestyle changes so he can be the best dad he can be to them.
For example, family now has to come first when it comes to allocating his time. "I need to adjust all other aspects in my life so that's the priority."
The work he does on Biyahe ni Drew and AHA! only comes in second among his priorities, no matter how much he loves these shows. "Work hours should be [regulated]."
ADVERTISEMENT - CONTINUE READING BELOW
He will also usually pass up a night out with his friends so he can share parental duties with Iya. "Wala na yung friendship time.  
"When I was still single, you can still actually go on gimmicks I can leave the house at 7 p.m. For me that's not an option right now.
"I have to be home by 7 p.m.," the 39-year-old said.
To capture everyday moments in their family life, Drew, Iya, and their sons Primo and Leon have also recently started vlogging as a family. "We wanted to share the happiness to the world and to the Philippines," Iya said of their decision to create their own Youtube channel, "Life with the Arellanos."
ADVERTISEMENT - CONTINUE READING BELOW
Load More Stories