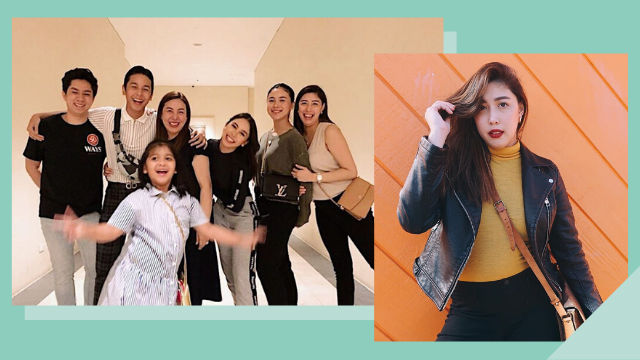 May 2019 be dubbed as "The Year The Barrettos Took Over Our Lives."  And to borrow from Julia Barretto's words, their family drama became "something of national concern" whether you were deeply invested in it or not. The clan is arguably one of the most famous showbiz families in the PH and their headline-grabbing issues have been likened to that of America's biggest reality TV show fam, the Kardashians. But there's one member of the Barretto family who thinks their own drama is much "worse" than the Kardashians': Dani Barretto.
ADVERTISEMENT - CONTINUE READING BELOW
In an exclusive interview with PUSH.com, the vlogger and new mom opened up about the drama that unfurled in October during the wake of her late grandfather, Barretto family patriarch Miguel Barretto.
"Oh, my lord. I think we're worse than the Kardashians, to be honest. We're more dramatic than they are. But then I don't really know if that's a compliment. But at the end of the day, these are real-life issues, to be honest," she said.
She went on to say that all of them are just trying to move past all the drama they faced in the past month, revealing, "At the moment, we're all just trying to move forward and get past it because it has been really such a difficult month. It's been a really tough month for us and we're still grieving the loss of our grandfather. It's actually his one month death anniversary today so talagang lahat pa rin kami still grieving. But we're moving forward because I'm sure that's what he wants us to do."
Dani, on her part, hasn't been all that vocal on social media about the issues compared to her other family members, and she shared it was a conscious decision. "Parang as much as I had a lot to say about the whole issue given that we were all there and we were all part of the family as well but I chose to just not [say anything] anymore because naaapektuhan 'yong asawa ko at saka yung anak ko e. Parang every single thing I do, every single thing I say, nadadamay sila." 
ADVERTISEMENT - CONTINUE READING BELOW
For Dani, she's just focusing on being a new mom to Millie and wife to Xavi Panlilio while living their lives as privately as possible: "It's supposed to be the best year but when that happened, I just chose not to say anything or comment on anything anymore. I'd rather just keep my family safe and away from all the bashing because it has been really, really crazy on social media when that happened. I did shy away a bit, more private now."
Load More Stories