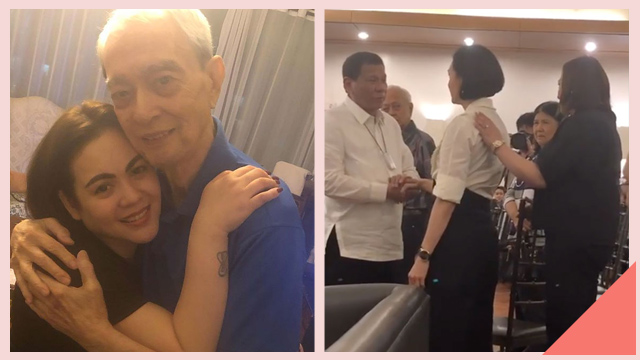 In an Instagram video posted by Claudine Barretto this morning, her sister Gretchen Barretto was spotted visiting the wake of their late father Miguel Barretto. The Barretto family patriarch passed away at 82 years old on Tuesday, October 15, after being confined in the intensive care unit for over a week.
ADVERTISEMENT - CONTINUE READING BELOW
Claudine wrote in the caption of her post, "And then, we are complete @gretchenbarretto. I'm so proud of you. I admire and love you more today #doubleinfinity #thatsmyAte WELCOME HOME."
The video shows Gretchen approaching a group of seated guests. She first greets President Rodrigo Duterte who attended the wake to pay respects to the family. Afterward, Gretchen gives a warm and loving embrace to her mother Inday Barretto.
It's been public knowledge that Gretchen has had a falling out with her family in recent years, and reconciled with her sister Claudine early this year. The cause of their family feud has never been disclosed.
Load More Stories