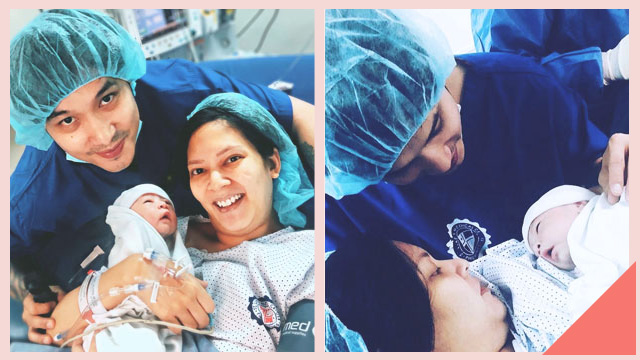 After nine months of waiting, actress Chynna Ortaleza and her husband, musician Kean Cipriano welcomed their baby boy, Salem Cipriano on September 25, 2019.
"Welcome my dearest boy!" Chynna wrote in her birth announcement post on Instagram. 
Kean, on the other hand, greeted Salem a "Happy Birthday!" on his Instagram post. The couple did not disclose any other details of their baby boy's birth for now.
ADVERTISEMENT - CONTINUE READING BELOW
The new mama of two was flooded with congratulatory posts from fellow celebrity moms, such as LJ Reyes, Iya Villania, Isabel Oli-Prats, Yasmin Kurdi, Saab Magalona, and preggo Kylie Padilla, among others. It was only a few weeks ago when Chynna and Kylie found out they have the same fears about childbirth.
CONTINUE READING BELOW
Recommended Videos
ADVERTISEMENT - CONTINUE READING BELOW
On Kean's birth announcement for Salem, actresses Angelica Panganiban and Denise Laurel, and fellow musicians/parents Sitti Ramirez-Navarro and Princess Velasco, also sent their congratulations.
A day before her due date, Chynna had already felt signs of her impending birth and tried to naturally induce labor. (Click here to know how to naturally induce labor.) Recalling her first birthing experience, Chynna shared that her daughter Stellar arrived on the dot, although she needed Pitocin to strengthen her contractions first.
ADVERTISEMENT - CONTINUE READING BELOW
"My kids really like staying full time in my womb. Must be cozy in there," the actress quipped in a post on Instagram. "Excited lang kami lahat na makasama and maamoy ang baby!" Chynna exclaimed.
A few days before her due date, the celebrity mom assured her baby, then still in her womb, to not be scared to come out. "Mom, Dad, Pea [Stellar], and the whole family are patiently waiting for you. Move along at your own pace," Chynna wrote on Instagram.
ADVERTISEMENT - CONTINUE READING BELOW
"I sense you feel the uncertainty that comes along with big life changes. Same here, my boy. But let me tell you, a leap of faith is the best thing we can do together. I am ready when you are!" she added.
Chynna and Kean, as well as new big sister Stellar, have been patiently waiting for Salem's arrival and praying for a safe delivery. Wish granted! Congratulations to the Cips!
ADVERTISEMENT - CONTINUE READING BELOW
Load More Stories