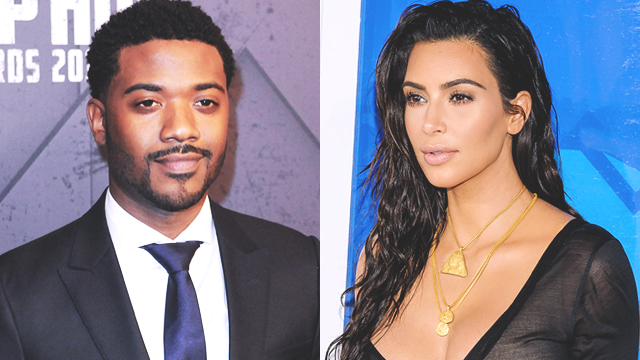 Singer Ray J has blasted his ex-girlfriend Kim Kardashian and her husband Kanye West on his new track "Famous."

Kanye released a track with the same title earlier this year and in the controversial music video, waxwork lookalikes of celebrities such as Chris Brown, Kim's ex Ray J and Taylor Swift were seen sleeping naked together in a giant bed together.
ADVERTISEMENT - CONTINUE READING BELOW

Ray J and Chris have now teamed up to release their own track Famous in response to Kanye's, in which they take aim at Kim, who first became known for starring in a 2003 sex tape with Ray J, which was released in 2007.
CONTINUE READING BELOW
Recommended Videos

"She f**k me for fame, look in her eyes / She was the first one to sign on the line," Ray J sings. "Look at the family, they walk around proud / All because she had my d**k in her mouth.

"Wanna have me in bed while you f**kin' your spouse… Shows that you still a rat and your man Mickey Mouse."

Ray J told Billboard.com in October he considered legal action against Kanye following the release of controversial video, but decided to get his own back creatively.

"You can't fault me and Chris for responding to all the things that have been done about us (in the media) over the last few months," he said.
ADVERTISEMENT - CONTINUE READING BELOW

This isn't the first time Ray J and Kanye have thrown shade at each other creatively. The singer released the track I Hit It First in 2013 about sleeping with Kim before Kanye, and the rapper responded by name-dropping Ray J in a track "Highlights" from album The Life of Pablo.

"I bet me and Ray J would be friends/If we ain't love the same b**ch. Yeah, he might have hit it first/Only problem is I'm rich," he rapped.

The new song, which was released on Monday, comes at a bad time for the couple. Kanye was reportedly hospitalized for exhaustion on Monday after canceling the remaining dates of his tour, the same night Kim was due to return to the public eye following her armed robbery ordeal in October, where she was bound, gagged and held at gunpoint as intruders stole jewelry and cell phones from her apartment in Paris.
ADVERTISEMENT - CONTINUE READING BELOW
Load More Stories