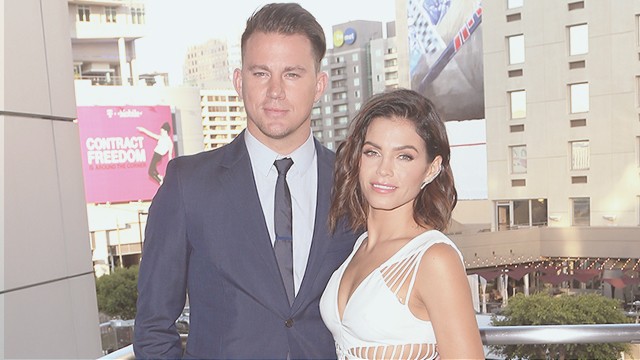 Channing Tatum and his wife Jenna Dewan-Tatum have marked their seventh wedding anniversary with gushing posts on social media.

The couple began dating after they met on the set of 2006 dance movie Step Up, and they tied the knot on July 11, 2009 at the Church Estates Vineyards in Malibu, California.

To celebrate seven years as man and wife on Monday, they shared pictures of each other on Twitter and wrote sweet messages, with Channing posting a photograph showing Jenna, who seems to be topless, as a silhouette facing away from him.
ADVERTISEMENT - CONTINUE READING BELOW
This woman, 11 yrs together, 7 married. Happy anniversary Cake. Thank you baby I love you. Plus you look daaaaanmm!� pic.twitter.com/FK8YAzflLw

— Channing Tatum (@channingtatum) July 12, 2016
"This woman, 11 years together, 7 married," he wrote in the Twitter caption. "Happy anniversary Cake. Thank you baby I love you. Plus you look daaaaaaaaanmm!!! (sic)"

7 years â�¤ï¸ï¿½ pic.twitter.com/DCMjGzuLRa

— Jenna Dewan Tatum (@jennaldewan) July 11, 2016

Jenna shared two strips of photo booth snaps which show the couple laughing, kissing or poking their tongues out for the camera. In her picture, she has drawn love hearts in red and simply written in the caption, "7 years" following by a heart emoji.

Channing, 36, and Jenna, 35, have a three-year-old daughter named Everly and they have made no secret about wanting to add to their brood.

"Yeah, yeah!" she told E! News in 2015, when asked about having more children. "I don't know when, but we definitely want to."

The actor recently got candid about the couple's sex life during the Cannes Lions conference in France in June, when he revealed sex is one of the "clearest" forms of communication between them because they have to work out their problems before they get intimate.

"That's how we know there's something we have to talk about, that we have to solve… whatever's between us energetically, before we can sort of get down," he said, according to MailOnline. "For lack of a better term, we don't hate-f**k each other. That's just not what we do. Sometimes it's, 'Look, you've got to get this done, I've got to work.' That's a real thing."
Load More Stories