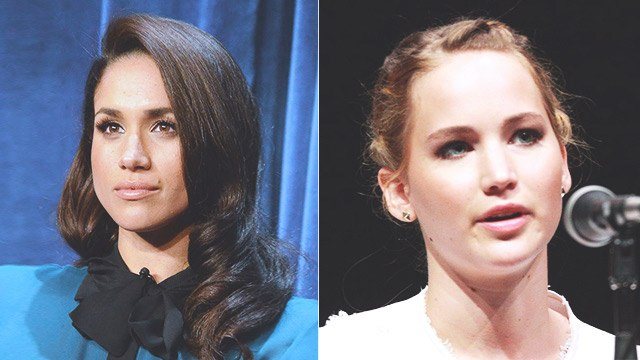 Meghan Markle would like to keep her freckles, please.
No stranger to the press and the paparazzi - especially now that's she's dating Prince Harry, the Suits actress has had her photos splashed all over tabloids and magazines without alteration. She tells Allure, "To this day, my pet peeve is when my skin tone is changed and my freckles are airbrushed out of a photo." Markle, whose dad is Caucasian and whose mom is African-American, has been the subject of colorism in the past.
ADVERTISEMENT - CONTINUE READING BELOW
Alicia Keys makes a case for the #NoMakeup movement.
Alicia Keys made the most understated statement during the 2016 MTV Music Video Awards by giving a speech barefaced. Before that, she was already at the forefront of the #NoMakeup movement and regularly appeared on the television show The Voice without a spot of makeup. The day after the awards show, she took to Twitter to settle the backlash she received by tweeting, "Me choosing to be makeup-free doesn't mean I'm anti-makeup. Do you!"
Don't be afraid to say it's too much, just like Kerry Washington.
To be on the cover of a magazine is a dream for many, and for Kerry Washington her AdWeek cover was just that's until the Scandal star experienced a scandal of her own. She took to Instagram and called out the excessive makeover the publication had given her via Photoshop. She went on to say, "Look, I'm no stranger to Photoshopping. It happens a lot. In a way, we have become a society of picture adjusters who doesn't love a filter?!? And I don't always take these adjustments to task but I have had the opportunity to address the impact of my altered image in the past and I think it's a valuable conversation" It felt strange to look at a picture of myself that is so different from what I look like when I look in the mirror. Nonetheless, she acknowledged it was an honor to be featured by a magazine title she respects.
ADVERTISEMENT - CONTINUE READING BELOW
Jennifer Lawrence doesn't believe in starving oneself for others.
Everybody loves the very down-to-earth Jennifer Lawrence for her candor. She's also been applauded for having a normal body, which Lawrence thinks is an incorrect label. Lawrence says if she could change anything in Hollywood, it would be the perception of weight and aesthetics. "I would like us to make a new normal body type," she told Harper's Bazaar during a cover shoot interview. "I think we've gotten so used to underweight that when you are a normal weight it's like, 'Oh, my God, she's curvy. Which is crazy.'"
She's also spoken out about why people who go on diets for aesthetic purposes should ditch them. She said in an interview with Yahoo! CEO Marissa Mayer, "You look how you look; you have to be comfortable. What are you going to do? Be hungry every single day to make other people happy? That's just dumb."
ADVERTISEMENT - CONTINUE READING BELOW
Critics are everywhere. Ashley Graham knows this.
At size 14, Ashley Graham works as a plus-size model in an industry that establishes plus-size as a size 6. A body activist, Graham has expressed how disappointed she is in body-shamers who have criticized her for being both too thin and too curvy at the same time. She's baffled, not by the industry, but by the standards that regular people hold: "When I post photos showing my cellulite, stretch marks, and rolls, I'm accused of promoting obesity. The cycle of body-shaming needs to end. I'm over it." She wrote in a column for Lena Dunham's Lenny Letter newsletter that, "I'm not Ashley Graham just because I'm curvy. Let's worry about our own bodies. My body is MY body."
ADVERTISEMENT - CONTINUE READING BELOW
Brad Pitt wants you to know he's growing old just like you.
Female celebrities are not the only ones subject to Photoshop. When Brad Pitt appeared on the cover of W Magazine, he wanted to bare it all and by that we mean revealing all his wrinkles and flaws completely unretouched. Painter and photographer Chuck Close shot the detailed portrait, as per the actor's request. Close explains, "You can't be the fair-haired young boy forever. Maybe a photograph of him with his crow's feet and furrowed brow is good for him." Way to go for standing up for aging and wrinkles, Brad!
This story originally appeared on Townandcountry.ph.
* Minor edits have been made by the Femalenetwork.com editors.
Load More Stories