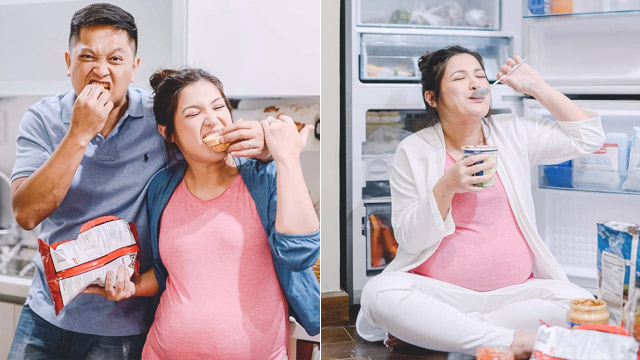 Camille Prats, who is 34 weeks into her third pregnancy, is counting the days until she and husband VJ Yambao meet their baby boy. 
ADVERTISEMENT - CONTINUE READING BELOW
Her recent maternity shoot captured the realities of a pregnant woman's life, which Camille had described as "a whole lot of mess and a whole lot of love."
CONTINUE READING BELOW
Recommended Videos
Using the hashtag #PregnancyIsABumpyRide, one layout showed Camille, clad in a T-shirt and a pair of pajamas, enjoying a snack banquet. Also in photo was her husband VJ.
Here, Camille is seen munching on chips, ice cream, and all kinds of treats.
ADVERTISEMENT - CONTINUE READING BELOW
The photos were captured by Cocoon Studio.
In her latest blog post, Camille related how each trimester was a different experience from the other, none of which was easy.
She began, "Pregnancy is indeed a wonderful journey, the miracle of growing a human being inside of you is undoubtedly one of God's amazing gifts to women, but let's face it, IT IS NOT EASY AND NOT AT ALL GLAMOROUS.
ADVERTISEMENT - CONTINUE READING BELOW
"The first trimester is the moooooost challenging of all. Morning sickness, for some, all day sickness, nausea, sleepiness, sore breasts, enhanced smell of everything especially garlic, perfume, etc. This is the time when the things you used to do are slowly being taken away from you. You can no longer cook, eat, focus, work and do anything else.
"You just want to [lie] down all day in between trips to the bathroom to puke even when there's no food left to let out."
During the first three months of her pregnancy, Camille was diagnosed with "hyperemesis gravidarum," a condition characterized by the American Pregnancy Association as "severe nausea, vomitting, weight loss, and electrolyte disturbance." Camille said she was "hospitalized a few times for dehydration. It was not pretty at all."
ADVERTISEMENT - CONTINUE READING BELOW
Camille described her second trimester as "the honeymoon stage of pregnancy..." The 33-year-old star continued, "I was sleeping fine, eating more than fine (uh oh!) and was really doing great. Going to work and doing what I had to do was a breeze, no problems at all except for developing aches and pains on my lower back due to my growing belly. But all in all, I was feeling great. This was also the part when I really enjoyed eating.
"I felt like I was stripped off my rights to eat during the first trimester so I think I had too much fun devouring and giving in to my cravings this time around."
ADVERTISEMENT - CONTINUE READING BELOW
Now in her third trimester, Camille said her "lower back pain has been a constant companion." She has been struggling to "get out of bed and would often need a little push or pull from VJ to help me stand."
Even her pair of flats gave her discomfort so she switched to a pair of slip-on rubber shoes. "I have become someone I am not while my belly grows, all in just 9 months. Lets not even talk about weight gain coz that still shocks the hell out of me but it is what it is!
"Soon we'll have a pre teen, a toddler and an infant, VJ and I are bracing ourselves for the changes that are about to happen as our family grows."
ADVERTISEMENT - CONTINUE READING BELOW
Camille has also learned to embrace and love her "ever changing body," and "to be selfless and think about my baby rather than how I look." She just wants "to accept what happens and be joyful about it."
She said although it "feels like forever," given the discomforts and hormonal changes, "9 months is quite short to actually grow, mold and form a human being." Camille also stressed the process of carrying "the miracle of life" has taught her "to love my flaws-growing, darkening areas of your body, stretch marks, break outs and everything else." 
The actress then shared a few words of encouragement to pregnant moms: "It is not a requirement to look perfect during this time of our lives and IT'S OKAY. It's beyond our control anyway. Let's not be too hard on ourselves.
"We all go through pregnancy differently, let's not compare ourselves with what we see on the internet. No more layering of filters and photoshops for that IG worthy post, just do you and love every inch of it. You are a mom and you are beautiful.
ADVERTISEMENT - CONTINUE READING BELOW
"Don't get me wrong, do things that makes you feel great about yourself, dab on some cheek and lip tint, workout to feel good and strong. Do what you gotta do not for others but for yourself. When the baby comes, we'll have our turn to go back to the best versions of ourselves anyway. All in due time. So for now, chill, take care of yourself and enjoy the pregnant verison of you coz it won't last forever.
"Hugs and kisses from one preggo momma to anotha!"
ADVERTISEMENT - CONTINUE READING BELOW
Camille and VJ are parents to three kids: Nala (2nd from left), Camile and VJ's first child togehter; Nathan (seated), Camille's son with the late Anthony Linsangan; and Ice (standing), VJ's son with his ex-girlfriend. 
Load More Stories