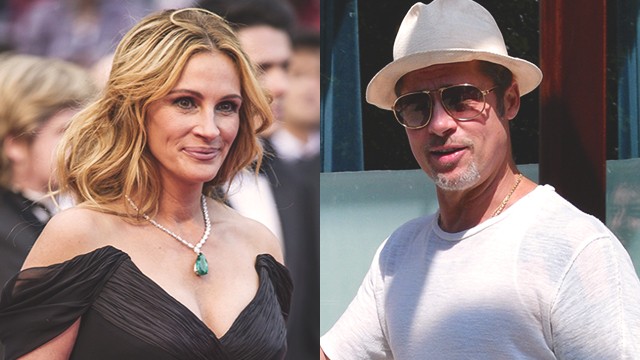 Brad Pitt got some support from pal Julia Roberts on Tuesday night as he made his first public appearance since news broke of his divorce from Angelina Jolie.

The 52-year-old actor has been keeping a low profile since Angelina filed for divorce in September and he was subjected to an investigation by the Department of Child and Family Services following claims he had been abusive to adopted son Maddox.

But Brad ventured out of hiding on Tuesday to attend a private screening of the critically acclaimed movie Moonlight, which his company Plan B executive produced.

Looking in good spirits but noticeably thinner than the last time he was seen, Brad wore a casual ensemble of a checked shirt with a dark jacket and pants.


ADVERTISEMENT - CONTINUE READING BELOW



Despite not having any link to the movie, Julia was on hand to support her long-time friend and former Ocean's Eleven co-star, posing for an official snap with him and even standing alongside him as he spoke to the audience from the stage. She also looked dressed-down but stylish in an all-black outfit teamed with thick-rimmed glasses.

Tuesday night's screening comes ahead of Brad's first red carpet appearance since the divorce news, as he is due to attend the Los Angeles premiere of his movie Allied on Wednesday night.

Moonlight, a film about a gay, African-American boy who comes of age in Miami during the war on drugs era, has already been tipped for Oscar success.

Speaking recently about how involved Brad gets in Plan B-produced movies, co-president Dede Gardner told IndieWire.com: "Brad's involvement sort of depends on the movies. He likes our movies, obviously, but he has created a space for us to work that is, I would suggest, entirely singular. By that I mean that he believes in the shelf life of movies, he doesn't believe in the notion that a movie has to see a successful opening weekend to work.

"He reminds us all the time of the movies that we discovered long after their initial release, and he believes that we should tell stories that we feel like we would die if we didn't. He feels like we should work as hard as we can because what we do is a privilege."



CONTINUE READING BELOW
Recommended Videos
Load More Stories